The rise of Alamo Drafthouse, Barbenheimer and the future of cinema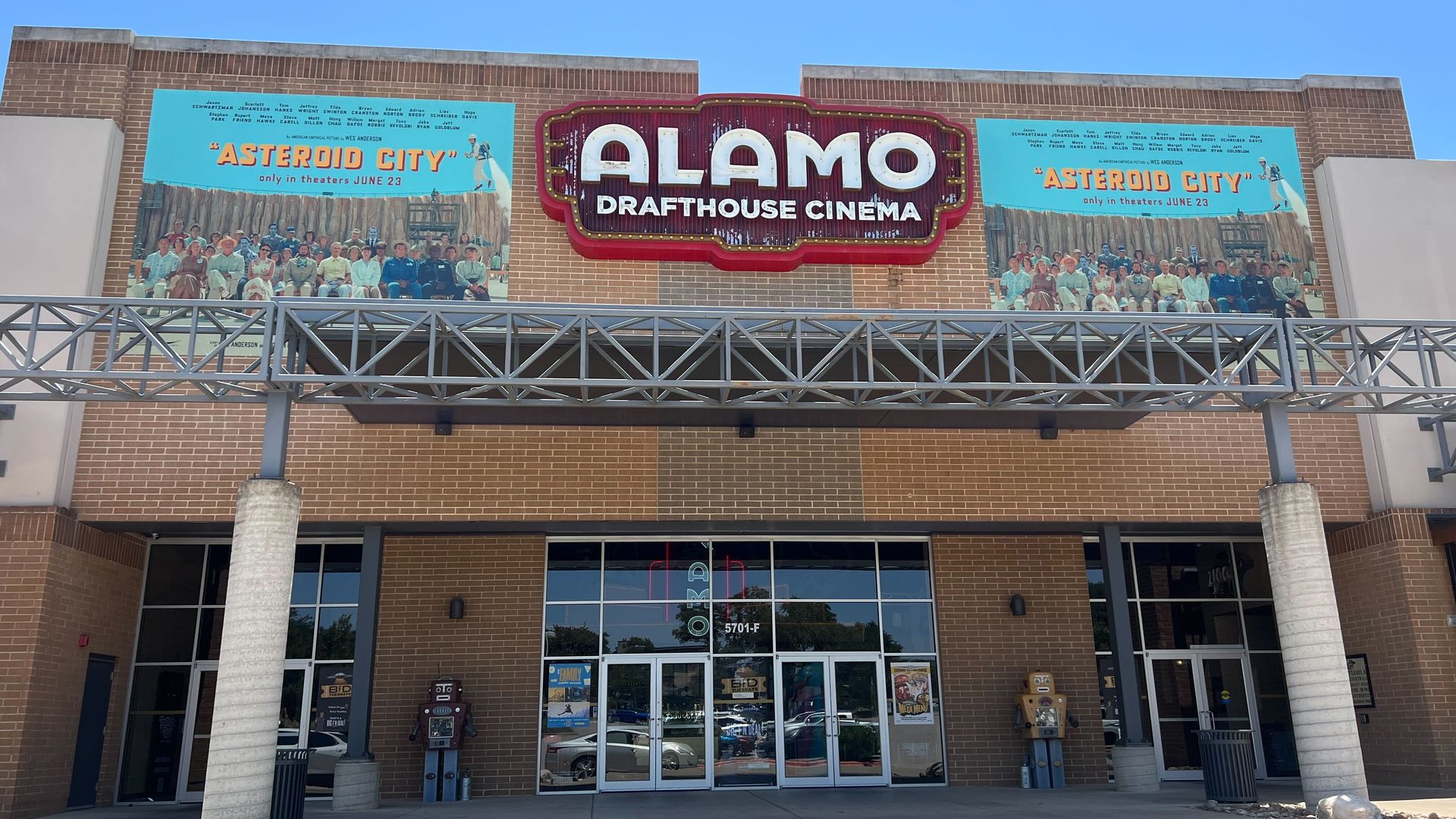 As the unlikely double-feature success of Barbenheimer grips moviegoers and theaters, consumer interest in making an event out of going to the movies has never been clearer.
Why it matters: In the age of streaming and at-home viewing, customers are demanding more for the price of their ticket.
State of play: The cinema industry was hit hard by the pandemic. The U.S. lost more than 2,000 screens between 2019 and 2022. Yet the subsequent success of chains like Alamo, prioritizing a higher-end experience for moviegoers, illustrates much about where cinema is going.
Driving the news: Alamo says it has been surpassing its 2019 sales. The 12th-largest chain in the country has recently added six theaters for a total of nearly 40 with plans for more.
The Austin-based company has always prioritized locally curated event programming alongside higher-end amenities like recliners and a full restaurant menu including cocktails and a long list of craft beer.
Its model is "hugely appealing when audiences are now looking for the premium 'experiences,'" Paul Dergarabedian, senior media analyst with Comscore, told Axios.
The big picture: Theater owners across the industry today recognize that they're "in the experience business now," Michael O'Leary, president and CEO of the National Association of Theatre Owners, tells Axios.
"That's the energy you're feeling this week [with Barbenheimer]. There's a recognition that something special is happening. People want to be a part of it, and they want to be a part of it in the theater."
What they're saying: While the "reason why people are going to the movies" hasn't changed after the pandemic, people want more for their visit, Alamo co-founder Tim League told Axios.
"I think that enhances the sense of, you better make damn well sure that the experience is awesome."
Pre-pandemic, some cinemas were not offering an experience that warranted the ticket price, Alamo's chief of staff and strategy Heather Morgan told Dergarabedian on his "Ticket to Ride" podcast. The industry's post-pandemic shrinking could, therefore, be "good for the health of the industry," she said.
How it works: Alamo locations reflect their cities with community outreach staff and programming that can differ widely across the country, Morgan added.
The company doesn't "want to be a chain … They want to be this loose conglomeration of individual neighborhood theaters."
That's made for a huge range of programming, including, in Austin, a live orchestra playing alongside silent films, a Master Pancake Theater series where comedians mock movies as they play, and more recently a barrage of "Barbie" mania events including slumber party pajama screenings, "Barbie" brunches and dress-up screenings.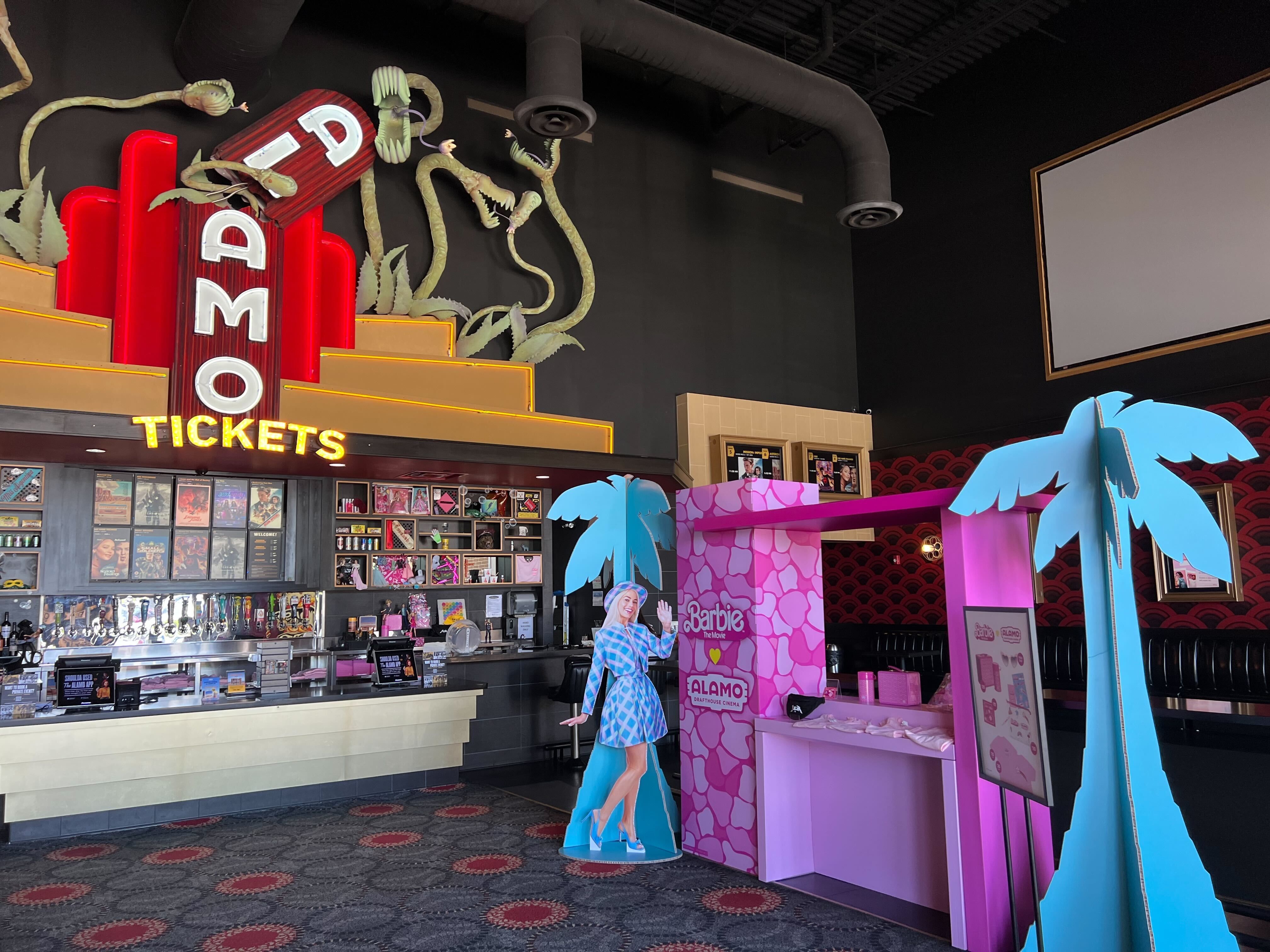 Context: League told Axios that Alamo's model isn't new, rather it's "just harkening back to a very, very old tradition that's been been with us since movies began," but has faded as the industry consolidated into bigger corporations.
"It was very standard fare for individual theater operators to get excited about a movie and put together an amazing lobby display or scavenger hunt, costumes."
Zoom out: Alamo is "very effective at giving their customers what they want. It is a unique experience," O'Leary said. But "they're one of many theatrical exhibition circuits that are doing that same thing."
Of note: Several Alamo locations have voted to unionize and in December the company settled a lawsuit with one former staffer who said he was fired for union efforts.
What we're watching: North American box office revenue has rebounded to $7.5 billion in 2022 from $2.3 billion in 2020, according to The Cinema Foundation. (Though that's still behind 2019's $11.4 billion.)
There have been many times in history when people have signaled, "the death of the cinema," O'Leary said, like the rise of DVDs or flatscreen TVs. "And every time that happens, the people who own and operate cinemas, they adapt."
This is "the latest iteration" of that evolution, he said.
The bottom line: When asked about the future of the industry on a recent "How I Built This" episode, Tim League countered with a question: "Do you have a stove in your house? … But you still go out to restaurants every once in a while, right? That's really it."
Go deeper