AI grabs "South Park" director's chair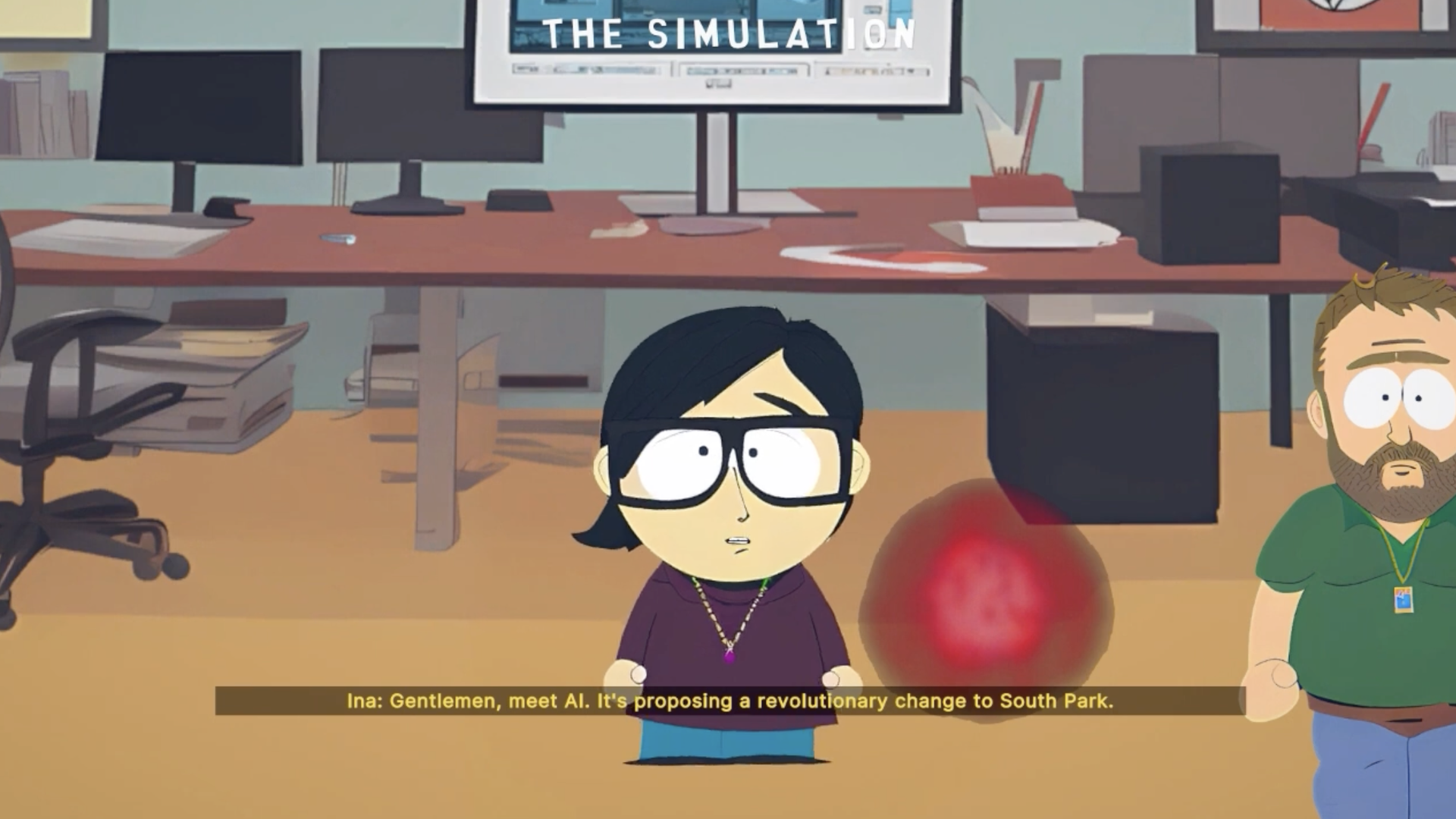 A new app that creates brief episodes of "South Park" from a single prompt highlights the promise and peril of injecting generative AI into creative franchises.
Why it matters: Such technology could open the door for fans and viewers to bring their own ideas and join in the action — but also threatens the standing of the creators who made those beloved franchises possible.
Driving the news: Fable Studio, the creators of Showrunner AI, are spotlighting their program's seeming ability to create a decent short episode from next to nothing — first in an academic paper, and now this week in press demos.
They asked Axios for our ideas, and we suggested they create a "South Park" episode about an AI that wants to take control of the show from its creators, Trey Parker and Matt Stone.
You can see the five-minute result here.
Yes, but: The people behind "South Park" have nothing to do with Showrunner AI (though they do have their own AI project) and didn't give their blessing for this use. Fable Studio says the "South Park" imitations are strictly to show off their product's capabilities, and Showrunner AI won't be generating "South Park" tales.
Rather, Showrunner AI is designed for people to bring their own imagery and characters to the table and build stories based on those assets. Also, it's limited to generating animations — no live action shows.
In fact, the tool's creators are more interested in using their technology to allow people to incubate entire worlds of AI personas than in cranking out TV episodes, even though that's what this initial product does.
The big picture: With its provocative choice of demo material, Fable Studio has opened a can of worms far messier than simple questions about what Showrunner AI can and can't do.
The launch of Showrunner AI comes as Hollywood writers and actors are on strike, in part to limit the ability of producers to feed their work into AI engines and generate new content.
Fable Studio itself had its start making VR films and has won two primetime Emmys.
What they're saying: Edward Saatchi, who runs the creative studio behind Showrunner AI, told Axios he sides with the creators and believes that now is the ideal time for them to enshrine in contracts limits on what technology — including the kind he has created — can do.
"At this moment of maximum leverage we should negotiate the most aggressive controls on people using AI," Saatchi said, noting his company's filmmaking legacy. "We are a techie part of this community, but still part of this community."
But Saatchi (the son and nephew of the founders of the celebrated ad agency by that name) is nonetheless excited to be building the future that professional writers and actors are trying to limit. "Our hope is that cinema and TV could, in part, become more like novels and paintings in that one person can be responsible for a great work of art," he said.
Zoom in: In preparation for this article, Saatchi and his team asked us for our idea and then combed the internet for images and audio of me to feed the program so it could insert me as a character in the episode (as a reporter turned villain egging on the AI's takeover plan). They did the same with Stone and Parker, who also appear.
In the Showrunner video, Parker and Stone fight back against a HAL-9000-like system that promises to update their show to welcome the AI future — and even makes Cartman "nice."
"South Park isn't about being future-ready," retorts the AI-created Parker character. "It's about being real. It's about making fun of everything and everyone equally."
The episode has rough edges, for sure, but it's nonetheless a plausible and occasionally clever vignette.
"We'd not created Matt and Trey before," Saatchi said, adding that it "definitely feels weird to have AIs of them debating [the] topic of AI with an AI in AI episode!"
Of note: I reached out to the actual Parker and Stone through their production company, as well as to a representative for Paramount, which paid $900 million for the rights to the South Park in 2001. None provided comment.
Disclosure: I'm still a member of SAG-AFTRA from my childhood acting days. As a personal practice I don't vote on strike issues because I believe working actors should decide such issues.
Go deeper