Matthew McConaughey creates initiative to help school districts receive federal funding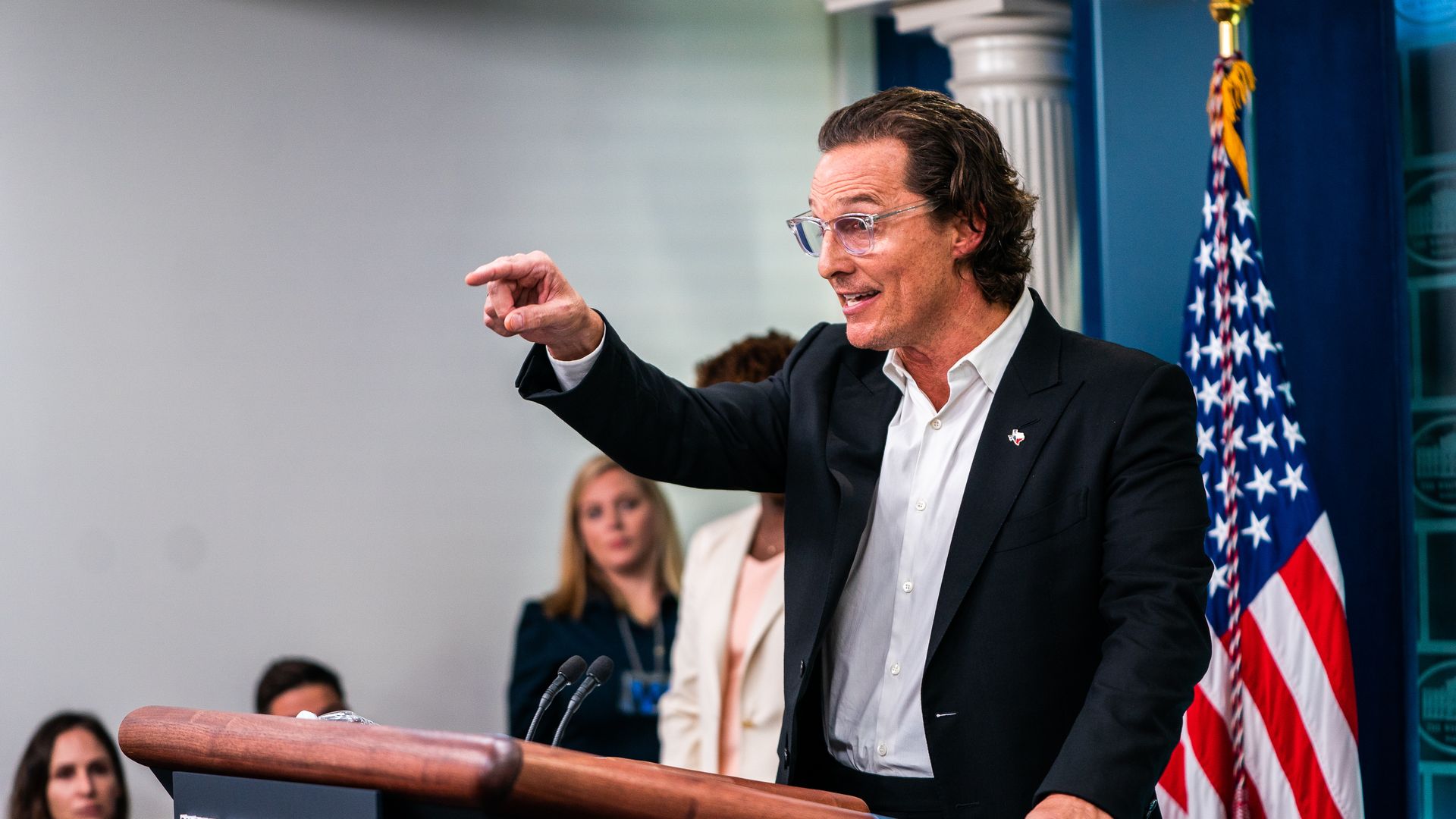 Actor Matthew McConaughey and his wife Camila announced an initiative to help funnel at least $1 billion in federal dollars into school districts nationwide to assist them in becoming safer.
Driving the news: The Greenlights Grant Initiative, a project from the just keep livin Foundation which was founded by McConaughey and his wife will work with schools to help them apply for federal funding for mental health services, school security systems and other measures.
The money to get those resources is available as part of the Bipartisan Safer Communities Act passed after the Uvalde, Texas, elementary shooting in May 2022.
"Today's launch of the Greenlights Grant Initiative is a meaningful step toward providing school districts across the country the grant writing support and the resources they need to keep kids safe," the McConaugheys said in a statement Thursday.
Details: The initiative will focus on three areas: Education through letting districts know about grant opportunities; Support by providing resources from tutoring to grant writing services; Advocacy to encourage policymakers to maximize the funding for grants.
Fundraising numbers from GGI are not disclosed and it's unknown how many schools will be impacted by this initiative.
The just keep livin Foundation could not immediately be reached for comment.
Background: McConaughey, a native of Uvalde, has advocated for gun restrictions after a gunman killed 19 children and two teachers there.
Just keep livin Foundation was started by McConaughey and his wife to help bring after-school programs including fitness and wellness to students.
Zoom out: Celebrities like McConaughey can be an important amplifier for social and racial justice causes but can often lack the political education to understand who gets left out, Sharhonda Bossier, CEO of Education Leaders of Color or EdLoC, tells Axios.
"Most of the communities that are touched by gun violence are low-income communities of color," she said. "Most of that violence does not happen in schools and much of it happens to young people who we often don't think of as worthy of our protection."
When it comes to providing school resources, understanding that race, class and poverty are factors is something people don't want to confront, Ruth Idakula, national director of Our Dignity in Schools Campaign, tells Axios.
"Black people and brown people in this country have a different reality from people, everybody else in this country and people need to lean into it and people need to understand it," she said. "Even before they decided they're going to do this grandiose thing, in terms of helping people because if you don't recognize (the disparities), what's going to happen is that most of that money is going to end up in the schools that actually don't need it."
Republicans and Democrats in Congress will be advisory board co-chairs.
What they're saying: "The initiative's work to help get BSCA money to schools that might otherwise be excluded is absolutely essential," Rep. Jim Clyburn (D-S.C.) said.
"The Bipartisan Safer Communities Act made historic investments aimed at protecting our children and schools, and we must now turn our attention to ensuring these critically-important resources get to communities that need them the most," Sen. Thom Tillis (R-N.C.) said.
Editor's note: This story has been corrected to remove a reference that suggested members of Congress serving as Greenlights Grant Initiative advisory board co-chairs could be compensated.
Go deeper