"It's lonely out here": blunt talk at the E3 for Web3 games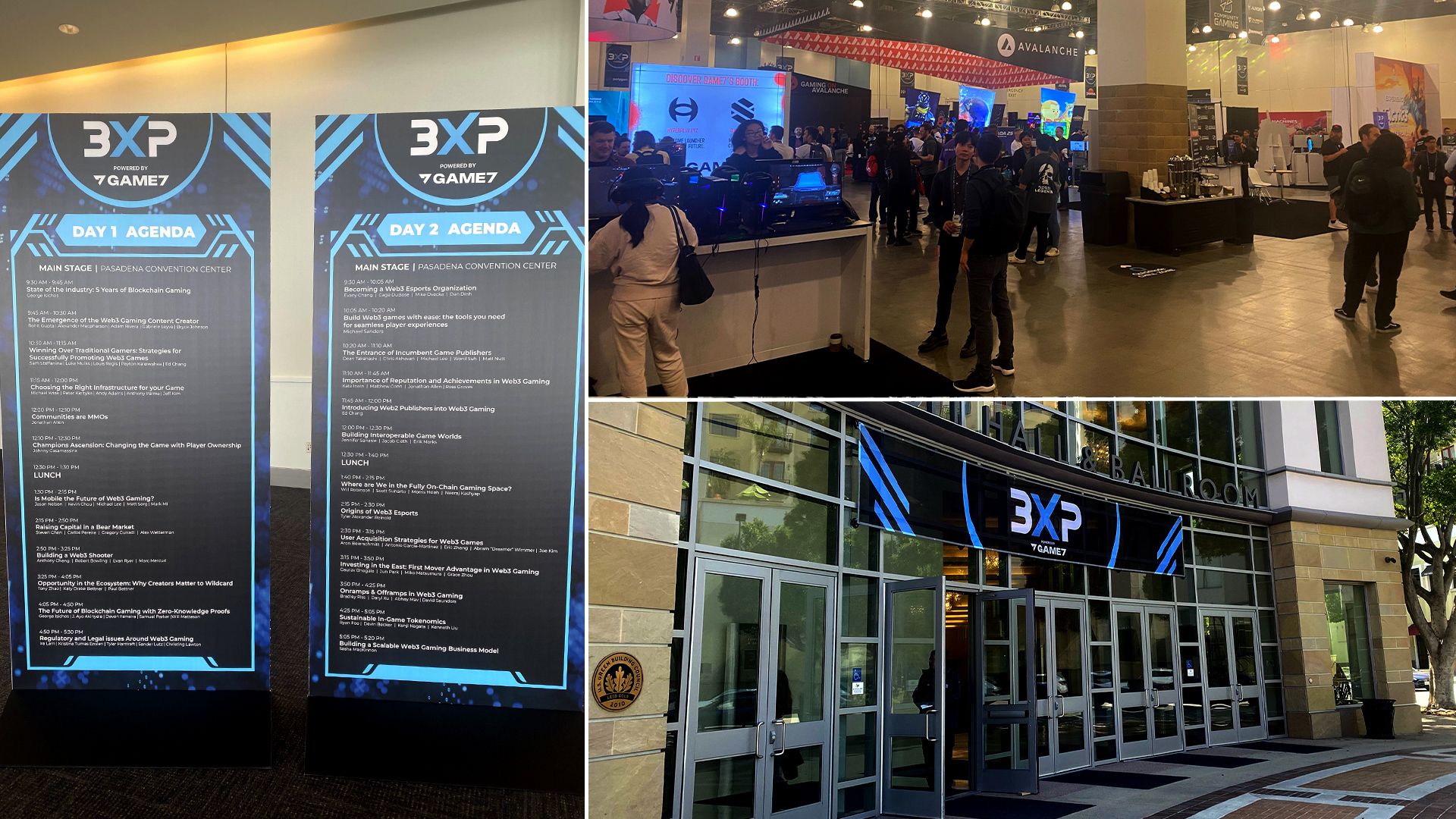 The annual E3 video game convention didn't happen in Southern California last month, but a smaller gathering for the controversial Web3 gaming scene did.
Why it matters: A quick tour of the event, called 3XP, offered a pulse check of crypto/blockchain gaming following a rough year.
Details: 3XP was set up in the Pasadena Convention Center like a mini-E3, in one10th the space: a 55,000-square foot exhibit hall with booths, demo kiosks and industry professionals.
There's little overlap between traditional gaming and Web3: No Nintendo, Xbox or even crypto-dabbling publishers like Ubisoft at an event like this, instead booths for the likes of Avalanche, Immutable and lead show sponsor Game7.
Organizers estimated about 1,700 attendees across the two-day show.
What they're saying: "This is phase two of the journey of gaming in Web3," attendee Evan Ryer, told Axios.
"Play-to-earn was a farce," he said, dismissing the past two years of buzz around Web3 games, whose hooks often were that players would make money simply by playing them.
Ryer, a former Bitcoin miner who also used to run an esports wagering platform, was talking up his blockchain gaming project, a "risk-based shooter" called BR1 Infinite that is promoted as "pay to spawn, kill to earn."
He wondered aloud how scrutiny from regulators could impact projects, hoping blockchain games would veer toward using "actual currency." "You don't want to make it appear like you're printing money from nowhere," he said.
"I often say that they're going to write laws about the games we're making, in the next five years."
It's lonely out here," game designer Paul Bettner told Axios at the edge of the exhibit hall, in a booth for his team's competitive character-summoning action game Wildcard.
"The number of people here to do something creatively fulfilling, not who were there just to use it as an easy way to raise funding, is down to one hand."
Two career phases ago, Bettner was a creative director at Microsoft's Ensemble Studios, where he helped ship the Age of Empires and Halo Wars strategy games. Then he went into mobile and co-created one of that scene's top games ever, Words with Friends.
A couple of years ago, he started learning about blockchain and crypto and realized Wildcard could support that, maybe offer perks and ownership of virtual cards to a subset of fans looking to get into a game for what he calls "opportunity."
Between the lines: Multiple developers at the show discussed downplaying or simplifying the crypto elements in their games, to attract players who are turned off or intimidated by talk of signing up for crypto wallets or having to invest in the game to start playing it.
At a booth for the mech combat game MetalCore, developer Jerry Singer pointed out his team's game could be played for free. The characters and vehicles in the game are NFTs that can be bought or sold with crypto or credit cards, but players can also ignore that and just play, he said. This month, they're taking the game to San Diego Comic-Con.
Singer lamented the "hubris" in the scene in recent years, "where everyone had millions of dollars," and talked about getting the game out to more traditional gaming events like a recent PAX convention. At that show, organizers asked the studio "not to be super forward" about MetalCore's crypto elements. This month, they're taking the game to San Diego Comic-Con.
What's next: "Last year, everybody had a great idea and a great video," Ryer, the risk-shooter developer, told Axios.
Now, he noted, there were actual playable events at games like these.
Over in the Wildcard booth, Bettner acknowledged the Web3 scene's many critics. "You're totally right to be skeptical," he said, "but let's have that conversation when there are some great games."
Sign up for the Axios Gaming newsletter here.
Go deeper