Scorching Southwest heat wave breaks records Saturday, with a hotter Sunday to come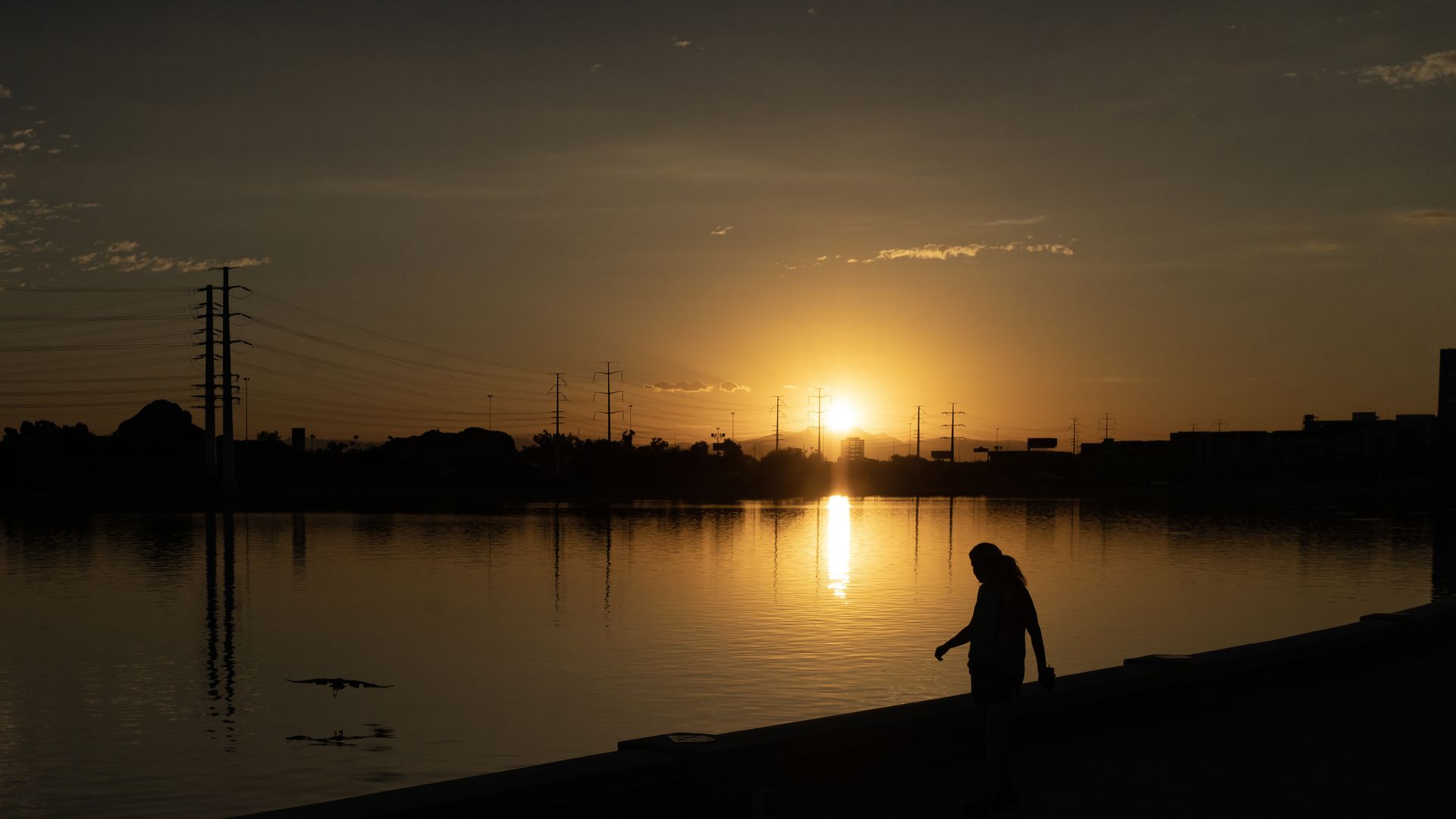 The heat wave affecting more than 112 million people in at least 17 states is poised to peak this weekend into early next week in the Southwest. But there are growing signs it will merely ebb and re-intensify as the month continues.
Why it matters: The heat is so severe and persistent that it is a deadly threat, even in typically hot locations across the Southwest and West.
By the numbers: One noteworthy aspect of this extreme heat event is how high temperatures are likely to get in cities that already have a reputation for extreme heat.
In Phoenix, the high temperature reached 118°F on Saturday, a daily record, having passed 110°F before noon. Sunday is forecast to potentially make a run at 120°F. This would be just shy of the city's all-time hottest temperature of 122°F.
Each of the past 15 days has reached or exceeded a high temperature of 110°F. The all-time record stands at 18 days, and high temperatures through at least Wednesday are forecast to meet or beat the 110-degree mark.
In jeopardy too is the record for the hottest seven days. The city may also break its record string of days with overnight low temperatures at or above 90°F with six so far. The all-time record is within reach, at seven-straight days.
In Las Vegas, the high temperature on Sunday is forecast to reach or exceed the city's all-time record high of 117°F, with overnight lows in the mid-90s.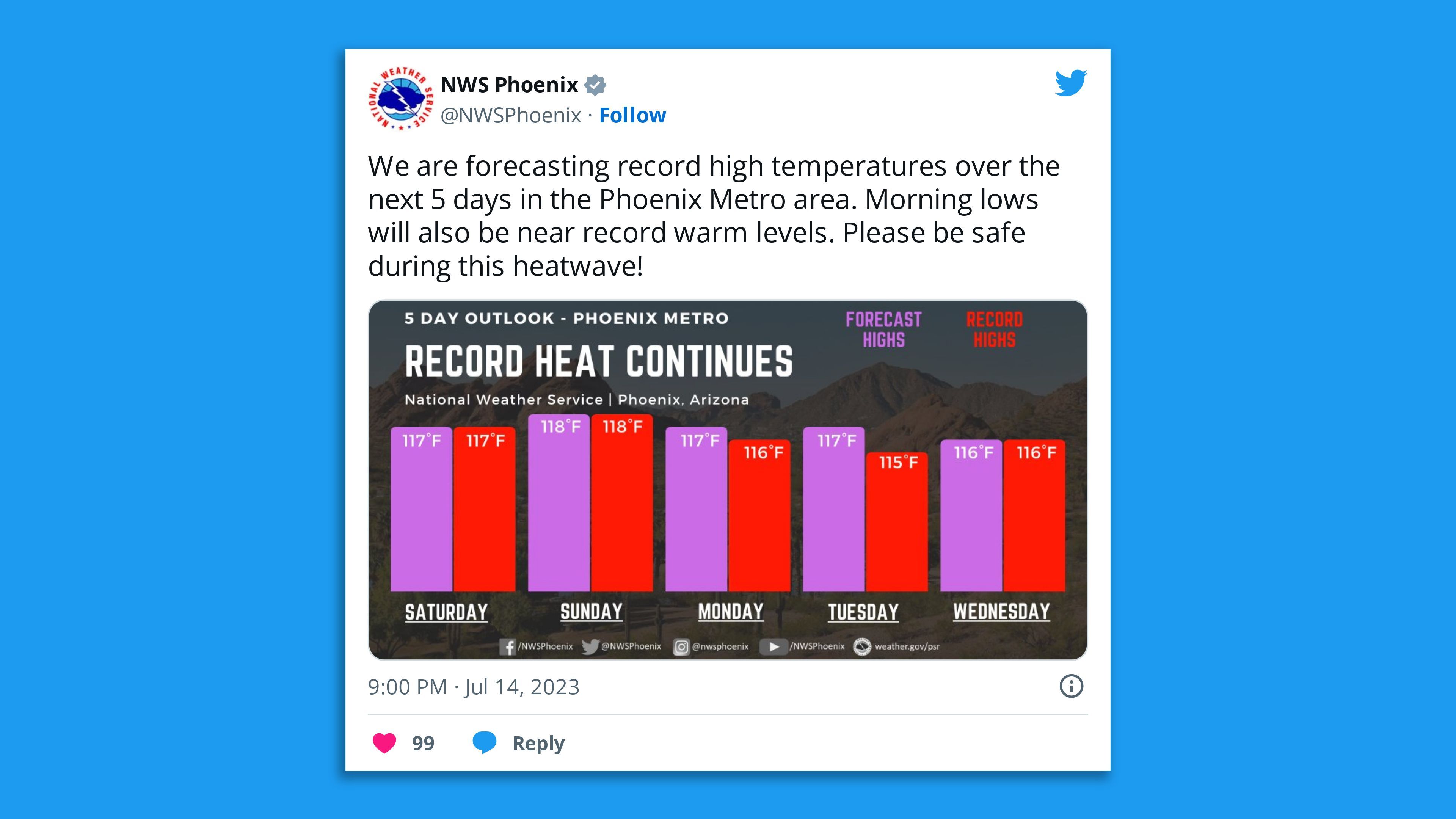 Of note: On Sunday, Death Valley, Calif., one of the planet's hottest places, temperatures could equal or beat its highest reliably recorded temperature in modern records of 130°F. (A higher temperature of 134°F recorded in 1913 is considered the official record, but significant doubts have been raised among meteorologists about its validity.)
The big picture: The scope and duration of the heat wave is rare. The heat reaches from Florida to California and is expanding its grip to the Great Basin and parts of the Pacific Northwest.
This extreme event features every type of heat, from sultry air rich with moisture flowing from record-warm Gulf of Mexico waters to a blazing, dry heat. Each type is hazardous.
El Paso, Texas, has had 30-straight 100-degree days, including Saturday. This is its longest streak on record — with more to come.
The weather pattern responsible for the extreme heat consists of a broad and unusually potent area of high pressure aloft, known as a heat dome.
The NWS forecast office in Phoenix noted Friday that the heat dome is of historic intensity, calling it "one of the strongest high-pressure systems this region has ever seen."
Some scientists have tied a trend toward stronger, more stagnant heat domes in recent years to human-caused climate change.
Temperatures may also break records for the next few days across California's Central Valley region as well as the Great Basin.
What they're saying: "Temperatures of this magnitude [are] not your "typical desert heat" but rather very dangerous heat that should be treated seriously," warned the NWS forecast office in Phoenix.
Context: Human-caused climate change is worsening this heat wave by making it more intense, longer-lasting and more likely to occur.
An initial analysis from research and communications nonprofit Climate Central shows that in some areas affected by this heat wave, climate change has made record-breaking temperatures at least 5 times more likely than in a world without the added amounts of heat-trapping greenhouse gases.
Recent research has shown some deadly extreme heat events were virtually "impossible" without climate change.
The heat wave is occurring at the same time as record heat hits Europe and Asia, and as global temperatures have set unprecedented milestones.
Editor's note: This story has been updated with the latest forecast information and temperature records.
Go deeper