Infectious disease groups push for new treatments against superbugs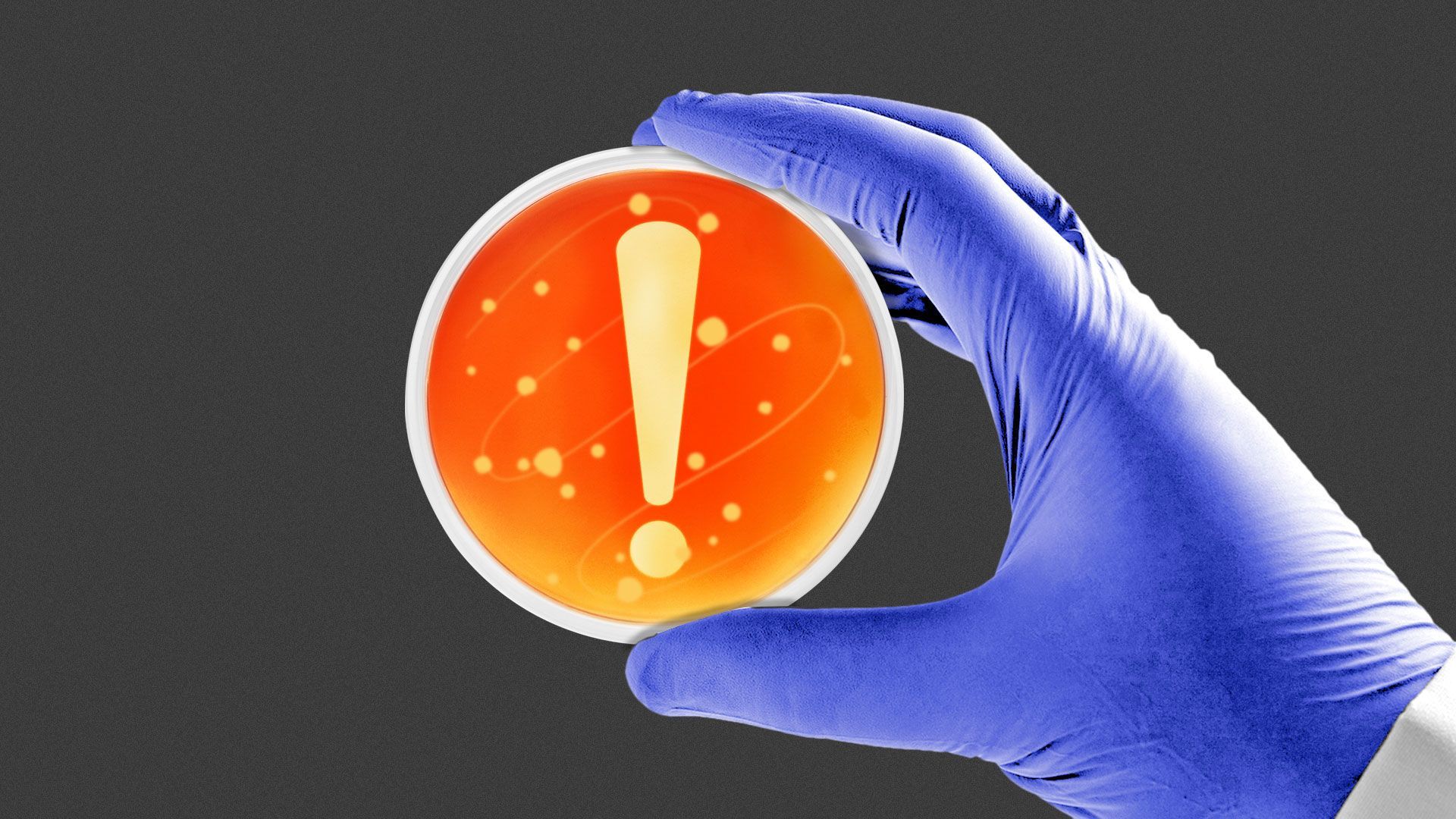 Infectious disease experts are pressing Congress to commit $6 billion to incentivize the production of new treatments for drug-resistant infections as lawmakers take up broader pandemic preparedness legislation.
Why it matters: COVID-19 undid years of progress fighting superbugs that are a leading cause of deaths worldwide and that proliferated in hospitals during the health crisis.
Driving the news: The focus is on the bipartisan PASTEUR Act, named for the French microbiologist, which would establish a subscription model that would pay drugmakers up front for access to new antimicrobials instead of reimburse them on volume or quantity of sales.
Backers say economic conditions and fewer regulatory incentives have caused some companies working on antimicrobials to file for bankruptcy.
"Innovators have no way to earn a return on their investment, which makes it difficult to attract investment," said Amanda Jezek, senior vice president of public policy at the Infectious Diseases Society of America.
The legislation is billed as "a $6 billion down payment to protect public health."
What they're saying: "Antibiotics are uniquely what we call 'societal' drugs because the use in one person affects many others," Helen Boucher, an infectious disease clinician and dean of the Tufts University School of Medicine, told Axios.
Zoom in: U.S. cases of Candida auris cases, a fungal infection often resistant to drugs, tripled from 2019 to 2021.
This year, an outbreak of drug-resistant Pseudomonas aeruginosa was traced to three types of artificial tears, affecting at least 81 patients across 18 states. There's the potential for continued transmission, even among patients who haven't used the products for years, experts say.
"We don't even know if all the contaminated products have been identified," Michael Craig, director of the Centers for Disease Control and Prevention's antimicrobial resistance coordination and strategy unit, told Axios.
Some experts say overuse of antibiotics during the pandemic exacerbated problems.
Almost 80% of hospitalized patients with COVID-19 during the first eight months of the pandemic received an antibiotic unnecessarily, per the CDC.
Yes, but: Hospitals have dedicated teams of clinicians and pharmacists who can provide safeguards and guidance around which patients should actually get treated with antibiotics.
The PASTEUR Act would expand stewardship programs to support smaller, rural hospitals that might not benefit from robust clinical guidance around who should or should not be treated with antibiotics.
Go deeper: Listen to the Axios Today podcast, where host Niala Boodhoo and Adriel Bettelheim explain what treatment-resistant superbugs are and how the pandemic made this all worse.
Go deeper