The struggle to contain the global threat of superbugs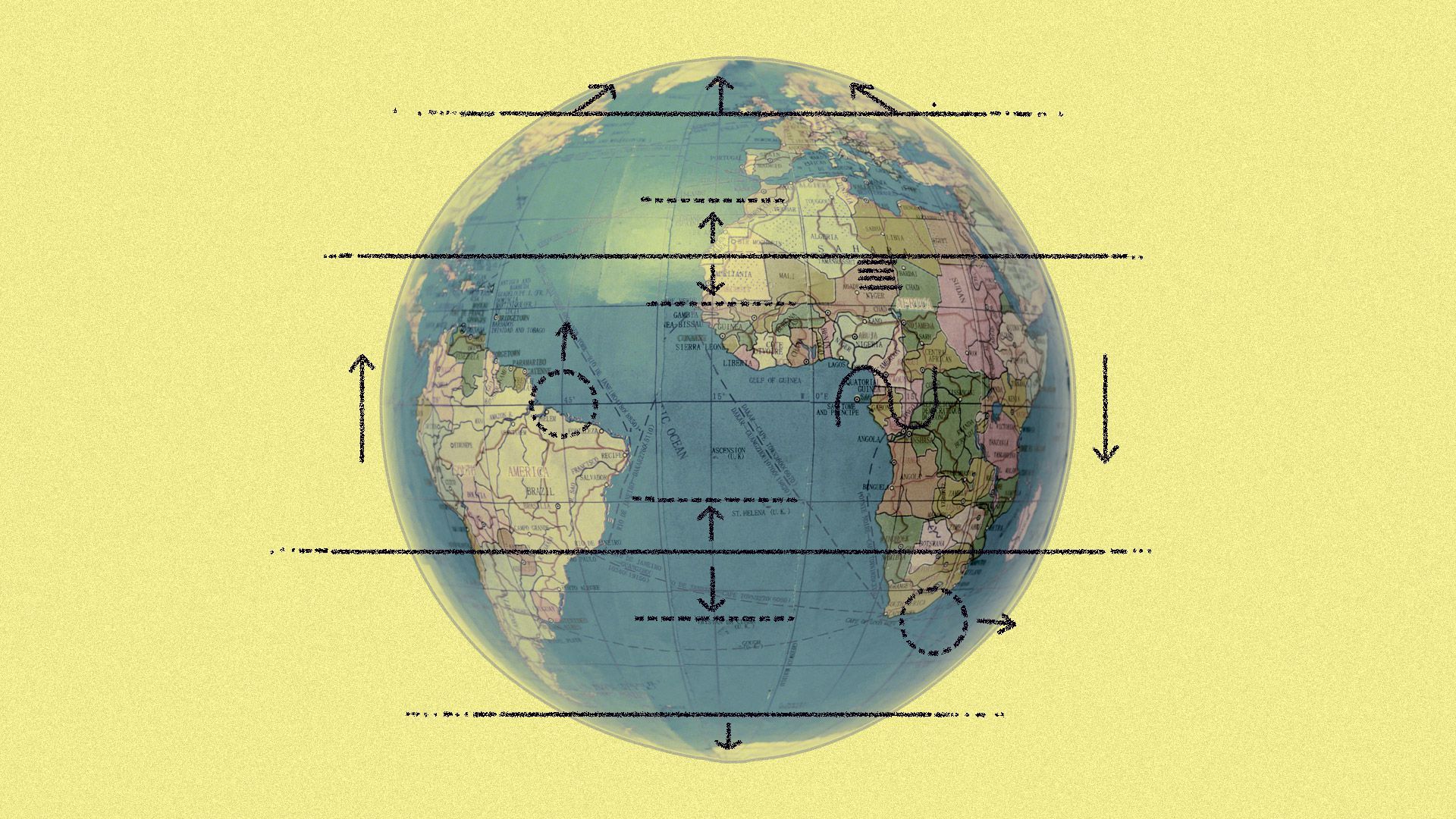 Antibiotic-resistant superbugs are killing more people each year than HIV and malaria, but progress against them worldwide has largely stalled in the wake of the pandemic.
Why it matters: As COVID-19 made crystal clear, disease doesn't recognize borders, and one country's problem can quickly become a global threat.
Driving the news: A study published this week in The Lancet looked at more than 100 countries that have National Action Plans for fighting antimicrobial resistance and found wide variations in their policy designs, and capacity to implement tools and monitor their interventions.
The University of Edinburgh-led research team looked at factors like dedicated R&D budgets for new antibiotics, whether annual antimicrobial resistance progress reports were published and if data on the proliferation of superbugs was sent to international surveillance systems.
The U.S. had the second-highest score after Norway, rating well on its regulation of medicine, stewardship and R&D for novel products. It's plan scored low on accountability and feedback.
China, among the world's most populous countries, came in 22nd. It scored particularly well when it came to coordination and R&D in its plans, but poorly when it came to equity, effectiveness and antimicrobial resistance research. India, another of the most populous nations, fell in the middle of the pack, with its plan scoring well for effectiveness, but low when it came to public awareness and accountability. Micronesia came in last.
An "international response might not be commensurate with the scale and severity of antimicrobial resistance," researchers concluded.
What they're saying: "Globally, we still have a long way to go in terms of putting the tools and policies in place that can effectively combat antibiotic resistance," David Hyun, project director of the Antibiotic Resistance Project at The Pew Charitable Trusts, told Axios.
On its face, it's not terribly surprising that countries' action plans, as well as their ability to carry them out, vary so widely, particularly among poorer nations, Hyun said.
But it is a sober reminder of "how resource-intensive combating antibiotic resistance can be," he said.
The big picture: The World Health Organization in December chronicled increasing drug resistance in several bacteria causing common bloodstream, sexually transmitted and urinary tract infections.
Antimicrobial resistance killed nearly 1.3 million people worldwide in 2019 and factored in 5 million deaths in 2019, per a study in The Lancet. The CDC estimates the U.S. sees more than 2.8 million antimicrobial-resistant infections and more than 35,000 deaths from them each year.
And CDC data showed, at least in the U.S., antimicrobial resistance was worsened in the early days of the COVID pandemic.
"That increase we saw in part was due, in part, to the fact these stewardship and safety programs weren't able to function at the level they used to pre-pandemic," Hyun said.
State of play: The business of antibiotic development has been a losing proposition for many companies around the world, driving most incumbents out of the business and bankrupting some pure play developers, Axios' Dan Primack wrote.
Earlier this month, Dublin-based antibiotic developer Nabriva — which has lefamulin and IV fosfomycin — announced it was winding down operations and selling off the assets.
Antibiotic firms like Melinta Therapeutics, Aradigm, and Achaogen have also declared bankruptcy in recent years.
Private efforts are underway, such as the AMR Action Fund, a $1.2 billion fund effort formed by pharmaceutical manufacturers to invest in new antibiotics developers. It recently announced a $9 million deal to back BioVersys, a Swiss company in the clinic with a product aimed at certain lung and bloodstream infections that kill up to 100,000 people per year.
Between the lines: While COVID-19 commanded headlines and big funding, the world needs to prioritize resources back toward one of the world's biggest killers, said Aleks Engel, director of the REPAIR Impact Fund at Novo Holdings and a board member of the AMR Action Fund.
"Bacterial and fungi infections don't jump out at you the way a virus does. But we know the trajectory we are on is growing every year regardless," he said. "It will end up in a very bad situation that will be exacerbated that we don't have anything new."
Governments worldwide need to do more, Kevin Outterson, executive director of the Combating Antibiotic-Resistant Bacteria Biopharmaceutical Accelerator, or CARB-X, in Boston told Axios.
"We've spent untold billions of dollars doing great work knocking back the AIDS pandemic and reducing malaria around the world," he said. "We're not treating bacterial illnesses with the same seriousness that requires governments to see the threat and act like adults."
Yes, but: While many governments are falling short in efforts to fight antimicrobial resistance, Outterson also said the report highlights how many countries have a plan in the works. "At least they're thinking about what the problem is," Outterson said.
What to watch: The fate of a PhRMA-backed bill known as the PASTEUR Act, which would create a subscription-based payment model for new antibiotics and is expected to be reintroduced after failing to pass in the last Congress.
Go deeper