Rhode Island Latinas running for Congress illustrate state's shift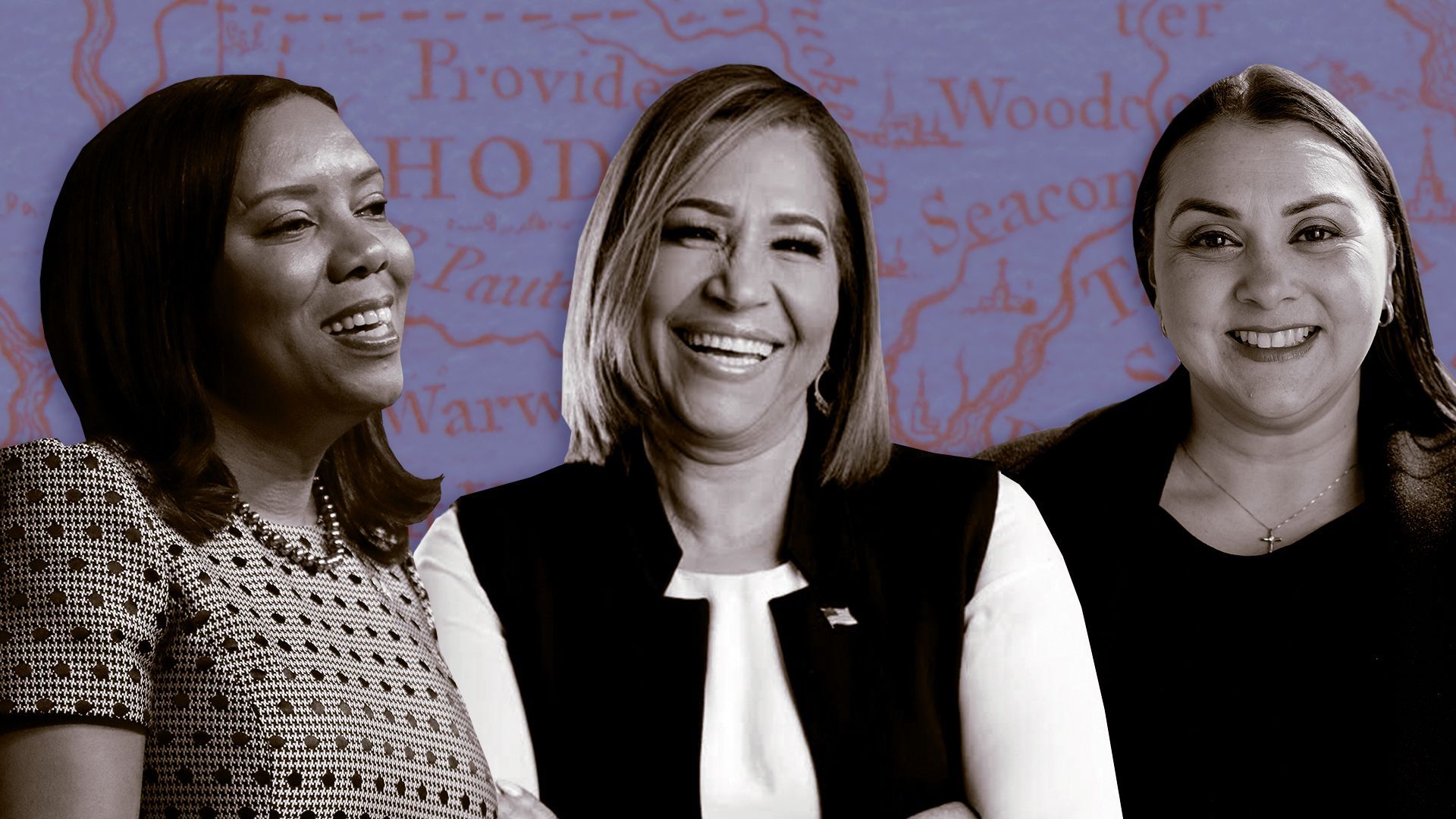 Three Latinas are among a diverse slate of candidates vying to be Rhode Island's next Congressional representative, illustrating the state's shifting demographics and Hispanics' growing political power.
The big picture: Latinos are now 17.6% of the state's population, a more than 40% increase from 2010 to 2022, according to census data.
Between 2010 and 2020, Hispanics were responsible for all of the population growth in Providence, the state's capital, according to an analysis by the Pew Research Center.
"It's really a story of where people have arrived and how long it takes for those communities to establish themselves in different places, and Rhode Island is perhaps not at the forefront," Mark Hugo Lopez, director of race and ethnicity research at the Pew Research Center, tells Axios. "But it's one of these places where there has been a presence for decades."
Details: State Lt. Gov. Sabina Matos and state Sens. Sandra Cano and Ana Quezada, who are all Latina and Democrats, are among the 35 candidates running for the seat left vacated by U.S. Rep. David Cicilline, a Democrat who served for seven terms.
At least five other candidates could be the first person of color to represent Rhode Island in Congress.
Zoom out: Drawn by high-wage industrial jobs, Latinos started settling in Rhode Island in the 1950s, Tony Affigne, professor of political science and Black studies at Providence College, tells Axios. They're now part of the fabric of life in Rhode Island as small business owners and active members of their communities, Affigne adds.
Providence has the second largest concentration of Dominicans in the U.S., according to Yalidy Matos, an associate professor at Rutgers University.
Puerto Ricans and Colombians make up another significant portion of Latinos in Rhode Island, Matos adds.
Zoom in: Rhode Island Latinos have risen to power by serving on city councils and other local offices, John A. Garcia, a research professor emeritus at the University of Michigan, tells Axios via email.
Six Latinos are on the Providence City Council, while 13 Latinos serve in the state Legislature, according to political leaders.
What they're saying: Matos, who is considered a frontrunner, says she learned about public service through her mother, who was a teacher, and father, a former mayor in Paraíso, a town in the Dominican Republic.
Matos was appointed to be lieutenant governor in 2021 and elected to the office the following year, after serving on the Providence City Council for a decade.
"I was able to learn about the need in our community of immigrants" by participating in rallies and working in the nonprofit sector, Matos says.
Cano, who was elected to the state Senate in 2018 and in 2021 became the first Latina to chair its education committee, tells Axios the opportunity to be civically engaged is one she wouldn't have in Colombia, which she left with her family as a political refugee.
"I come from a country that really doesn't have the same protections that we do have here in the United States and that is definitely an experience that I hold hard to my policy driven activities," she adds.
Quezada tells Axios that she struggled to adapt culturally after moving from the Dominican Republic to Tarrytown, NY, — where few Latinos lived — in the 1980s, but that changed when she moved to Providence in 1990.
"I started getting involved in the community because it was a smaller town and everybody knows each other," she says.
What to watch: Primaries will be held Sept. 5 for the Democratic stronghold seat.
Subscribe to Axios Latino to get vital news about Latinos and Latin America, delivered to your inbox on Tuesdays and Thursdays.
Go deeper