Updated Jul 11, 2023 -

World
Zelensky: It's "absurd" NATO won't give timetable for Ukraine membership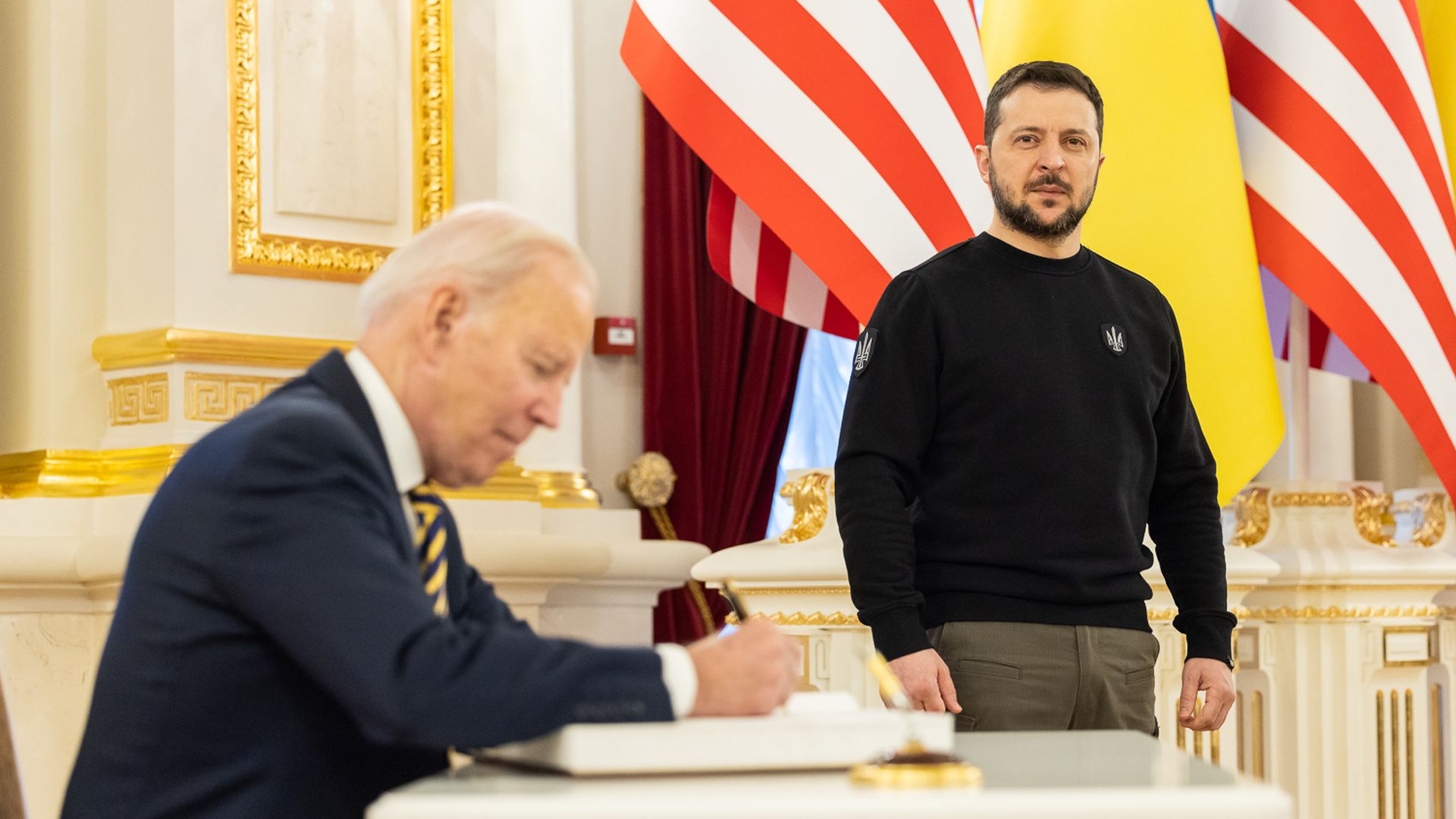 Ukrainian Volodymyr Zelensky in a tweet on Tuesday slammed NATO members' unwillingness to offer Ukraine a timetable for membership as "unprecedented and absurd."
Why it matters: Zelensky didn't name President Biden directly, but the U.S. and Germany are leading the resistance to any definitive statements at this week's summit in Vilnius that Ukraine will soon be a member.
The issue of how to handle Ukraine's future membership has divided the alliance, with countries like Poland and the Baltic states pushing for a much stronger statement.
What he's saying: "Ukraine will be represented at the NATO summit in Vilnius. Because it is about respect," Zelensky tweeted.
"But Ukraine also deserves respect," said.
"It's unprecedented and absurd when [a] time frame is not set neither for the invitation nor for Ukraine's membership. While at the same time vague wording about 'conditions' is added even for inviting Ukraine," he added.
"It seems there is no readiness neither to invite Ukraine to NATO nor to make it a member of the Alliance. This means that a window of opportunity is being left to bargain Ukraine's membership in NATO in negotiations with Russia. And for Russia, this means motivation to continue its terror. Uncertainty is weakness. And I will openly discuss this at the summit."
Driving the news: Russian President Vladimir Putin justified his invasion in part on the idea Ukraine's NATO ascension would be intolerable to Russia. Some analysts believe he'll try to keep the conflict going in order to prevent it — particularly if Ukraine has a guarantee of membership after the war.
But Zelensky sees NATO membership as an essential guarantee of his country's long-term security, and more than justified by the military prowess and sacrifice Ukraine has demonstrated through 500 days of war.
The unstated question before the leaders gathered in Vilnius is whether, and under what circumstances, they would be willing to send soldiers to fight for Ukraine.
State of play: Biden has been willing to tiptoe beyond the declaration from Bucharest in 2008 that Ukraine will one day join NATO, by acknowledging that Kyiv has made progress toward membership and won't need to complete an arduous "Membership Action Plan," which can take many years.
But Biden told CNN's Fareed Zakaria on Sunday that he does not believe Ukraine is ready to join the alliance, citing the need for further reforms and "democratization."
He also noted that inviting Ukraine to join now would mean signing up for war with Russia.
Between the lines: All allies recognize Ukraine won't be brought under NATO's security umbrella immediately.
Instead, the argument centers on what happens once the heavy fighting is over.
"The question that some people are asking is, 'Are the U.S., are Germany raising this now in order to really signal that they're not prepared to move forward with NATO membership for Ukraine any time soon, or even ever?'" says Ivo Daalder, a former U.S. ambassador to NATO.
Those on the more cautious side argue there are too many unknowns, including how to bring a member whose borders are contested under NATO's mutual defense commitments — and, effectively, under the U.S. nuclear umbrella.
"Biden and the White House — and it really is Biden and the White House, more than the rest of the administration — want to have answers to those questions before they're willing to go all the way," Daalder says.
What's next: Diplomats have been working frantically to settle on a joint statement to be released during the summit. The leaders themselves might have to get involved if that doesn't happen, Daalder says.
In the meantime, NATO's biggest military powers — France, Germany, the U.K. and the U.S. — are expected to commit to arm and support Ukraine for the longer term, an approach being dubbed "the Israel option." A commitment of support is also expected from the G7.
What to watch: Biden is expected to have meetings in Vilnius with Zelensky as well as Turkish President Recep Tayyip Erdoğan.
Editor's note: This story has been updated with Zelensky's comments.
Go deeper