El Paso Walmart shooter sentenced to 90 consecutive life terms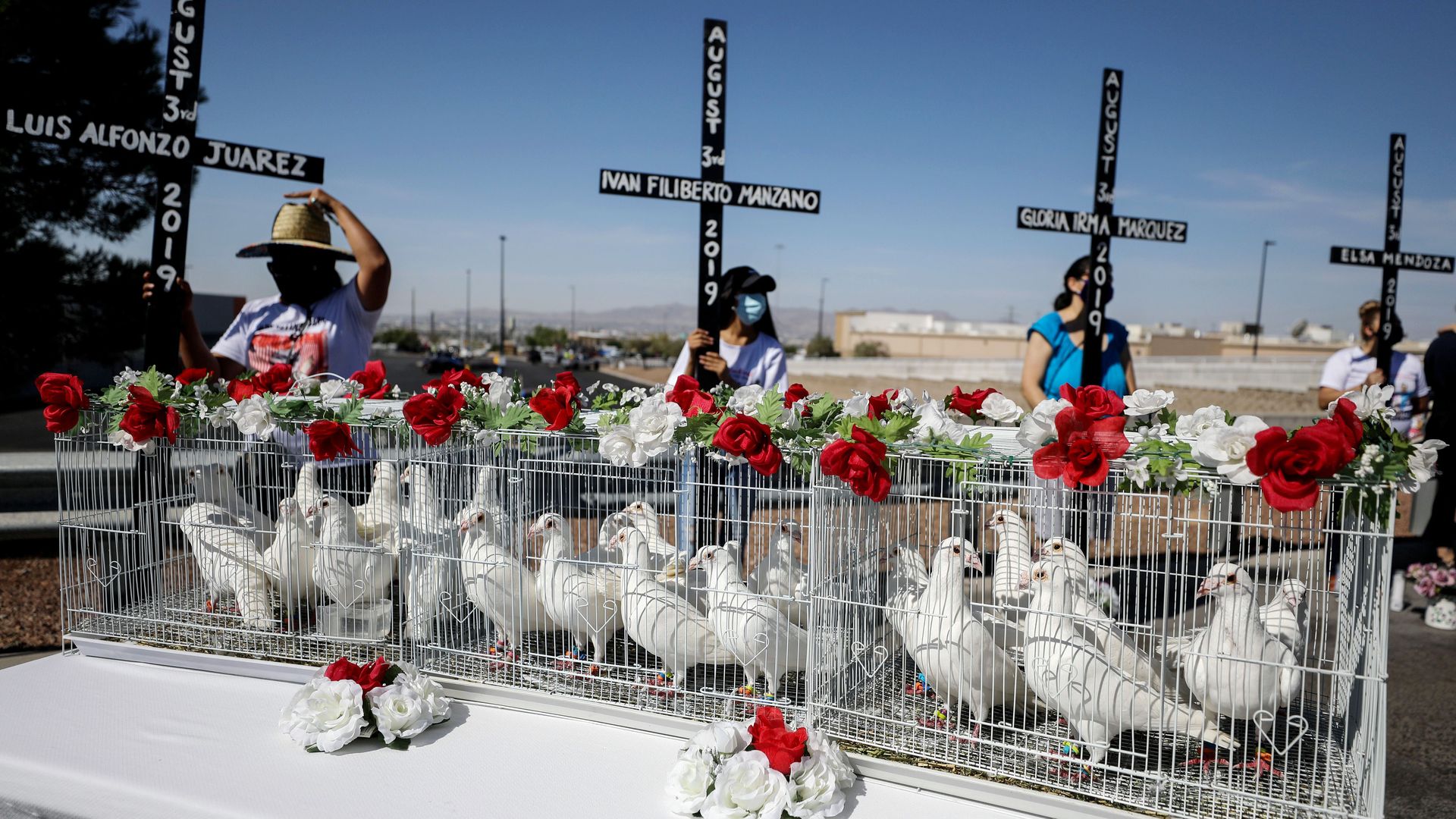 The man who fatally shot 23 people at an El Paso Walmart in 2019 was sentenced on Friday to 90 consecutive life terms in federal prison.
Driving the news: Patrick Crusius pleaded guilty to 90 federal hate crimes and firearms violations in February after the federal government announced it would not pursue the death penalty.
The families of the victims delivered statements during the nearly three-day sentencing hearing in an El Paso courtroom. Twenty-two people were also injured in the shooting.
"While this sentence cannot possibly replace the lives lost or undo the harm done to the survivors or those otherwise impacted by this horrific event, it is our hope this sentence ... brings some finality and peace to those affected, with the knowledge that this ensures this defendant will spend the rest of his life in prison," Margaret Leachman, the assistant U.S. attorney for the Western District of Texas, said in a statement.
What to know: Authorities say Crusius, 24, confessed to police that he was targeting Mexicans when he drove 10 hours from Allen, Texas, to El Paso to carry out the shooting on Aug. 3, 2019.
He posted a racist screed online shortly before the shooting, according to prosecutors, and also admitted that he intended to kill everyone he shot.
As part of the guilty plea, Crusius admitted that he killed and wounded people at the Walmart because of the "actual and perceived Hispanic national origin" of the individuals he expected to be at the store, per the Justice Department.
The sentence was in accordance with his plea agreement.
What they said: "In your hatred, you took a great man from this world," Stephanie Melendez, whose father, David Johnson, died in the shooting, said during a hearing on Wednesday, according to the El Paso Times.
"You showed her (granddaughter) evil. You showed her monsters exist outside of fairy tales. I have been asked if I would forgive you, as of today, no."
Kaitlyn Melendez, 13, survived the shooting. "I imagine every day, everywhere I go, that there might be a gunman," Melendez said.
What to watch: Cruisus' trial in state court on capital murder charges has not been set, but local prosecutors have said they will seek the death penalty.
Editor's note: This story has been updated with Margaret Leachman's statement.
Go deeper