Renewables help tame Texas electricity costs as heat wave swamps state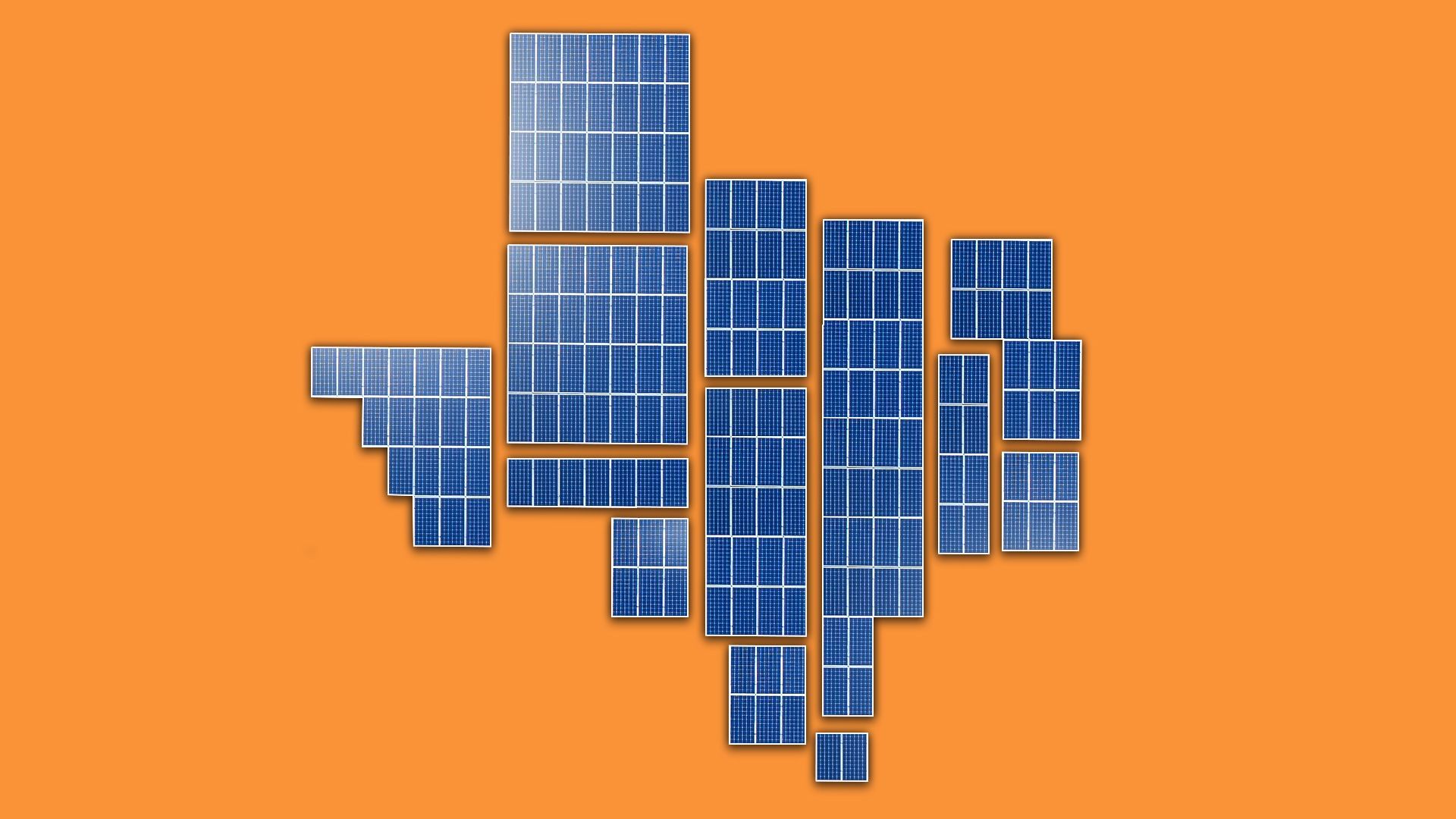 Renewable energy is helping to keep electricity costs from skyrocketing in Texas as the state sweats beneath a heat dome.
The big picture: The heat dome is toppling records. Multiple locations in Texas set monthly and all-time temperature highs last week.
And with air conditioners humming relentlessly, the state hit a new record for electricity usage on June 27.
Meanwhile, Texas' renewable energy production also climbed to new highs amid outages from a large number of fossil-fuel plants.
Why it matters: As states across the U.S. take steps to decarbonize, the role and reliability of renewable power are being closely watched in Texas. The Lone Star State has the second largest renewable capacity in the country (after California) — and is prone to extreme temperatures that can strain the grid.
So far this year, Texas' renewables have passed the test.
What they're saying: "The market just kind of shrugged because there was so much wind and solar in the market ... It's another demonstration of the benefit for consumers that we see from wind and solar," says Doug Lewin, author of the Texas Energy and Power Newsletter.
"Having solar provide during the hottest parts of the day is allowing our thermal [i.e. fossil fuel] fleet to not run itself into the ground as fast," Josh Rhodes, a research scientist at the University of Texas at Austin, told Texas Monthly.
By the numbers: The state's solar capacity has nearly tripled in the past three years, and there are thousands more megawatts now under development, as Texas Monthly notes.
The Texas grid was producing a record 31 gigawatts of renewable power last Wednesday.
And as a share of total power, renewables reached 35%-40% during peak usage last week, Lewin says. (For comparison, renewables provided about 25% of the state's power during 2022.)
Power prices climbed from the typical area of around $30 per megawatt hour — but they mostly stayed below $50 throughout the week, says Lewin.
"A few years ago, on a day like last Tuesday there would have been a very high likelihood that you would have seen prices in the $1,000s per megawatt hour area," he says. (In Texas' deregulated power market, occasional price spikes during high demand are a feature, not a bug.)
"Renewables likely saved consumers a billion dollars or more last week alone," Lewin adds.
Two key stats: Renewables reduced wholesale electricity costs in Texas by $11 billion in 2022, according to a recent paper that Rhodes authored.
But it could have been more: Transmission congestion cost Texans nearly $3 billion last year.
In other words, much of the excess solar power produced in high-generation areas like the south and west couldn't be moved to places like central Texas that would gobble it up if they could get their hands on it, says Michael Webber, a professor at the University of Texas at Austin.
More transmission projects are in the works, he notes.
What we're watching: Summer's just getting started — keep an eye on the Texas grid as the heat wave continues.
Editor's note: This story has been corrected to state that the Texas grid was producing a record 31 gigawatts of renewable power on Wednesday June 28, rather than megawatts.
Go deeper