Man charged in Philadelphia mass shooting that killed 5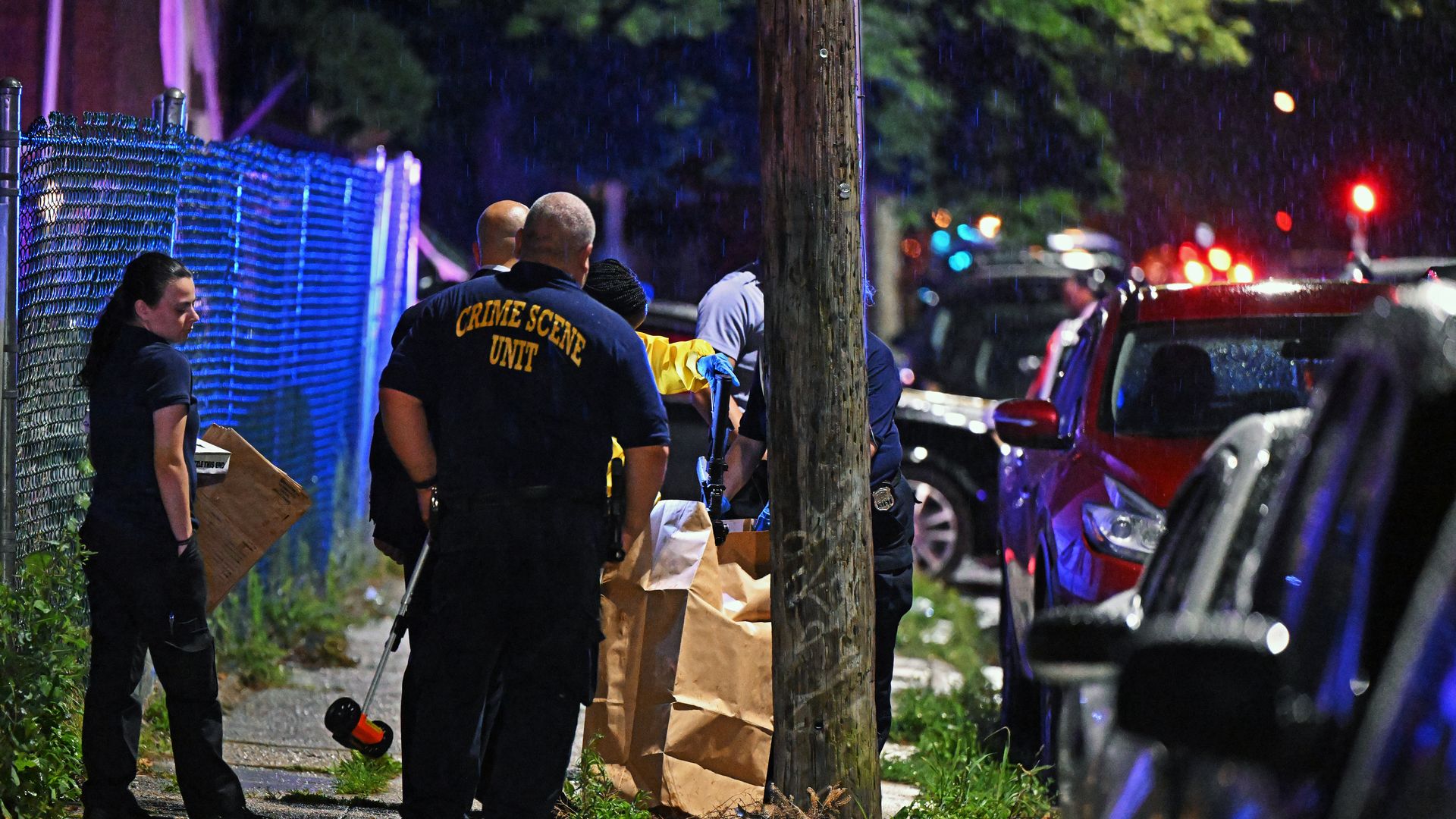 A suspect accused of killing five people in Monday's mass shooting in Southwest Philadelphia left behind a will and had been acting erratically in the weeks before the tragedy, authorities said.
Driving the news: The 40-year-old suspect was held without bail after being arraigned Wednesday on several charges, including murder, in the tragedy that has rocked Kingsessing, a majority Black neighborhood that's home to many West African immigrants.
Catch up fast: Authorities said the shooter, who was wearing a ski mask and bulletproof vest, used an AR-15 assault rifle to fire "aimlessly" at vehicles and people on the streets Monday evening.
Two boys, ages 2 and 13, were wounded, as well as a mother of twins who was struck by broken glass when the suspect opened fire on their vehicle.
Police identified the five slain victims on Tuesday. The youngest was 15.
What they're saying: The twin sister of Joseph Wamah Jr., who was killed in the shooting, described her brother as a "kind soul" and a jokester who always looked after his family.
He had a psychology degree and was a talented artist obsessed with the "Creed" movies.
"I'm just waiting for him to say, 'Hey, this is a prank,'" Josephine Wamah said during a news conference Wednesday.
Details: Officials said police pursued the suspected shooter — identified by law enforcement as Kimbrady Carriker — on foot while he was shooting. He surrendered without a fight after being cornered in an alley.
None of the victims were connected to Carriker, who also faces charges of attempted murder, aggravated assault and weapons offenses, authorities said.
A search of Carriker's Philly home turned up a .380-caliber firearm, ammunition matching rounds that were used in the killings and a will dated June 23, prosecutors said.
Police also recovered a 9mm "ghost gun" from the scene, but said it wasn't used in the shooting.
Authorities believe the firearms were illegally obtained since Carriker couldn't own weapons because of a prior conviction.
Of note: Carriker previously served three years of probation after being convicted of carrying a firearm without a license, a misdemeanor, per state court records.
He shared many pro-gun posts on Facebook, including ones showing children shooting firearms.
Some of the posts were concerning enough that they should've raised red flags, Philadelphia Sheriff Rochelle Bilal said during the news conference, urging residents to report any suspicious online activity.
What they're saying: Prosecutors also revealed Wednesday that people whom Carriker had been residing with noticed that he was "exhibiting abnormal behavior" before the shooting.
He wore a bulletproof vest, had guns inside the house, and was becoming increasingly "agitated," yet no one contacted authorities to report his condition, Assistant District Attorney Joanne Pescatore said.
What's ahead: Carriker has a preliminary hearing scheduled for later this month.
Go deeper