2 dead, 28 injured in shooting at Baltimore block party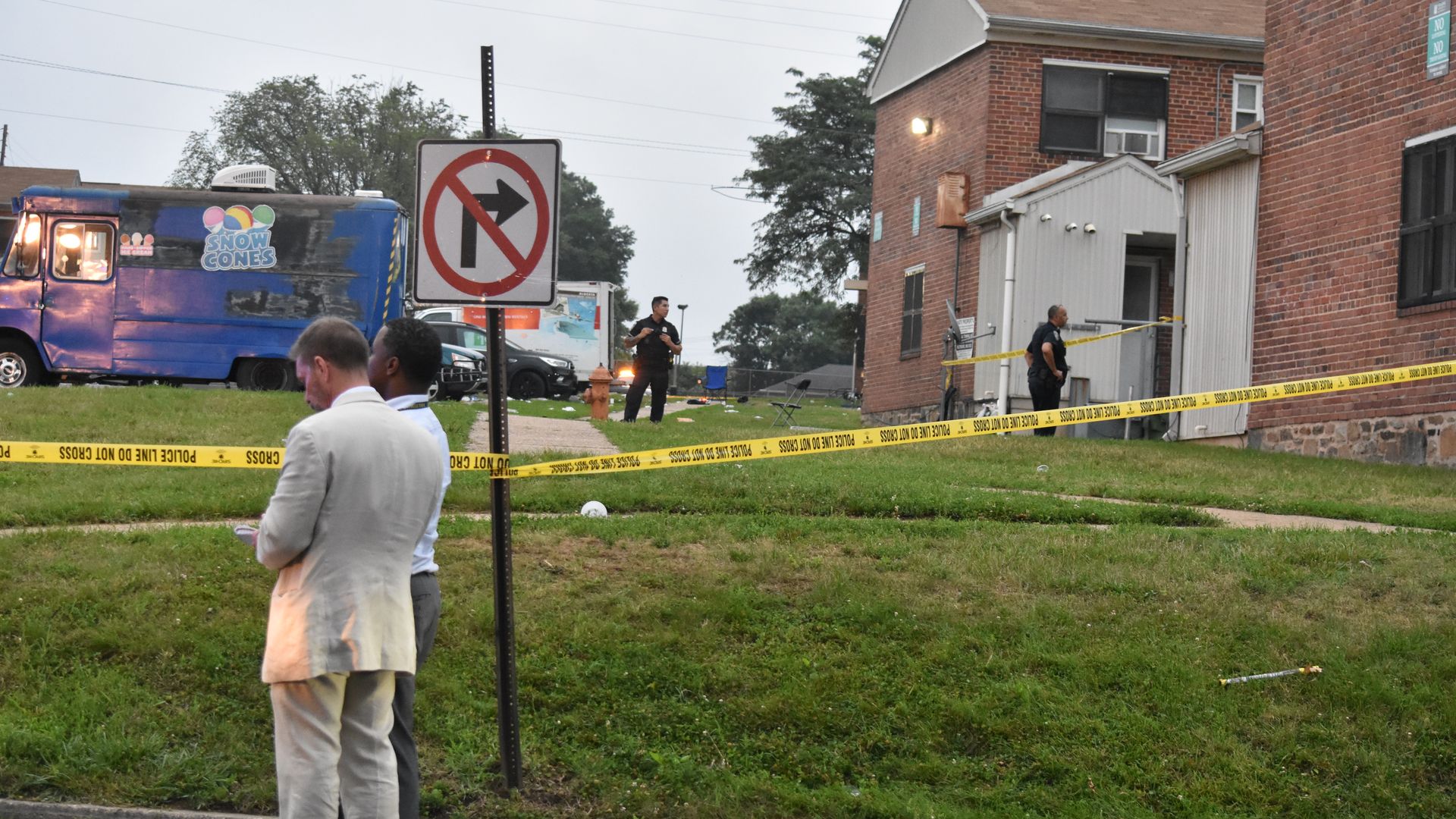 A mass shooting at a Baltimore block party early Sunday left two people dead and at least 28 others with gunshot wounds, police and city officials said.
The latest: The ages of those shot ranged from 13 to 32 years old and some 15 of the injured victims hurt were younger than 18, the Baltimore Police Department said.
No arrests have been made. Acting Police Commissioner Richard Worley, who just took the helm in June, said it isn't clear if the victims were targeted.
Killed were 18-year-old Aaliyah Gonzales, a female, and 20-year-old Kylis Fagbemi, a male.
Those who survived were identified as two 13-year-olds, one 14-year-old, three 15-year-olds, five 16-year-olds, four 17-year-olds, five 18-year-olds, three 19-year-olds, and one each who were 20, 22, 23, 31 and 32.
Police were still searching for the suspects and "we know for sure there are more than one," but officers were still trying to determine how many, Worley added.
Driving the news: Police said they started receiving 911 calls at 12:30am and arrived to find an 18-year-old woman dead at the scene.
Nine people were transported from the scene to hospitals. 20 people walked into nearby hospitals. Three of the victims are in critical condition, according to police.
A 20-year-old man, who was taken to the hospital, was later pronounced dead.
Police did not immediately disclose a motive for the shooting.
The big picture: There have been more mass shootings in the U.S. so far this year than days, according to the Gun Violence Archive.
As of Sunday morning, there had been three mass shootings in July in Baltimore; Wichita, Kansas; and Tulsa, Oklahoma.
Details: Mayor Brandon Scott told CNN the shooting occurred during the annual block party in Baltimore's Brooklyn neighborhood.
Scott described it as "a working-class neighborhood filled with immense pride."
"It is a neighborhood that has had its troubles, but a neighborhood that has seen some folks in that community really determined to see it be successful and see things turn around," Scott said.
What they're saying: "This was a reckless, cowardly act that happened here that has permanently altered many lives," Scott said.
"I hope every single breath that you take, that you think about the lives that you took, and you think about the lives that you impacted here tonight," the mayor added.
Of note: Scott said the shooting "highlights the impacts and the need to deal with the over-proliferation of illegal guns on our streets and the ability for those who should not have them to get their hands on them."
Editor's note: This article has been updated with more details on the shooting, including the ages of those shot.
Go deeper