Adventures in getting a green card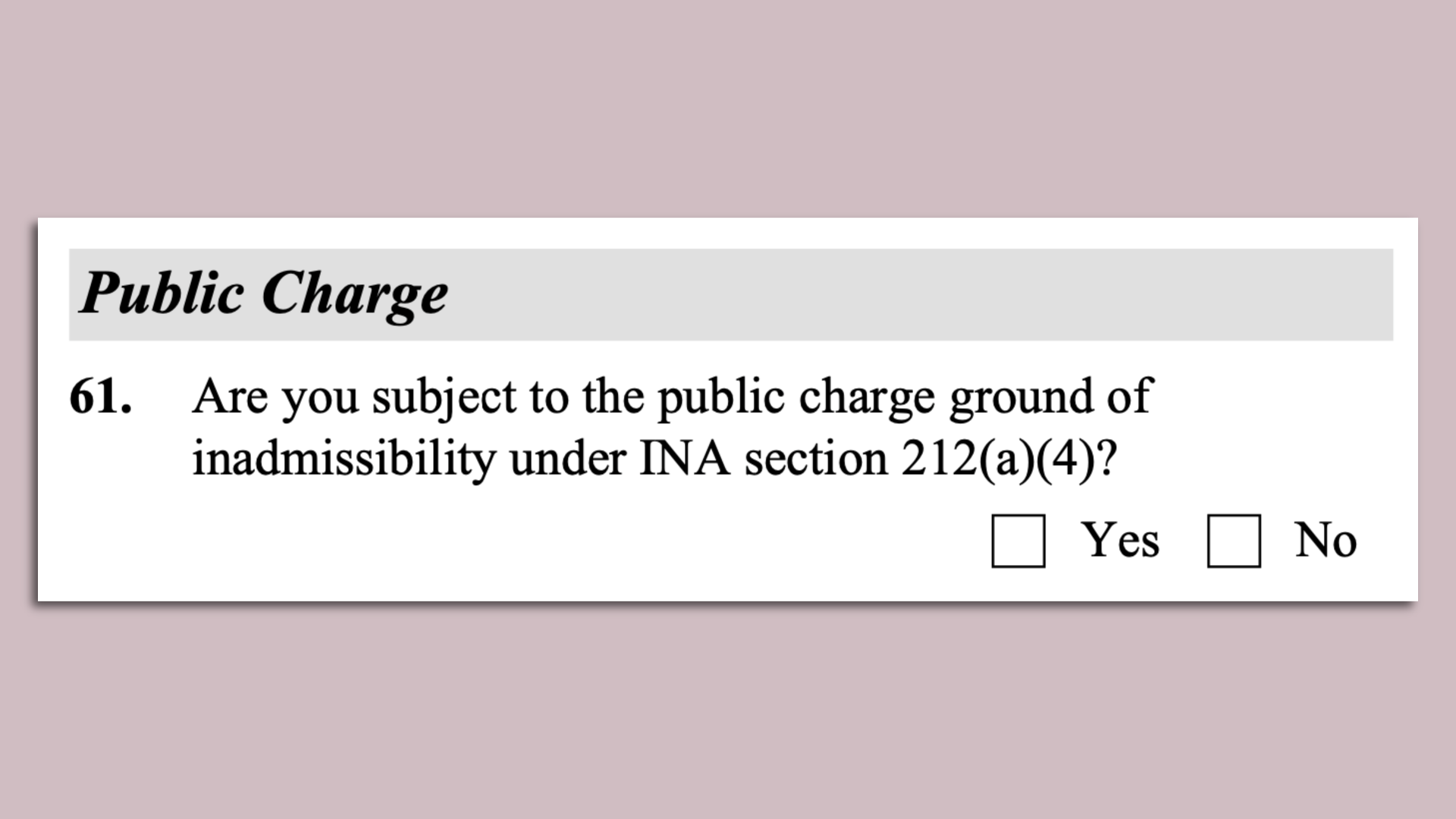 To apply for a U.S. green card, you have to fill out an I-485 form, which is 20 pages long — not including the 44 pages of instructions on how to fill it out.
Why it matters: Part of the form looks as though it is specifically designed to trip people up and cause them to lie on their application, opening them up to prosecution — and possible deportation — long after they receive their permanent residence.
How it works: Question 61, on page 13, reads: "Are you subject to the public charge ground of inadmissibility under INA § 212(a)(4)?"
The official instruction for answering that question reads: "To find out whether you are subject to the public charge ground of inadmissibility, see the USCIS Policy Manual Volume 8, Part G, Chapter 3."
Good luck trying to understand that.
Where it stands: The question looks as though it's asking whether you're inadmissible on the grounds that you are likely at some point to become dependent on government assistance — a public charge.
As a result, anybody who's not likely to become dependent on government assistance — and who's including an affidavit of support to that effect — is very likely to answer "no" to question 61.
The catch: Look more closely. As a USCIS spokesperson tells Axios, "This question is asking whether the public charge ground of inadmissibility applies to an applicant, not whether the applicant is likely at any time in the future to become a public charge."
In other words: The correct answer for the vast majority of applicants isn't "no," it's "yes."
For the record: The USCIS tells Axios that it "will not seek punitive measures or penalties against applicants who complete and file an I-485 application in good faith" and notes that the agency has committed to "simplifying" the form by the end of this fiscal year — which would be September 30.
The bottom line: Every applicant certifies "under penalty of perjury" that the answers on the form are true and correct. A huge proportion of applicants who aren't using a lawyer to fill out the form — and even some who are — are certain to have been answering this terribly worded question incorrectly.
So long as it remains on the form, new applicants continue to leave themselves open to harsh penalties, if not from this administration then possibly from future ones.
Go deeper