Advocates fear more setbacks for LGBTQ rights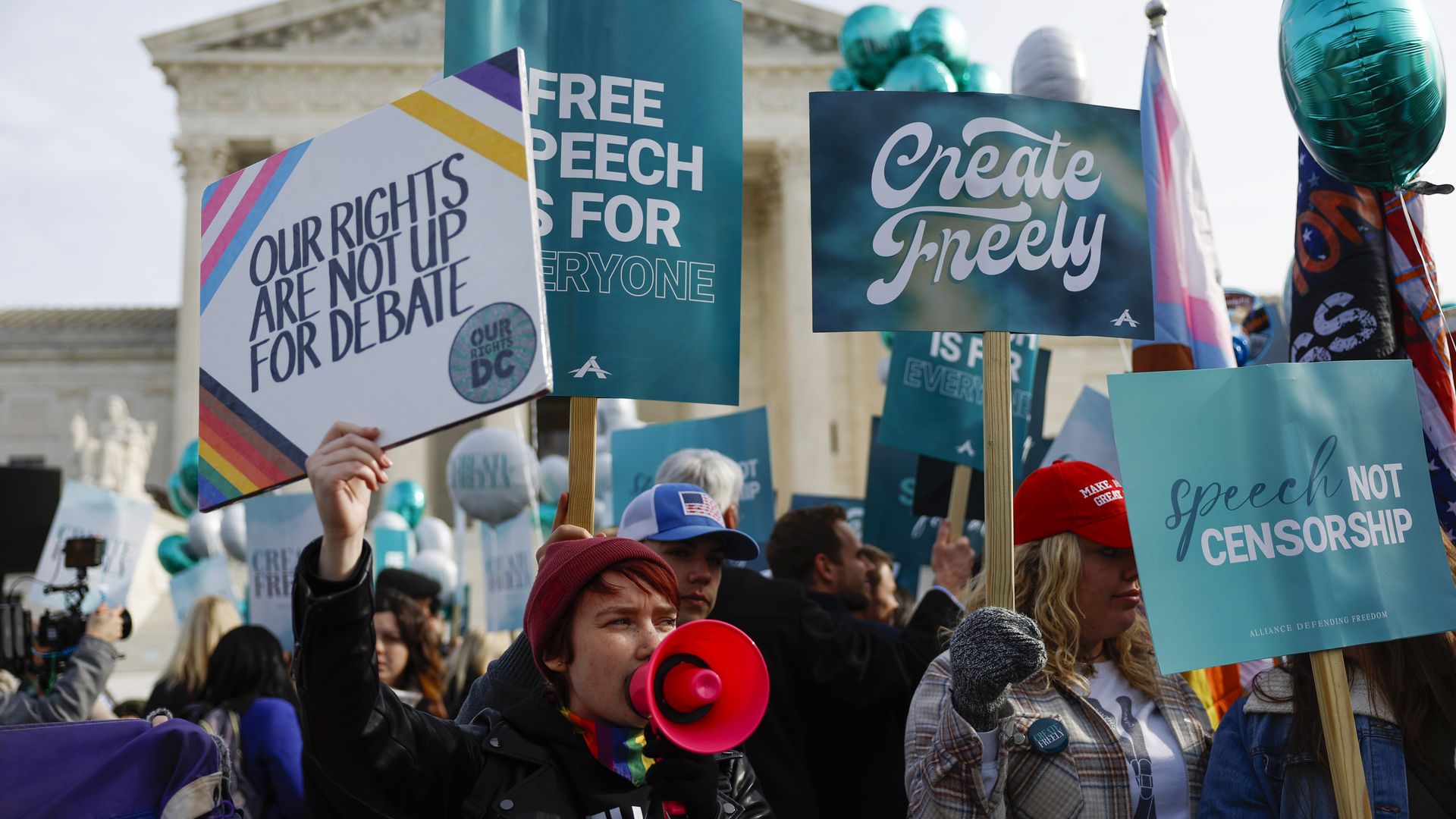 The Supreme Court's ruling Friday that certain businesses can refuse to serve LGBTQ customers could have broad implications for the enforcement of anti-discrimination laws, experts and advoates say.
Driving the news: The court said in a 6-3 ruling Friday that a Colorado web designer could decline to make a website for a same-sex wedding.
Colorado law prohibits any business from turning away customers because of their sexual orientation. The web designer, Lorie Smith, objects to same-sex marriage on religious grounds and argued that forcing her to make a site for a same-sex wedding would violate her First Amendment rights. The court agreed.
What they're saying: Amanda Martin, supervising attorney at Duke University's First Amendment Clinic, told Axios that the ruling "significantly undermines the efforts of Colorado or any other governmental institution that is trying to address civil rights issues."
"The case is significant because the court held for the first time today that a business had a constitutional right to discriminate," said Louise Melling, deputy legal director for the ACLU.
Details: The court's majority opinion, written by Justice Neil Gorsuch, drew a distinction between turning away customers and making specific products.
Smith wouldn't be able to turn down, say, a website for a business just because the owner of that business was gay, the court said, but requiring her to make a site that conveys a message she disagrees with is a violation of the First Amendment.
Yes, but: It's not clear which good or services will qualify as expressive speech and which won't, Linda McClain, the Robert Kent Professor of Law at Boston University, told Axios.
"The court doesn't seem to put any limiting principles on this artistic expression, creative expression, protection," McClain said, noting that the ruling is not limited to same-sex marriage or religious convictions.
Zoom out: The ruling comes amid a broad push by Republican lawmakers across the country in recent years to pass anti-LGBTQ legislation.
"I'm deeply concerned that the decision could invite more discrimination against LGBTQI+ Americans," President Biden said in a statement.
"Today's decision weakens long-standing laws that protect all Americans against discrimination in public accommodations – including people of color, people with disabilities, people of faith, and women," Biden added.
Kelley Robinson, president of the Human Rights Campaign, called the decision a "dangerous step backward, giving some businesses the power to discriminate against people simply because of who we are."
Go deeper