SNAP combats racial divides, study finds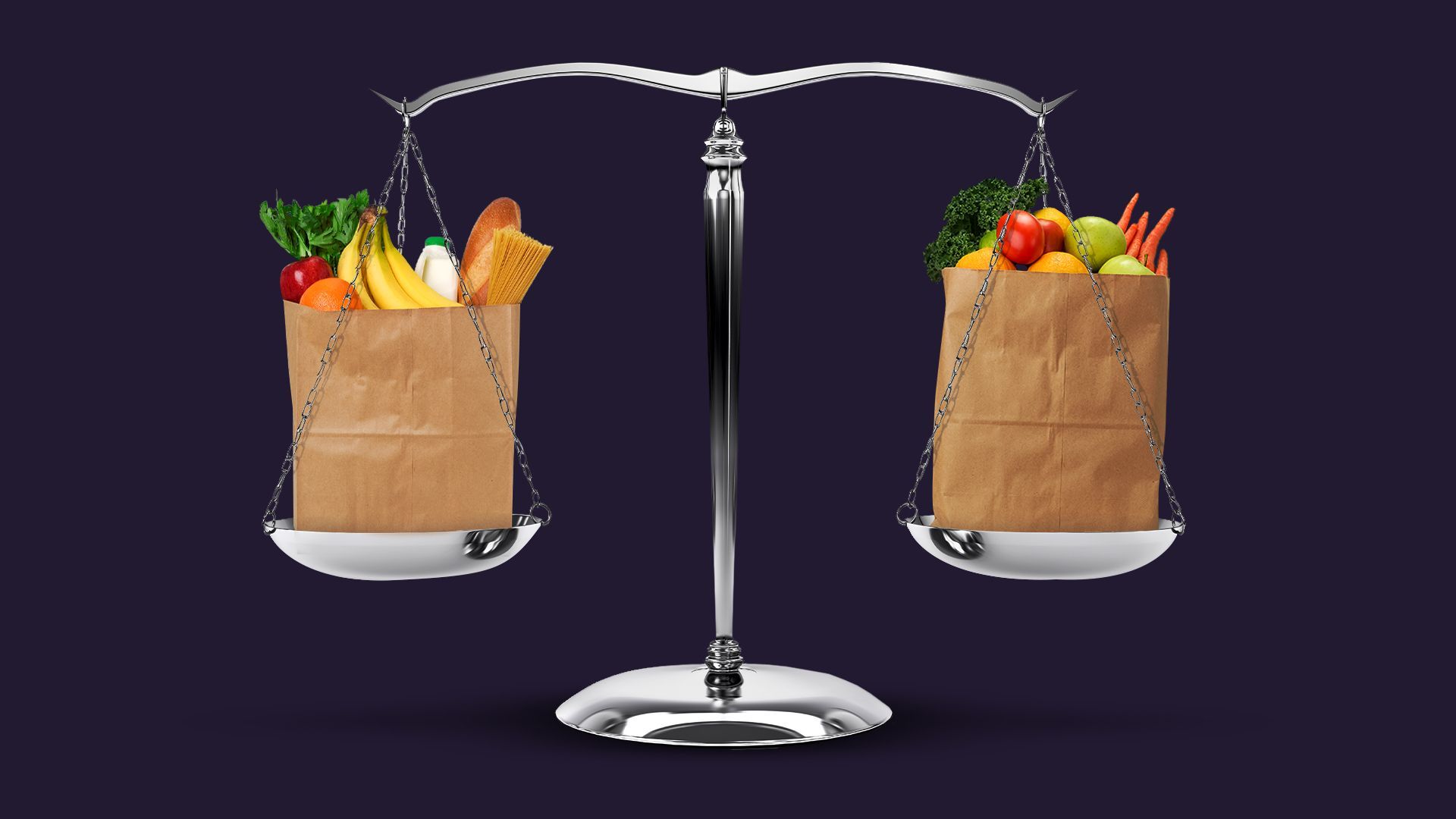 Racial disparities in food insecurity persist among low-income households that don't participate in the Supplemental Nutrition Assistance Program (SNAP), but not among those that do, according to a new study.
Why it matters: Food insecurity is considered a critical public health threat, and the new evidence suggests that SNAP can be an effective tool in minimizing inequities created by a lack of access to nutritious foods.
Driving the news: A study published Monday in JAMA Network Open looked at a nationally representative sample of 4,974 households that were eligible for SNAP under federal rules — or reported an income level at or below 130% of the federal poverty line.
What they found: Among those surveyed that did not participate in SNAP, households that were entirely Black or multiracial were more likely to be food insecure than white households.
By contrast, of the households that did enroll in SNAP, those that were entirely Black or multiracial actually had a decreased likelihood of being food insecure when compared to their entirely white counterparts.
Between the lines: Lead author Laura Samuel, an assistant professor at the Johns Hopkins School of Nursing, tells Axios that while other studies have looked at racial inequities in food insecurity among U.S. households, this is the first to look at SNAP's impact on those divides.
The lack of racialized food insecurity gaps for households on SNAP could be because the program "successfully addressed their food security," according to Samuel, whose research focuses on socioeconomic health inequities.
Yes, but: Evidence of food insecurity disparities for Latino households was not identified in the new paper — but Samuel cautions that this doesn't mean it doesn't exist.
Zoom in: A body of research has revealed how public safety-net programs disproportionately serve communities of color — an outcome of historically discriminatory policies that contribute to racially-based economic barriers.
Roughly 20% of Black households and 16% of Latino households were food insecure at one point in 2021, compared to 7% of white households, per the National Institute on Minority Health and Health Disparities.
"These study findings are placed within a much broader movement to try to understand the way that systemic racism has operated in our country," Samuel tells Axios.
Meanwhile: SNAP remains a point of contention for legislators ahead of the farm bill, with Republicans and Democrats fiercely split over funding for the food assistance program.
"In the context of ongoing negotiations about the next farm bill, this study confirms that SNAP is highly effective at reducing food insecurity in the U.S., as well as reducing racial disparities in food insecurity," says food insecurity and health expert Hilary Seligman, a professor at the University of California, San Francisco who is unaffiliated with the paper.
The bottom line: "Beyond the bounds of this paper, there's so much evidence to suggest that SNAP helps people," Samuel tells Axios, citing the health benefits for those enrolled.
"We should be thoughtfully considering ways to reduce the barriers to SNAP utilization."
Go deeper