Speed dating is making a comeback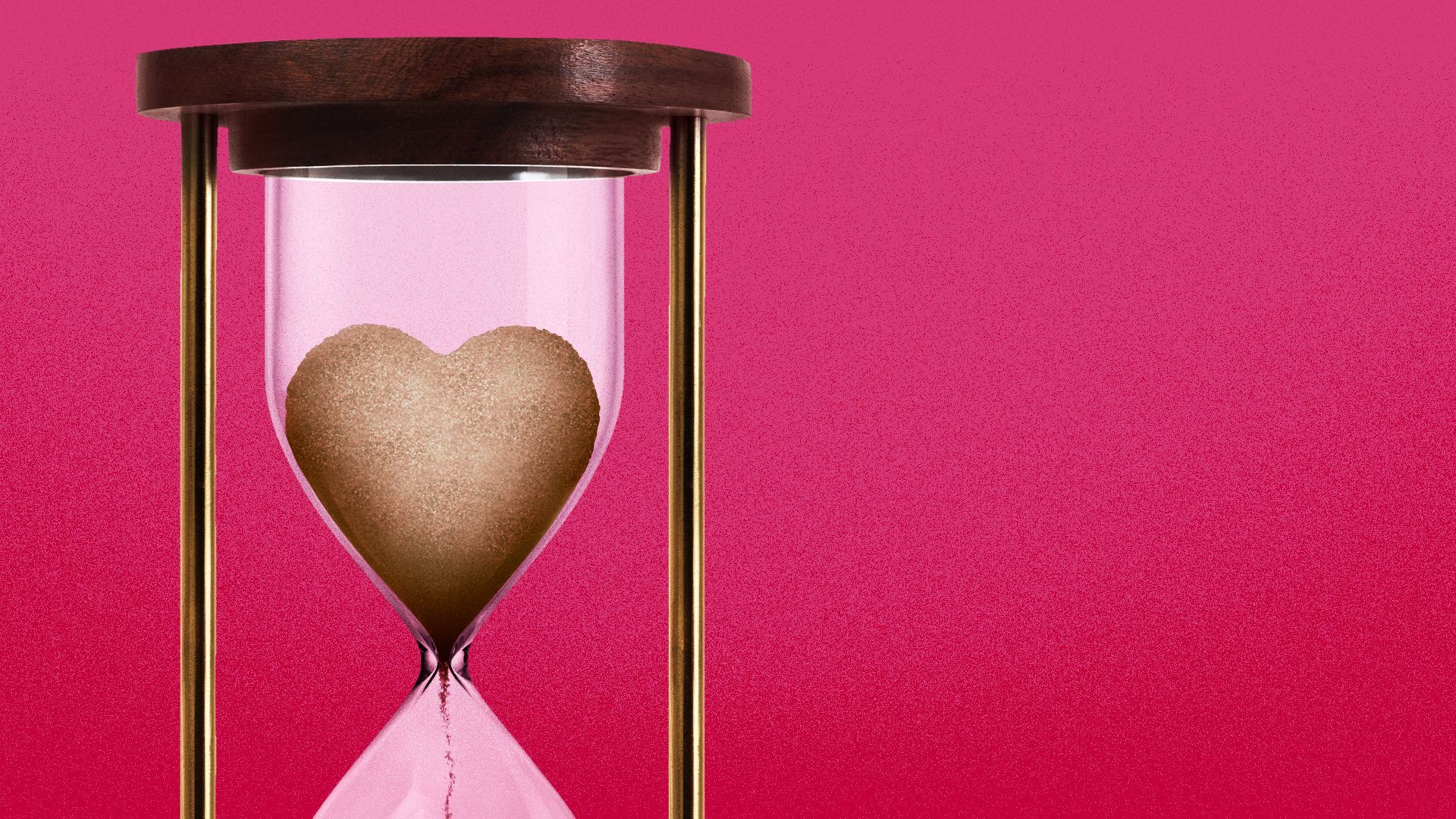 Singles are partying like it's 1999: They're speed dating and joining social clubs.
What's happening: With pandemic isolation happily behind them, people looking for love are meeting IRL and embracing more ways to make physical connections.
By the numbers: Attendance at Eventbrite events that mentioned "dating" or "singles" rose 62% in the early months of this year, compared to the same time last year, according to Eventbrite data.
And the number of those events increased by 20%, the ticketing site said.
Eventbrite's Chief Marketing Officer, Tamara Mendelsohn, told Axios she's seen a surge in nostalgic events on the service, including "traditional crafts like pottery and the rise of themed parties that celebrate past decades."
What they're saying: "I've been on [dating] apps for years, and I go back and forth… deleting, downloading — having a great experience, having a not-so-great experience," said Stephanie Scheele, who started with the apps nine years ago.
Single and feeling "separated from people" because of the pandemic, she and a friend started a Los Angeles singles club so they could plan face-to-face meetups for people open to dating. They plan to add speed dating soon.
It sounded more appealing than going to a bar, where "maybe you see a cute guy, but he's married," Scheele said.
Instead of relying on a combo of Facebook Events and clunky group texts, some singles party planners now use Eventbrite or Partiful, which launched in spring 2021.
Partiful's aesthetic, meme-friendly platform offers something many millennials and Gen-Zers want — inclusivity and chill vibes, a far cry from once-stigmatized singles events.
Shreya Murthy, Partiful's co-founder and CEO, told Axios that going to a singles event now is less about sending the message that you're looking to date, and more about seeing the party as one of many in your broader social life.
Here are a few new companies catering to in-person connections.
The exclusive social club Ambyr, one of a few new New York City speed-dating groups, says it exists "because you can't feel someone's energy through a dating app."
So-called social experiment Pear sells a membership and a turquoise middle-finger ring for those wanting to send the PSA that they're single.
The "offline dating app" Thursday hosts IRL New York City and London events and allows users to connect with potential daters only one night a week.
A welcome side effect for singles joining new hangouts: Even if they don't immediately find love, participants are making new friends, Scheele said.
Go deeper