Tesla Inside: How Elon Musk could control more of the EV industry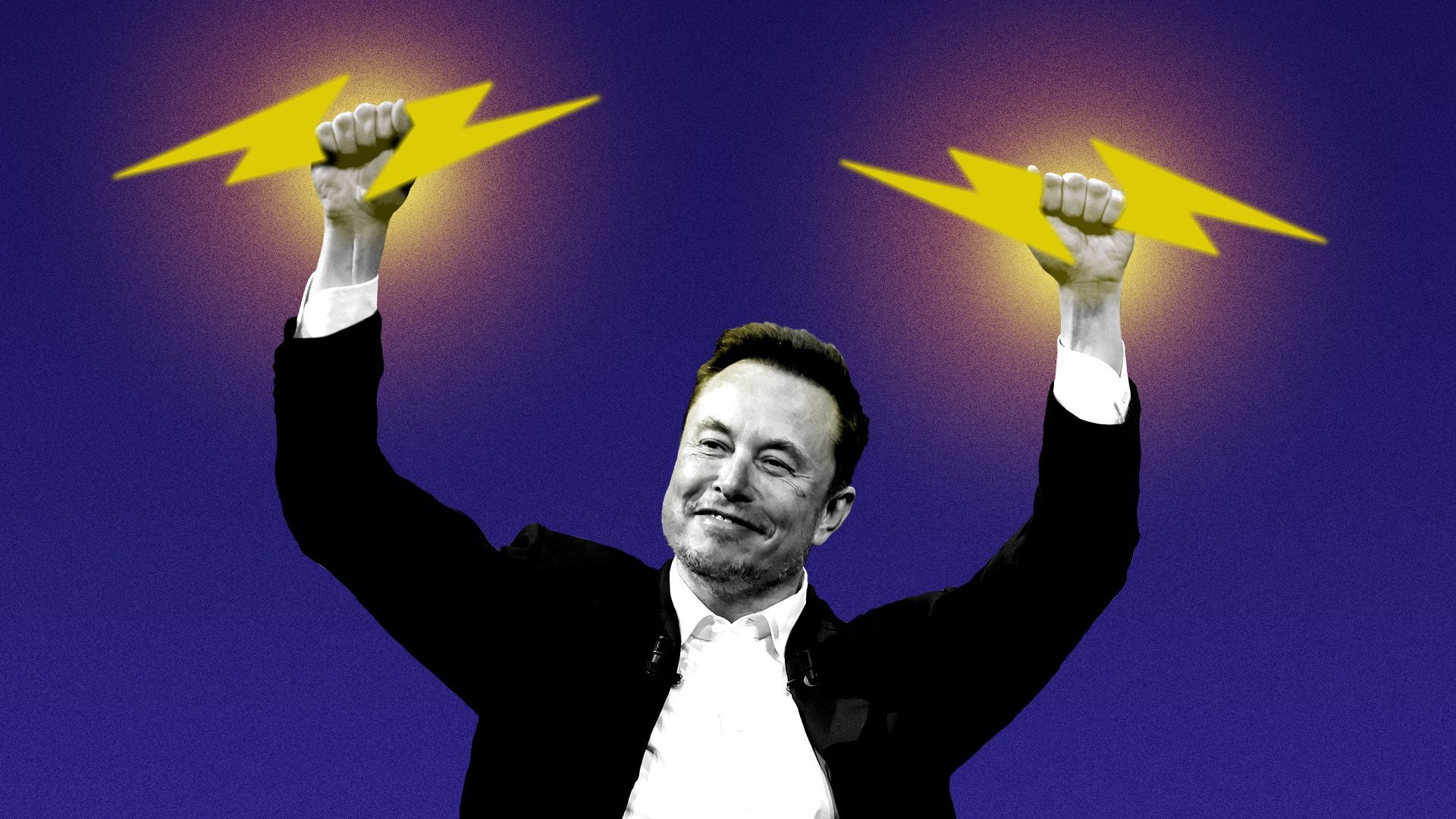 The auto industry's quick adoption of Tesla's electric vehicle (EV) charging standard has triggered speculation that Tesla could one day control other parts of the EV ecosystem too, such as batteries and even self-driving technology.
What's happening: As EV adoption grows, products and platforms like batteries and computer operating systems are likely to become commodities.
What will set automotive brands apart are their body designs and add-on software features that define their unique passenger experience.
The intrigue: Some carmakers could decide to forgo the substantial capital investment needed to develop electric or autonomous vehicle technology and instead buy the necessary components off-the-shelf.
Tesla, with its shrinking-yet-still-commanding EV sales lead and increasingly efficient and low-cost manufacturing prowess, could potentially become the industry's go-to EV technology supplier.
Its Autopilot and FSD ("full self-driving") technology could also be licensed to carmakers that can't afford to develop their own autonomous vehicle systems.
Think "Tesla Inside" — perhaps a small badge on a car's rear end to signal its provenance, not unlike the "Intel Inside" label the computer chipmaker once used.
Driving the news: Investors and analysts have been positing such theories after watching the cascade of automakers and EV charging networks switch to Tesla's superior charging system.
"At what point will the legacy car companies realize that they also don't need to build their own batteries and chassis and drivetrains?" asks Will McDonough, CEO of EMG Advisors, an asset manager that invests in raw materials for EVs.
"Tesla's are better, more efficient, cheaper to build, and the entire industry might as well adopt their battery tech and focus on servicing customers and differentiating on body styles and brand."
He argues that Tesla's effort to drive adoption of its charging technology is like "a Trojan horse" in the auto industry. "This capitulation was just the first step and is all a part of Elon's master plan."
Tesla has made no secret of its desire to license its driver-assistance technology too.
CEO Elon Musk said in 2021 that the company had "preliminary discussions" with other carmakers about licensing its Autopilot driver-assistance technology.
And earlier this month, Musk tweeted that Tesla wants to be as "helpful as possible" to other car companies and is "happy to license Autopilot/FSD or other Tesla technology."
Why it matters: Some investors see autonomous vehicles as the ultimate AI application and believe Tesla could be worth far more as a robotaxi operator than as a carmaker.
Details: "We believe the car business might only contribute 10% of [Tesla's] total value," RBC Capital Markets analyst Tom Narayan wrote in a recent report.
Meanwhile, autonomy — both self-driving private cars and robotaxi fleets — could be worth 20% and 70%, respectively.
Narayan assumes Tesla would license FSD to 20% of all non-Tesla robotaxis globally, and would operate 25% of U.S. robotaxis (plus 8% in Europe and 7% in China).
Importantly, his scenario begins in 2035 — more than a decade from now.
Yes, but: Despite their misleading names, Tesla's Autopilot and "full self-driving" technology aren't capable of driving the vehicles themselves.
The U.S. National Highway Traffic Safety Administration is investigating Tesla's autonomous technologies after a series of fatal crashes.
Autopilot has been involved in more deaths and injuries than previously known: a total of 17 fatalities and 736 crashes since 2019, according to NHTSA data analyzed by the Washington Post.
Reality check: It's unlikely any carmaker would consider licensing Tesla's technology until it is deemed safe.
And some carmakers, such as General Motors, Ford and Mercedes-Benz, already have assisted-driving systems that outperform Tesla's.
"Our approach is the most comprehensive in the industry. It's creating a multibillion-dollar market opportunity for GM and Cruise, and that's our focus," GM spokesman James Cain tells Axios.
The bottom line: Tesla could one day make most of its money through licensing its tech rather than selling its cars — similar to how Google licenses the Android mobile operating system to Samsung and other phone makers.
Go deeper