Wall Street takes traditional finance to crypto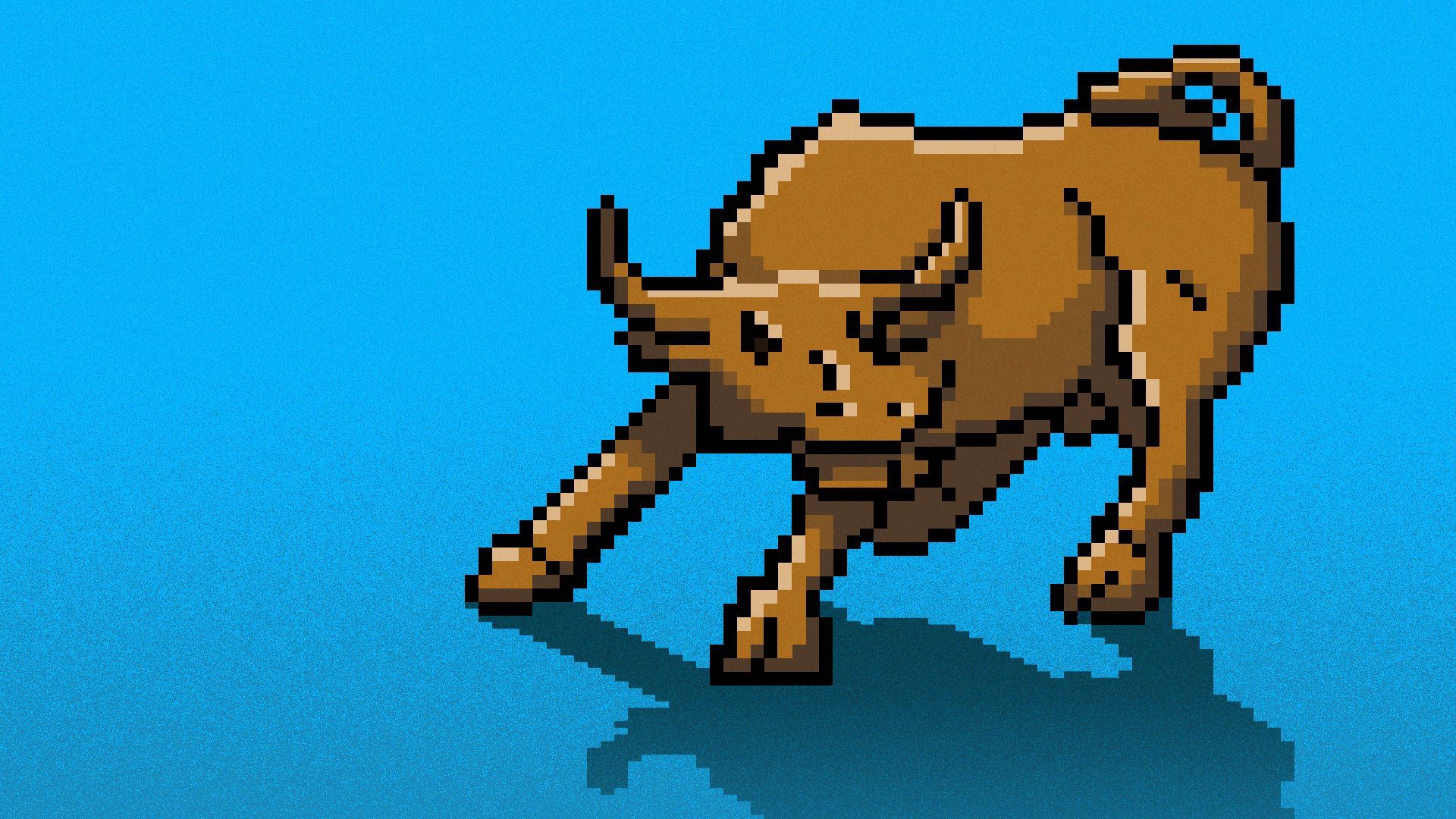 Big Money is still being wooed into crypto, only this time it's the Wall Street firms — not the crypto natives — doing the beckoning.
Why it matters: There is an inner battle emerging in the crypto market, pitting the benefits that come with an influx of institutional money against the ideological soul of the crypto OGs.
What they're saying: Traditional finance firms are the next big thing in crypto, according to John Palmer, president of Cboe Digital, which got licensed this month to offer crypto futures trading on margin.
"Getting to a place where real money asset managers start to allocate portions of their portfolio to digital assets or crypto — whatever you want to call it. That's where we want to get to," Palmer tells Axios.
Zoom in: "To get those folks in this space," he says, "we have to start embracing what TradFi has always employed — better risk management, use of intermediaries."
The latest: That's the pitch from EDX Markets, an exchange launched Tuesday with backing from Citadel Securities, Fidelity and Charles Schwab. Its structure more closely resembles a traditional stock market than a centralized crypto exchange in several key ways.
For one, it avoids asset custody, with trading performed through intermediaries.
And later this year it will launch EDX Clearing to settle trades matched on the exchange, separating out another function that centralized crypto exchanges have been hammered by the SEC for bundling.
Meanwhile, EDX and Cboe aren't coming alone. WisdomTree's Prime app is billed as a personal finance app that would allow folks to buy and sell funds, bitcoin, ether and gold.
Franklin Templeton's money-market fund that records share ownership on the blockchain is drawing crypto customers too.
And BlackRock submitted an application for a spot bitcoin ETF last week, prompting many others to follow, from Bitwise Asset Management to WisdomTree.
Yes, but: These new products and services are more Wall Street than crypto in that they are regulated and limited to the well-heeled.
The big picture: Crypto's overarching goal has been about mass adoption, and that includes regular folks — whereas Wall Street's latest crypto wares are gated. They don't include retail, and where they do, what's offered is limited.
Maybe the biggest institutions want that top-shelf bitcoin, but that doesn't necessarily spur the mainstreaming of crypto.
Zoom in: EDX Markets is "only onboarding institutions and financial firms" a spokesperson said in an emailed statement. "We are not onboarding any retail customers or individuals directly to the exchange."
WisdomTree's personal finance app, while open to regular folks, has a limited set of digital assets; it does not include alternative tokens implicated as securities in recent SEC enforcement actions nor the more speculative "dog coins."
Cboe Digital, which offers crypto spot and more recently, futures, is like EDX for institutions only.
What others are saying: Preston Pysh and other industry denizens are calling foul, with the host of the Investors Podcast saying: "How can't you think this entire past year was a giant inside job coordinated between Wall Street parasites [and] government regulators so they could catch up..."
Custodia CEO Caitlin Long said something to that effect in a recent podcast with Camila Russo; she's also said that the "financialization of crypto" is a double-edged sword.
The bottom line: While the crypto natives are busy battling regulators, shutting down fruitless businesses, slogging through bankruptcy proceedings or just plain getting out of Dodge, the group often derided by the OGs as "crypto tourists" are stepping in to fill a void.
Go deeper