Paris summit aims to mobilize trillions for the climate transition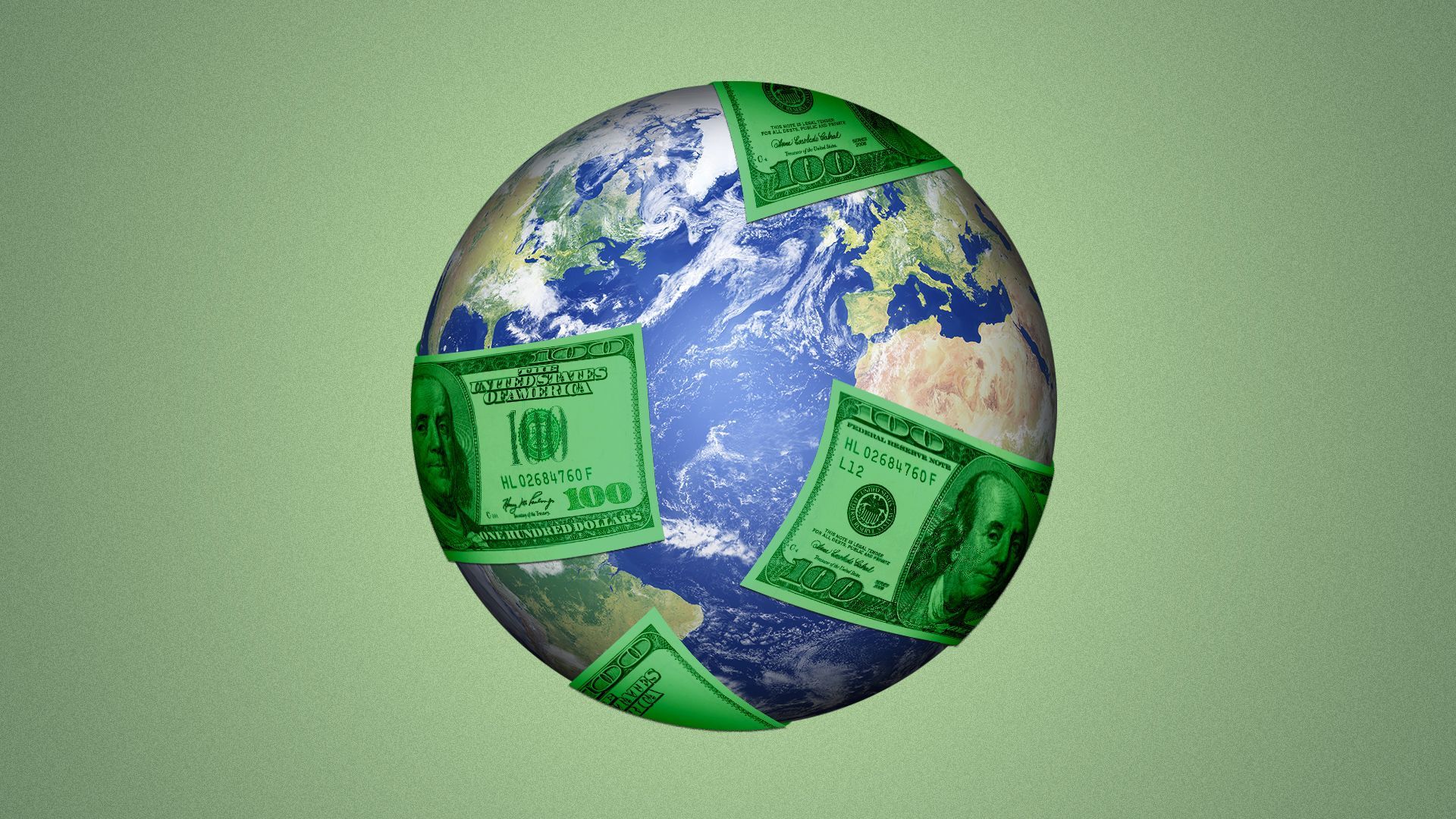 World leaders and top figures in finance are gathering in Paris Thursday to take steps toward shaking up the world's major development banks, such as the World Bank and IMF, and get more money flowing to developing nations prone to climate disasters.
Why it matters: While firm commitments may prove elusive, the summit could nonetheless serve as a launching pad for reform in the run-up to the COP28 climate summit in Dubai later this year.
Zoom in: The meeting's hosts include French President Emmanuel Macron and Barbados Prime Minister Mia Mottley. They will be joined by more than a dozen African leaders, German Chancellor Olaf Scholz, Chinese Premier Li Qiang, and new World Bank president Ajay Banga.
Treasury Secretary Janet Yellen and John Kerry, President Biden's climate envoy, are representing the U.S.
Mottley is championing an ambitious and detailed agenda, known as the Bridgetown Initiative, for multilateral bank reform that would free up more money at lower borrowing costs for developing countries.
It includes adding climate resilient provisions to new loans to allow countries to temporarily redirect loan repayments to recover from climate and extreme weather disasters, a position Yellen endorsed and reportedly Banga was set to back Thursday.
Such events can wipe out a majority of a developing country's growth for years.
Mottley, who is one of the most prominent voices on climate justice at the annual UN climate summits, is also pushing to free up more than $1 trillion from the private sector to achieve the UN Sustainable Development Goals.
What they're saying: "The Paris meeting is just essential. It's really the only dedicated head of state meeting focused on actually financing the climate transition in developing and emerging economies," said Raj Shah, president of the Rockefeller Foundation, who led the U.S. Agency for International Development during the Obama administration.
Of note: Loans to many developing countries are typically viewed by the World Bank and IMF as riskier investments, and are therefore subjected to higher interest rates and less favorable terms.
Many of the poorest countries, particularly those in Africa, are stuck in a spiral of debt, with more disasters only adding to the burden. Escalating impacts from climate change pose the possibility of even more of these countries getting caught in a debt crisis.
The Bridgetown Initiative seeks greater access to funding at lower rates, and the freeing up of so-called concessional finance, which would provide developing countries with access to money at below-market rates.
They would then put the money toward sustainable development projects, which include climate change.
Between the lines: While many announcements are expected, the Paris summit may not yield specific global policy outcomes, even though it's clear the topics themselves have momentum.
Everyone from President Biden to United Arab Emirates President Mohamed bin Zayed Al Nahyan and South African President Cyril Ramaphosa signed a letter on a "green transition that leaves no one behind" that was published Wednesday.
Even singer Rihanna, who is from Barbados, tweeted support for Mottley's finance and debt reform agenda.
The intrigue: A lack of clear outcomes from the two-day summit would contrast with the detail contained in the Bridgetown Initiative, and other proposals for bank reform and debt relief.
Sharon Lindo leads sustainable development work at the Alliance for Small Island States (AOSIS). She said her organization, which represents the interests of 39 countries, is unsure about the anticipated concrete summit outcomes.
"These issues on finance are never easily agreed to, because it calls for looking at the system and at how we approach change in a very different way," Lindo told Axios in an interview.
A useful outcome, she said, would involve "More money in the system, getting the money to where it needs to go, and getting that done in a fairly quick manner."
Go deeper