States fight to save books from growing number of bans across U.S.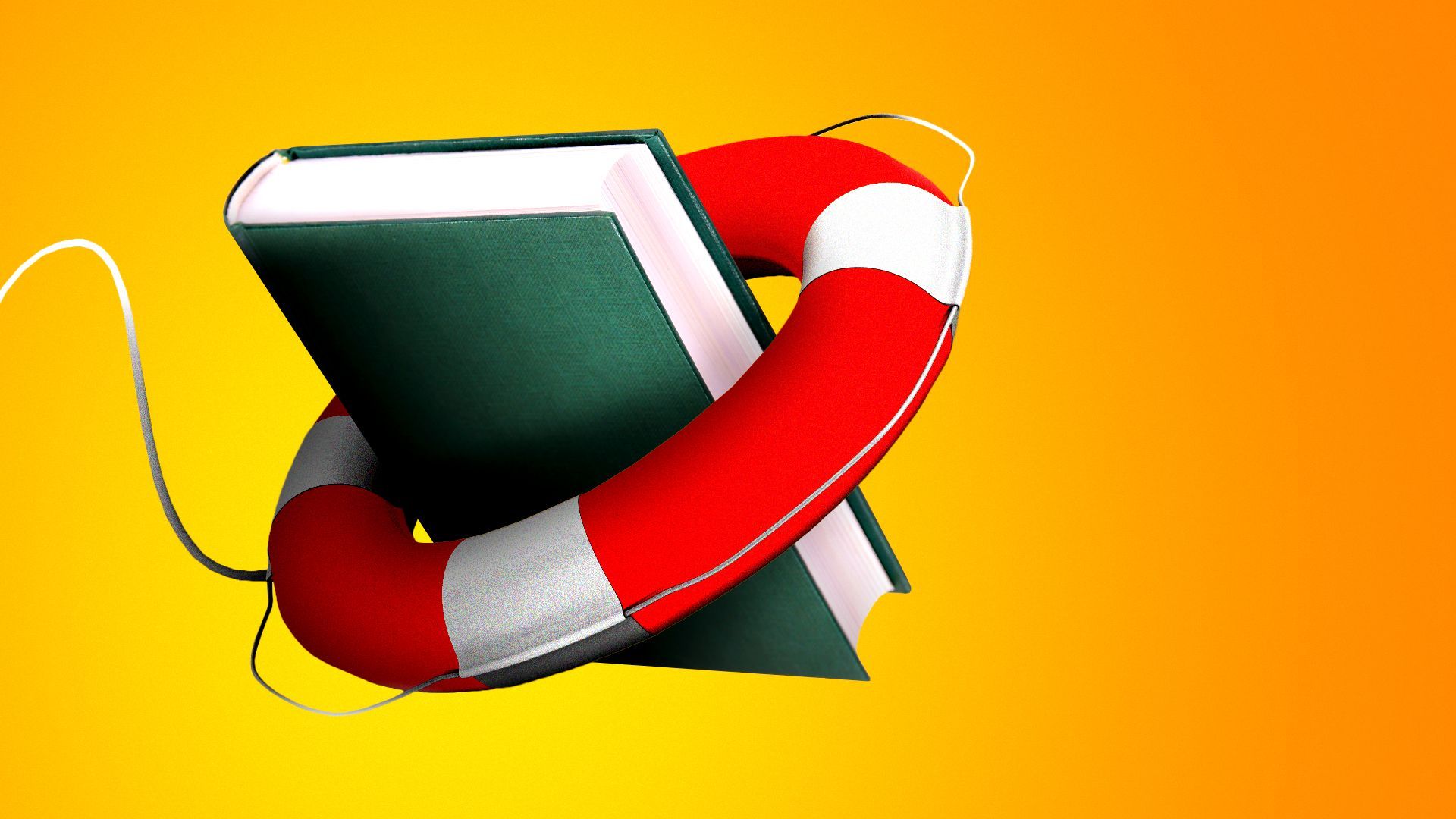 As a record-number of book bans sweep the nation amid increasing pressure from the political right, some state-level elected officials are pushing back.
The big picture: It's the latest salvo in the culture war that has taken hold between liberals and conservatives over what kids can read — and that has become a rallying cry for top Republicans as the 2024 elections near.
Driving the news: Last week, Illinois became the first state to pass a law penalizing libraries that ban books.
Gov. J.B. Pritzker (D) signed a bill that will make public libraries ineligible for state funding if they ban materials because of "partisan or doctrinal" disapproval.
Why books are getting banned
The book banning movement — which often targets books written by or about members of the LGBTQ community and people of color — is not taking place through "isolated challenges," Kasey Meehan, director of the Freedom to Read project at PEN America, told Axios.
"[It's] an organized effort to push censorship in education," Meehan said.
What they're saying: Banned books have been targeted for including sexual content, profanity, LGBTQ themes, or critical race theory.
"Curating a children's library is not banning books," Moms for Liberty co-founder Tiffany Justice told Deseret News.
But it's unfair for a minority of parents to dictate what's in libraries, social studies teacher Erin McCarthy previously told Axios.
"They're kind of overstepping their boundaries," she said. "Books really allow you to dive in and understand another perspective."
By the numbers: Of the 1,477 reported book ban cases so far this school year, 74% were connected to organized efforts of advocacy groups, elected officials, or enacted legislation, per PEN America.
The organization recommended that policymakers, school boards and district administrators consider the many reasons for including and celebrating books rather than restricting them.
History of book bans
"We've always had some form of censorship targeting books that people don't like or don't agree with," said Deborah Caldwell-Stone, director of the American Library Association's Office for Intellectual Freedom.
"We've had these waves of moral panics over the years, with efforts to take away books from kids in particular," she told Axios, adding that there were attempts two decades ago to censor Harry Potter over witchcraft accusations.
"What we're seeing now is less of an individual parent expressing a concern about a book their child is reading, but an organized political campaign to try to suppress a wide range of ideas that reflect the voices of marginalized communities," she said.
Be smart: Information should not be seen as a threat, Caldwell-Stone added.
She called on state governments and leaders to issue firm guidance to public libraries and school districts, "reminding them of their obligations to both protect and respect the rights of their readers ... and that they are not empowered to remove books because they don't like the ideas in them."
How states are fighting book bans
California leaders did just that in a joint letter earlier this month, cautioning educators in their state against removing books.
Gov. Gavin Newsom (D), Attorney General Rob Bonta and State Superintendent Tony Thurmond wrote that if an educational agency removes or bans instructional material, it could qualify as "unlawful discrimination" and the AG's office may examine the case.
Two weeks ago, Newsom and Bonta called on the Temecula Valley Unified School District Board of Education to explain its decision to reject the social studies curriculum over its inclusion of gay rights leader Harvey Milk.
Assembly Member Corey Jackson also introduced a bill earlier this year that would require school boards of K-12 institutions gain a super-majority when voting to ban a book. Parents would also get the right to appeal.
"The goal is to cool down what we're seeing locally in school boards and put more obstacles in the way for a small number of folks to be able to, basically, whitewash history," Jackson told Axios.
Democratic lawmakers in New Jersey have taken Illinois' approach, introducing a bill that would cut state funding for public and school libraries that ban books or restrict access.
Meanwhile, the governors of nine states and one U.S. territory signed a letter to textbook publishers last month, saying they were "deeply troubled" by reports of some publishers "yielding to the unreasonable demands of certain government representatives calling for the censorship of school educational materials."
The letter — signed by the leaders of New Jersey, Delaware, Illinois, Maryland, Massachusetts, New Mexico, New York, Rhode Island, Washington state and the U.S. Virgin Islands — called on publishers "to hold the line for our democracy."
"The negative impact that censorship and book-banning has on this nation's students – many already marginalized and underrepresented in society – cannot be overstated during a time when we are facing an unprecedented youth mental health crisis," the letter states.
What's next: It's unclear how many more states might take up similar measures to fight book bans — or whether bills that lawmakers have proposed will eventually become law.
Go deeper