Wheelchair users fight for easier air travel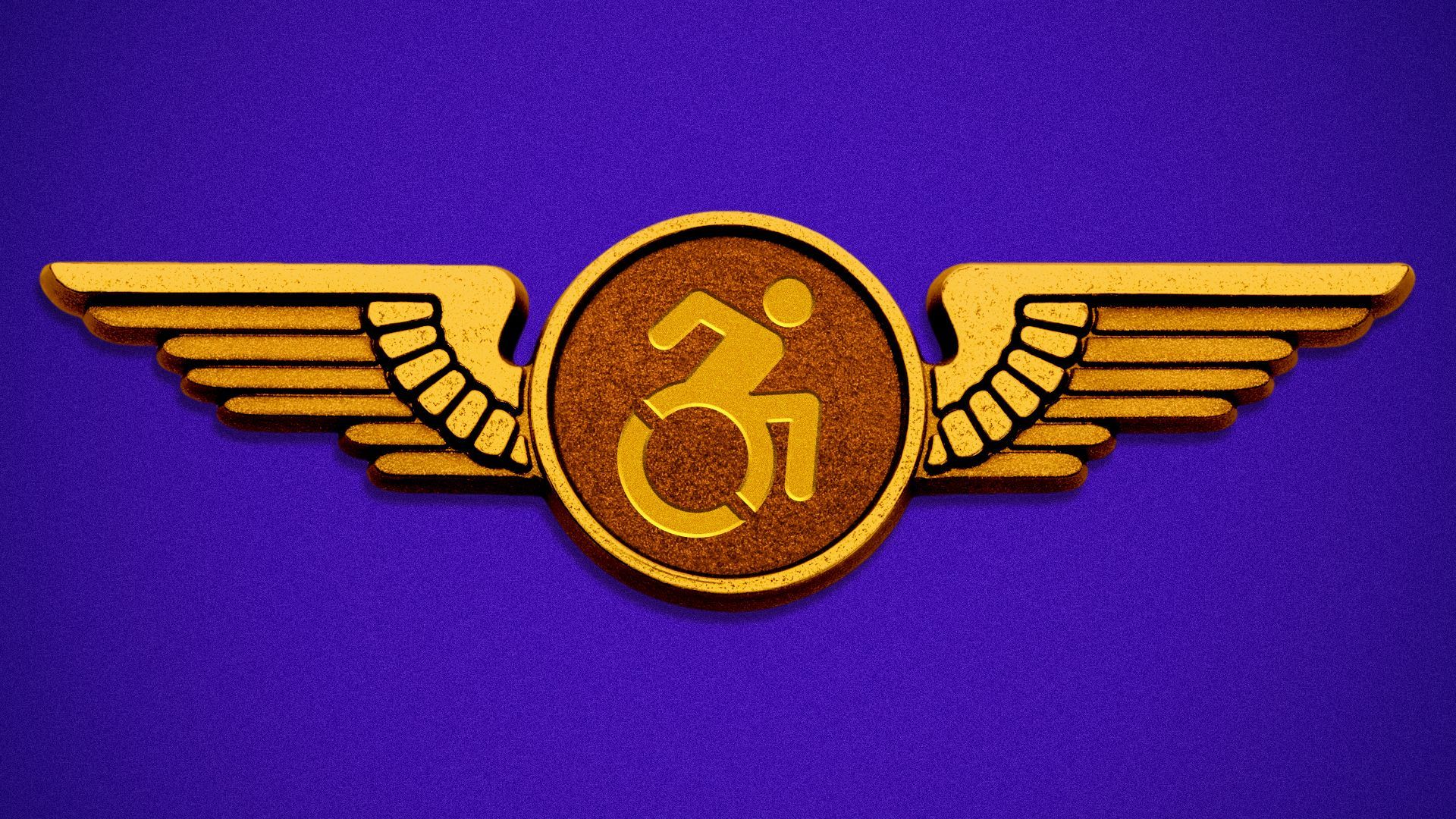 Accessibility advocates are fighting for new rules that would ease air travel for passengers needing extra assistance — especially those requiring wheelchairs, who currently aren't allowed to sit in their own chair during flights.
Why it matters: While airlines are banned from discriminating against disabled travelers, the reality for many involves broken wheelchairs, degrading treatment and ruined plans.
Airlines mishandled 871 wheelchairs and scooters in January 2023 alone, per Department of Transportation data — or 1.6 for every 100 with which they were entrusted.
If passengers could sit in their own wheelchairs on flights, the thinking goes, the devices would be less likely to be damaged during travel.
Driving the news: Congress needs to re-up the Federal Aviation Administration's funding and operating authority by the end of September, making the next few months a key window for those seeking regulatory changes.
Many disability advocates want airlines to install wheelchair-friendly seats, eliminating the need for potentially dangerous seat-to-seat transfers and for wheelchairs to be stored in the cabin or luggage bay.
What they're saying: "The No. 1 thing we hear within that area is, why can't I just take my wheelchair onto the plane?" says Paul Melmeyer, VP of public policy and advocacy at the Muscular Dystrophy Association.
Research has found that it's both "feasible and practical" to allow wheelchair users to remain in their chairs on flights, Melmeyer says.
"The size of the doors on airplanes are wide enough. The aisles once arriving within the airplane can be wide enough," he tells Axios. "There's space on there; there's fasteners that could be included."
Reality check: Melmeyer and others are skeptical that airlines would voluntarily accommodate such changes, especially if it meant removing seats (and thus risking lost revenue).
The other side: Some airlines are working on ways to better accommodate wheelchairs on flights — without losing ticket sales.
Delta TechOps, a Delta Air Lines subsidiary that works on aircraft interiors and in-flight entertainment systems, recently unveiled a wheelchair-friendly prototype seat.
"The patented design offers comfort and safety for all passengers by providing access to headrest, center console tray tables and cocktail table that adjust to serve passengers with wheelchairs in place," per Delta TechOps.
"The product also enables airlines to retain the design of their cabin on every seat."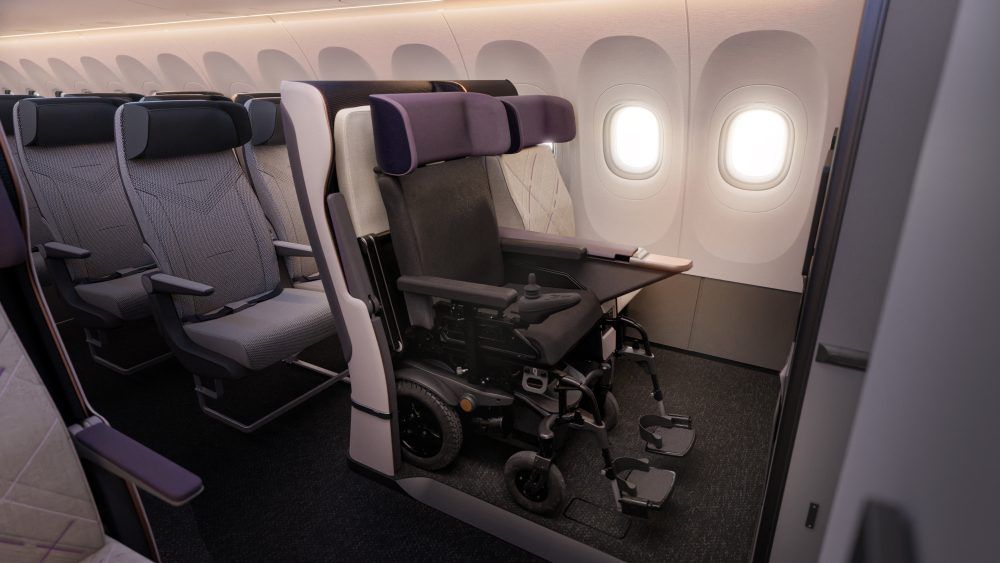 Airlines say they're also working on other ways to improve disabled passengers' experience, including through better training, investing in new mobility equipment and more.
"U.S. airlines are committed to offering a high level of customer service and providing a positive and safe flight experience for all passengers, especially passengers with disabilities," industry group Airlines for America told Axios in a statement.
Ongoing studies, meanwhile, are further testing the feasibility of wheelchair-friendly airplane seats.
It's not just about engineering, says Madison Lawson, a 26-year-old with muscular dystrophy who requires a $70,000, custom-made power wheelchair to safely move about the world — it's also about education and humanity on the part of airport, airline and security workers.
"It's just a lack of empathy sometimes when mistakes are made, and just a lack of recognition for the weight of the situation," Lawson tells Axios. "It's not just a wheelchair — it's literally our legs and how people like me function in the world safely."
When her chair is broken during a flight, Lawson says, she has to wait at the airport to file a claim, then hope her chair can be repaired quickly — no guarantee, given frequent repair backlogs and parts shortages.
Between the lines: Lawson is among a group of advocates who recently traveled to Washington, D.C., to fight for policy changes.
"I just feel privileged having the ability to be healthy enough to fight, and I know that there's so many people that want to travel and they they should have that right, but it's just too risky for them," she says.
What's next: Recently introduced FAA reauthorization bills working their way through Congress include some significant reforms, including improved training requirements, heightened accessibility standards, and new means of holding airlines accountable when mistakes are made.
Reality check: The issue of wheelchair users sitting in their own chair on airplanes is likely to be tabled for another day, pending further research and development.
My thought bubble: Wheelchair users can roll up into a bus, a train or a baseball game. Should airplanes be any different?
Go deeper: Listen to the Axios Today podcast, where host Niala Boodhoo and Alex Fitzpatrick share more about some of the challenges that wheelchair users face.
Go deeper