Department of Justice probe finds pattern of racist policing, excessive force in Minneapolis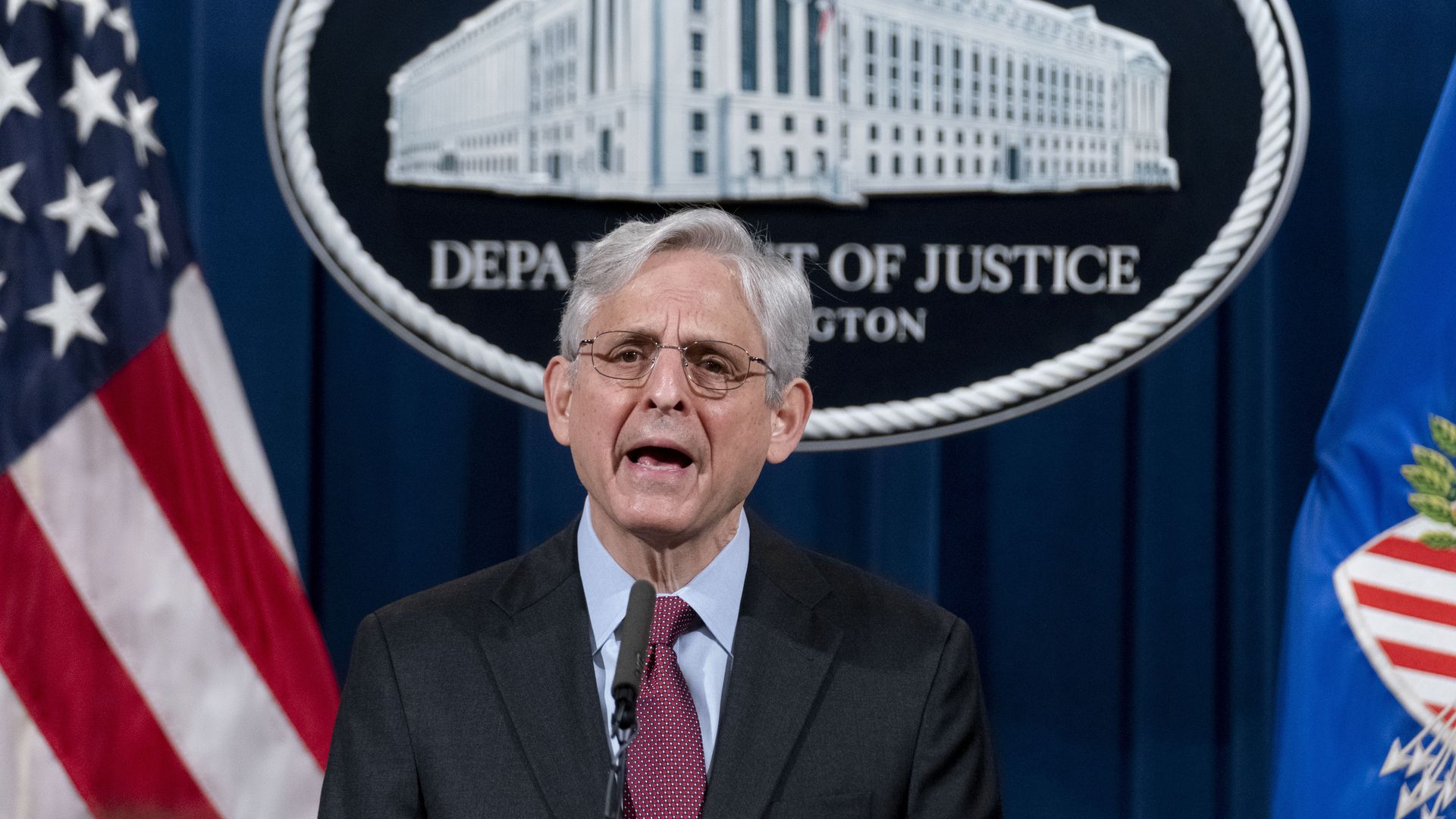 A two-year investigation by the U.S. Department of Justice concluded that the Minneapolis Police Department has engaged in a pattern of unlawful racial discrimination and excessive force, violating residents' constitutional and civil rights, federal officials announced Friday.
Why it matters: The findings will likely lead to another court-enforced agreement to bring sweeping changes to the embattled department, three years after George Floyd's murder set off global protests over race and policing.
City and federal officials have already agreed "in principle" to negotiate a consent decree bringing those changes, Attorney General Merrick Garland said at a news conference Friday in Minneapolis.
What they're saying: "We observed many MPD officers who did their difficult work with professionalism, courage and respect," Garland said. "But the patterns and practices we observed made what happened to George Floyd possible."
Details: The investigation, which relied on department data, records, interviews and ride alongs, found "reasonable cause" to believe that officers' actions have repeatedly violated the First and Fourth Amendments, as well as the federal Civil Rights Act, the Safe Streets Act and the Americans with Disabilities Act. The DOJ concluded that MPD officers routinely:
1. Used excessive force — including firearms and tasers — when no force was necessary. Neck restraints were used "without warning" on people who were suspected of minor offenses and did not pose a threat to safety.
Officers also failed to "adequately ensure the safety of people in their custody," including ignoring calls for help from people experiencing medical emergencies.
2. Unlawfully discriminated against Black and Native American people in traffic stops and other law enforcement activities, using excessive force against those individuals at disproportionate rates.
In several instances documented by the investigators, officers were "not held accountable for racist conduct until there was a public outcry," Garland said.
3. Violated free speech rights of protestors and members of the press, including by physically retaliating against people engaging in protected speech.
Officers also retaliated against people who questioned or challenged them during traffic stops and service calls.
4. Unnecessarily dispatched law enforcement to calls for help involving people with behavioral health disabilities, resulting in discrimination and trauma and, in some cases, physical harm.
The response: Minneapolis Mayor Jacob Frey said the findings underscore that "change is non-negotiable" for MPD. He said while some reforms have already been instituted, a consent decree will provide "lasting and generational" change to ensure residents experience "fair and just policing in Minneapolis."
"The truth is, is that we needed this help," Frey said. "We needed this partnership with the Department of Justice to further embed the policy shifts that we've made."
Zoom in: The DOJ announcement comes just three month after the city and the Minnesota Department of Human Rights reached a settlement that mandates overhauls of policies related to training, vehicle stops and use of force.
The separate federal consent decree is expected to reinforce — and potentially expand upon — the terms of the state-level agreement.
Zoom out: Police departments in more than a dozen major cities, including New Orleans and Phoenix, are under federal consent decrees.
Flashback: The DOJ announced the Minneapolis probe in April 2021, one day after a jury convicted former officer Derek Chauvin of second-degree murder.
What's next: The federal government and the city will negotiate terms of the agreement, before a monitor is assigned to oversee its implementation.
That process could take months to a year, officials said. The length of the consent decree will be a part of the investigation.
Editor's note: This story has been updated to include details of the DOJ's finding and Mayor Frey's response.
Go deeper