What to know before installing a home electric car charger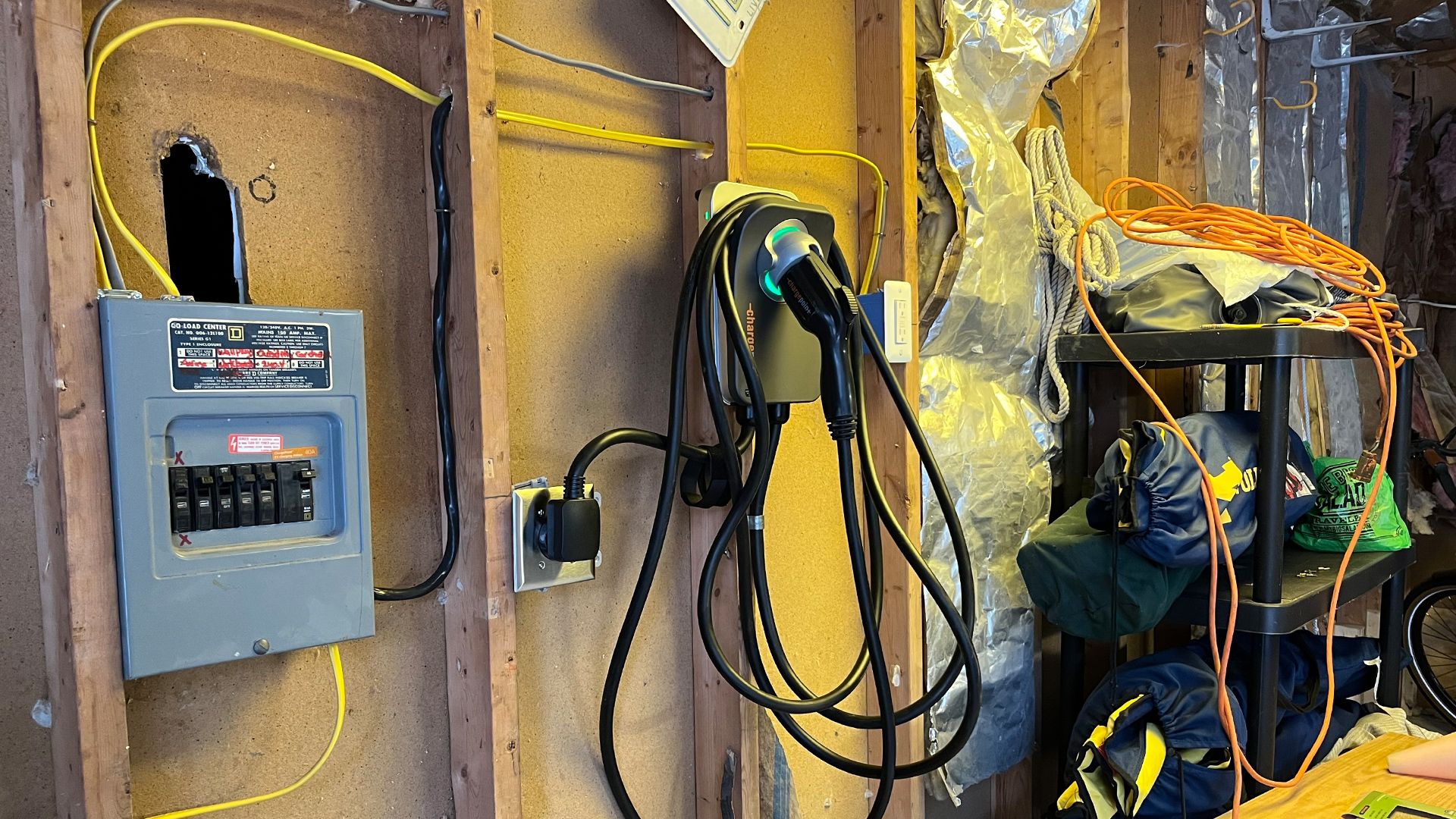 If you're thinking of buying an electric vehicle (EV), you probably should consider installing a home charger too.
Why it matters: Nobody thinks about how they'll refuel when buying a traditional gasoline-powered car. But charging is a critical factor for EV buyers.
The big picture: Home chargers make sense for several reasons.
Public chargers aren't convenient if you have to drive out of your way to find one or wait your turn while others are charging.
And while most EVs come with a basic charging cable, plugging into a typical 120-volt wall socket is so slow it could take a day — or two! — to fully recharge.
With a 240-volt Level 2 home charger, you can recharge overnight, when rates are lowest.
Plus, many incentives are available for home chargers, including utility rebates and state and federal tax credits.
Here's what I learned when I recently had a home charger installed in my garage.
First, don't try to do it yourself. Hire a licensed electrician. You'll need them to assess your home's electrical load and whether it can support a dedicated circuit for an EV charger. Plus, they'll pull any needed permits.
The good news is that many carmakers have partnered with a charging specialist called Qmerit to help customers navigate the installation process.
Some automakers will even cover the cost of a basic home charger installation.
By the numbers: How much will a home charger cost? It depends.
You can buy a charging unit online for $300 to $800, depending on features, but the cost of hooking it up is the big unknown.
The average installation runs between $526 and $1,315, HomeAdvisor says.
Yes, but: It could be thousands more if you need your wiring upgraded or if the charger is going to be far from your main electrical panel.
Older homes, primarily in the Northeast and Midwest, often lack the electrical capacity to support Level 2 chargers, which use anywhere from 30 to 80 amps. Upgrading to 200 amps might be necessary.
Plus, if you're installing the charger in a detached garage, a contractor may need to dig a trench through the yard or a tunnel under the pavement to bury a dedicated circuit. That's where costs really pile up.
Cars.com produced a helpful animation of all the variables that could affect your installation cost.
Picking the right charger can be confusing because there are so many choices — 32 amps, 40 amps, 50 amps, all the way up to 80 amps.
The higher the amperage, the faster the charge — but you should know how much power your EV can accept.
The Kia EV6 my husband and I took on a long road trip, for example, can charge from 10% to 100% in about seven hours on a 40-amp circuit, while a Toyota bZ4X takes about 11 hours due to its lower acceptance rate.
Be smart: If you're charging overnight, a few extra hours isn't that important, so buying the most powerful charger might not be worth the extra money — unless you want to future-proof your setup.
And if you have residential solar, you may be able to charge your EV essentially for free.
My thought bubble: I don't own an EV, but I test-drive them all the time for work, so it made sense to have a home charger installed.
I wanted a smart charger, with a dedicated app and Wi-Fi connectivity, so I could schedule charging at off-peak times.
A common complaint in the online reviews, though, was that the apps were glitchy or the charger wouldn't connect to Wi-Fi.
I chose the ChargePoint Home Flex, a residential model from a brand well-known for its public charging network, because I already had the intuitive ChargePoint app on my phone.
It still took about a dozen attempts to successfully connect the unit to Wi-Fi.
I also chose a charger that I could plug in, rather than the hard-wired version, for maximum flexibility (see photo above).
The bottom line: I paid $1,500 ($700 for the charger, plus $800 for installation, which was relatively straightforward with no unexpected costs).
Go deeper