Meet San Francisco's new drag laureate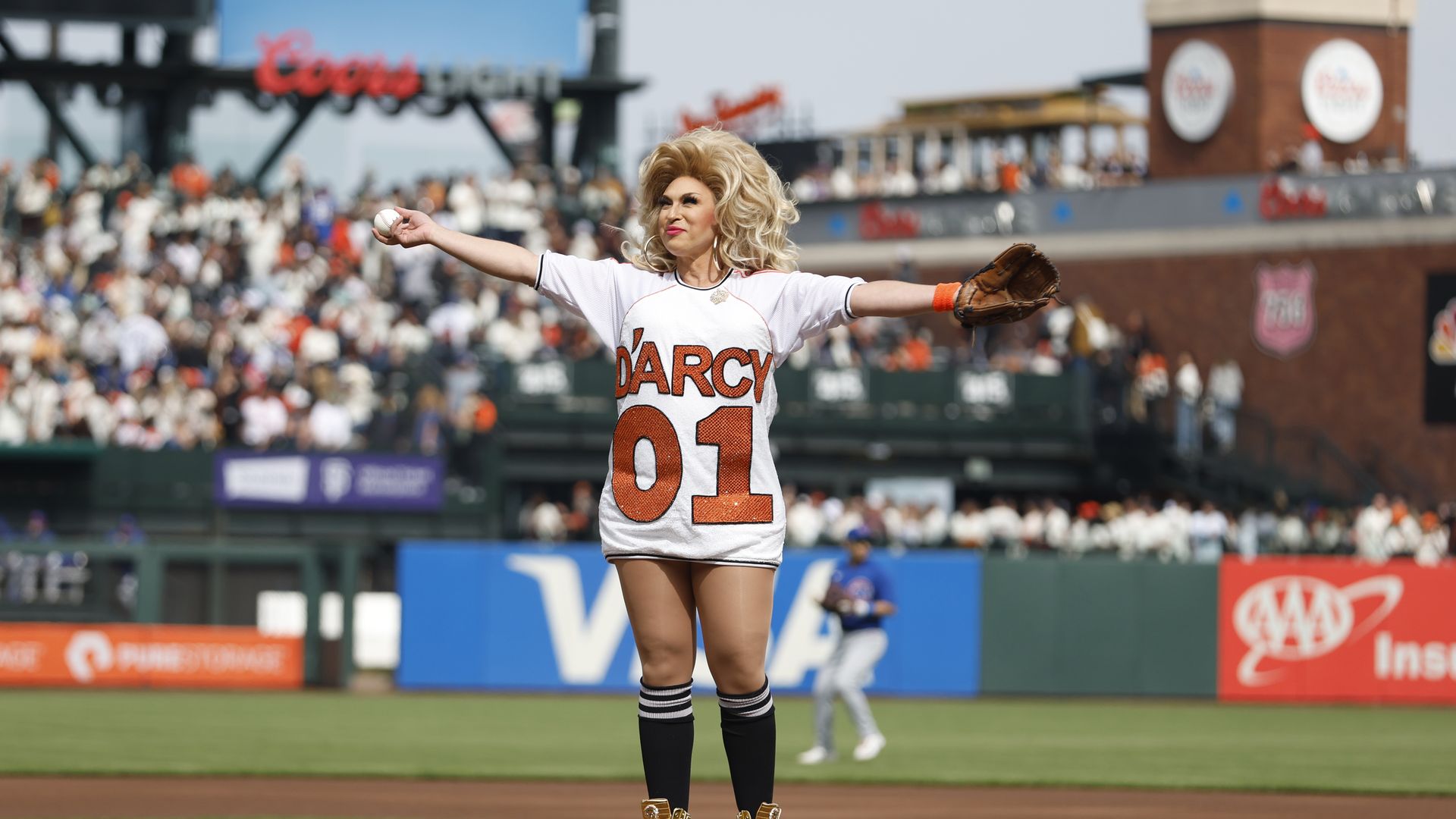 D'Arcy Drollinger's first month as San Francisco's drag laureate has been hectic — participating in the city's Pride flag-raising ceremony, throwing the Giants' first pitch and speaking at countless engagements.
Why it matters: The ambassador-type position, which the city says is the first in the U.S., seeks to bring visibility to the LGBTQ community amid nationwide attacks.
Details: For the next 18 months, Drollinger will work with city agencies to address LGBTQ people's needs.
Local officials say Drollinger was selected because of her record of public service — including Meals On Heels, which she created during COVID to employ out-of-work drag artists who delivered food and performances.
She spoke to Axios over the phone to share some highlights of her life.
How it started: Drollinger says she was always "a little predisposed" to drag.
"I remember when I was 3 years old and wanted to be Mary Poppins, my mother bought me a dress and heels and an umbrella," she said.
Later, while working at a nightclub, she dressed in drag for fun. After receiving positive attention, she began performing in drag and writing herself into characters in drag.
"I could tell I was good at it, and I could find this sort of other voice in me that I was able to tap into ... a different kind of courage," she said.
Context: Drollinger, who was born in San Francisco and lived in the city until she was 7, had a lifelong interest in theater.
Her family moved around when she was younger, but by the time she graduated from San Francisco State University and landed in New York in the late 1990s she was pursuing a career with arts organizations.
When she ultimately returned to the Bay over a decade later, she took on a new venture as owner of the Oasis nightclub and cabaret.
State of play: These days, Drollinger runs Oasis while writing, directing and performing in productions. She talks about the people she works with like they're family and says she models her brand of comedy after Carol Burnett.
"I think of myself as a clown," she said. "I've got a bunch of grease paint on my face with some big shoes — you put a red nose on me and I'm a clown. People have been entertained by clowns for a really long time, so it's not much different."
That doesn't mean she wasn't aware of the backlash that would follow the announcement of her role. But she maintains that more people love it than hate it.
San Francisco gets a "bad rap" these days, she adds, but "I'll tell you the drag scene here is flourishing."
What to watch: During her tenure, Drollinger hopes to create an annual drag festival and expand access to resources for people, especially trans women of color, who have been "left on the fringe."
She also wants to establish a drag emporium where members of the LGBTQ community can set up "brick and mortar" shops to feature their works of art, clothing and more.
Go deeper