Abbas visits China as Beijing seeks to grow influence in the Middle East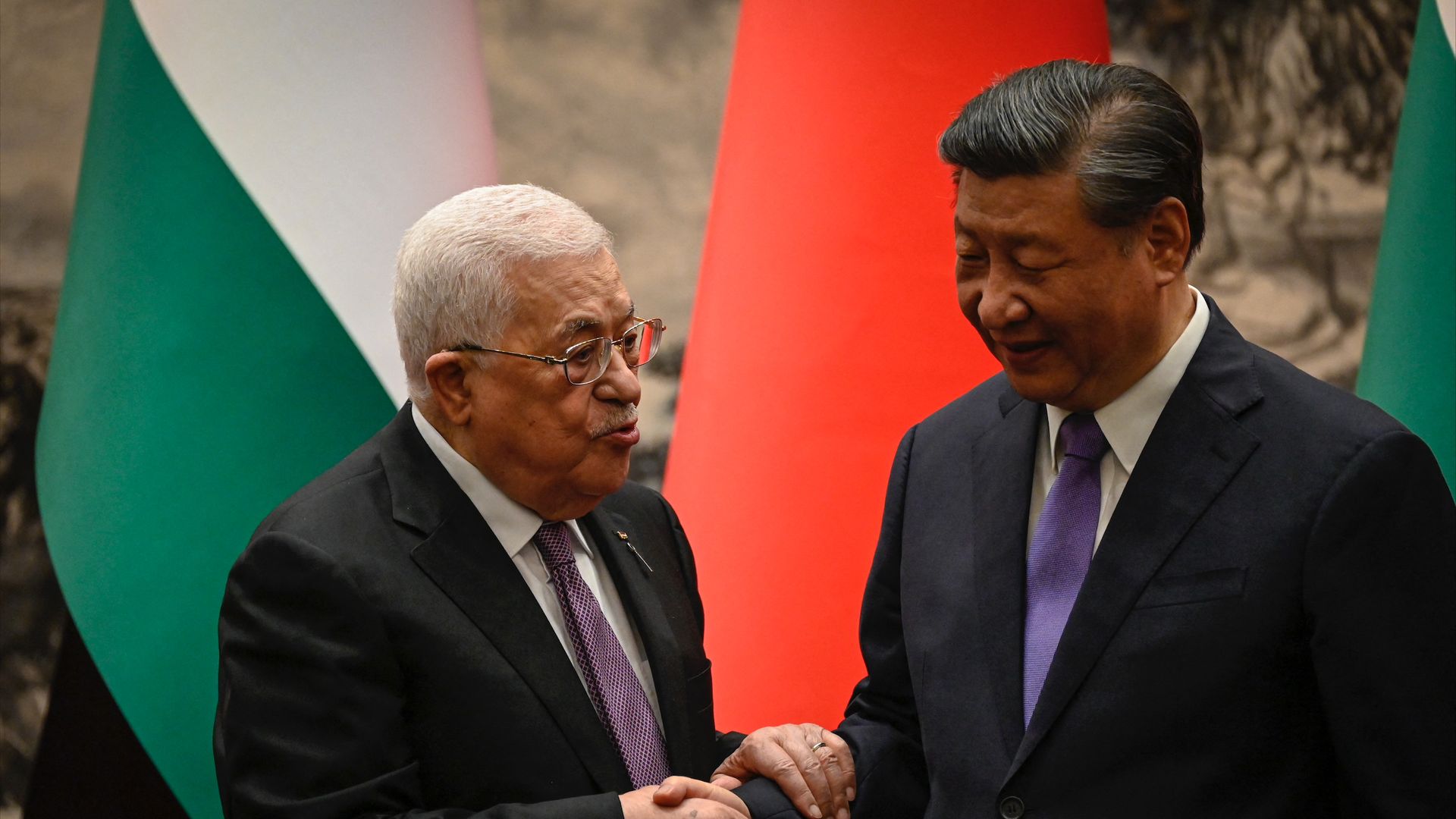 Palestinian President Mahmoud Abbas arrived in Beijing this week to meet with Chinese President Xi Jinping, becoming the first Arab leader to visit China this year.
Why it matters: The three-day visit appears to be an attempt by the Chinese government to build on its successful mediation between Saudi Arabia and Iran and increase its public posture on Middle East issues that have traditionally been dominated by the United States. Beijing earlier this year offered to mediate between the Palestinians and Israelis.
The visit is also a signal to the Biden administration that the Palestinians remain disappointed by what they see as the lack of progress to advance a two-state solution and the U.S. government's failure to fulfill key promises, including a White House visit for Abbas and reopening the consulate in Jerusalem.
For its part, the Biden administration, which was told about the visit weeks ago, did not object to Abbas' visit, a source briefed on the issue told me.
Driving the news: During their meeting today, Xi told Abbas that China supports Palestine becoming a full member of the UN and vowed to continue to speak in support of Palestine in multilateral forums, according to a Chinese Foreign Ministry statement.
The Chinese president said he supports the convening of an international peace conference to create conditions for the resumption of peace talks between Israel and the Palestinians.
Xi also told Abbas that China is ready to play a role in the reconciliation efforts between Fattah and Hamas and is willing to establish a strategic partnership with the Palestinian Authority.
Abbas, meanwhile, "reaffirmed that the State of Palestine will continue to adhere firmly to the principle of One China, actively participate in the Belt and Road Initiative, and continue to enhance cooperation with China in all fields," the Palestinian official news agency WAFA reported.
Between the lines: Assaf Orion, a China expert from the Israeli Institute for National Security Studies, told Axios that China is using its public and diplomatic support of the Palestinians as good PR among Arab and Muslim public opinion.
"It costs nothing to the Chinese who even floated a proposal to mediate between Israel and the Palestinians. This is all part of China's efforts to develop an independent policy in the region and promote its global initiative at the expense of the U.S.," he said.
Go deeper