Oregon jury: Berkshire's PacifiCorp must pay punitive damages for fires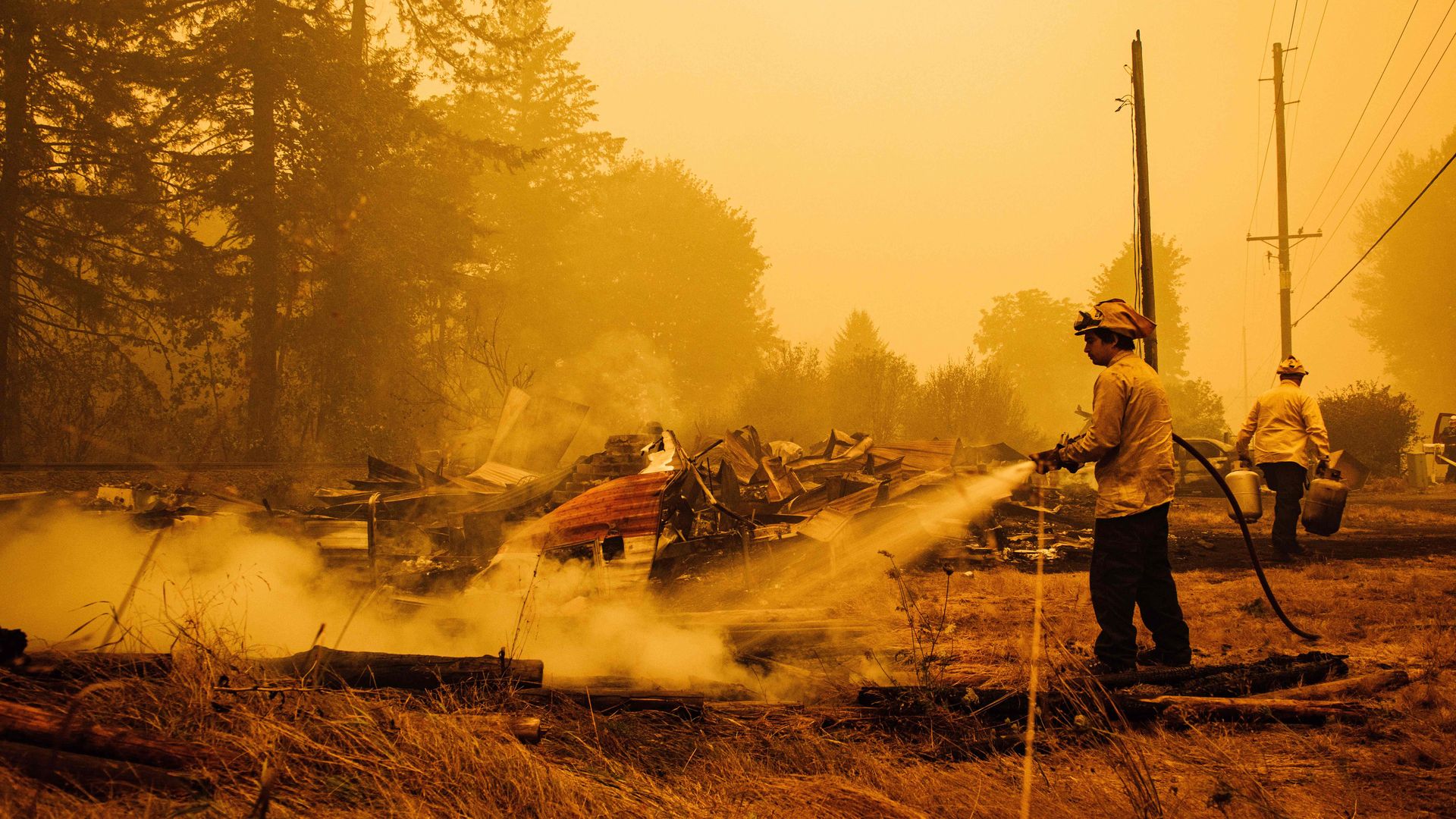 A jury in Oregon determined Wednesday that electric utility PacifiCorp must pay punitive damages over destructive wildfires in the state in 2020.
Why it matters: The case could see the utility that's owned by Warren Buffett's Berkshire Hathaway have to pay billions of dollars in damages in the class action lawsuit — though PacifiCorp said after a jury found it liable on Monday that it "plans to pursue appeals."
"The verdict is believed to be the first time a jury has found a utility company liable to property owners in a wildfire case," according to an email from representatives for the plaintiffs.
Driving the news: The Multnomah County Circuit Court jury on Monday awarded over $73 million to 17 homeowners who alleged in a lawsuit that PacifiCop was negligent in its decision to not shut off power lines during a Labor Day windstorm despite warnings by officials, per Reuters.
They also found PacifiCorp was responsible for the harm to some 5,000 individuals affected by the four fires on Labor Day 2020, according to representatives for the plaintiffs.
The Portland utility argued that the plaintiffs hadn't established whether its equipment was to blame, Reuters notes.
The big picture: The Labor Day fires killed nine people and razed over 1,875 square miles as they destroyed thousands of homes and structures in Oregon, per AP.
The case was brought by survivors of the Santiam Canyon Fire, which merged from multiple wildfires east of Oregon's capital of Salem, as well as the South Obenchain fire in Jackson County, the Echo Mountain fire in Lincoln County and the 242 fire in Klamath County.
What they're saying: "We are gratified by the jury award and hope it sends a clear message to PacifiCorp's executives: No matter how large or well-resourced you are, the time for denial and delay is over," said Nick Rosinia, head of Edelson's Trial Group, one of the law firms representing the plaintiffs, in an emailed statement.
"The path to justice may be long, but your accountability is inevitable."
The other side: "Escalating climate change, challenging state and federal forest management, and population growth in the wildland-urban interface are substantial factors contributing to growing wildfire risk," PacifiCorp said in a statement posted to its website on Monday.
"These systemic issues affect all Oregonians and are larger than any single utility, such as Pacific Power."
Editor's note: This article has been updated with details of the jury's findings on Monday and comment from attorney Nick Rosinia.
Go deeper