Scoop: Israel to announce plans for thousands of new settlement units in West Bank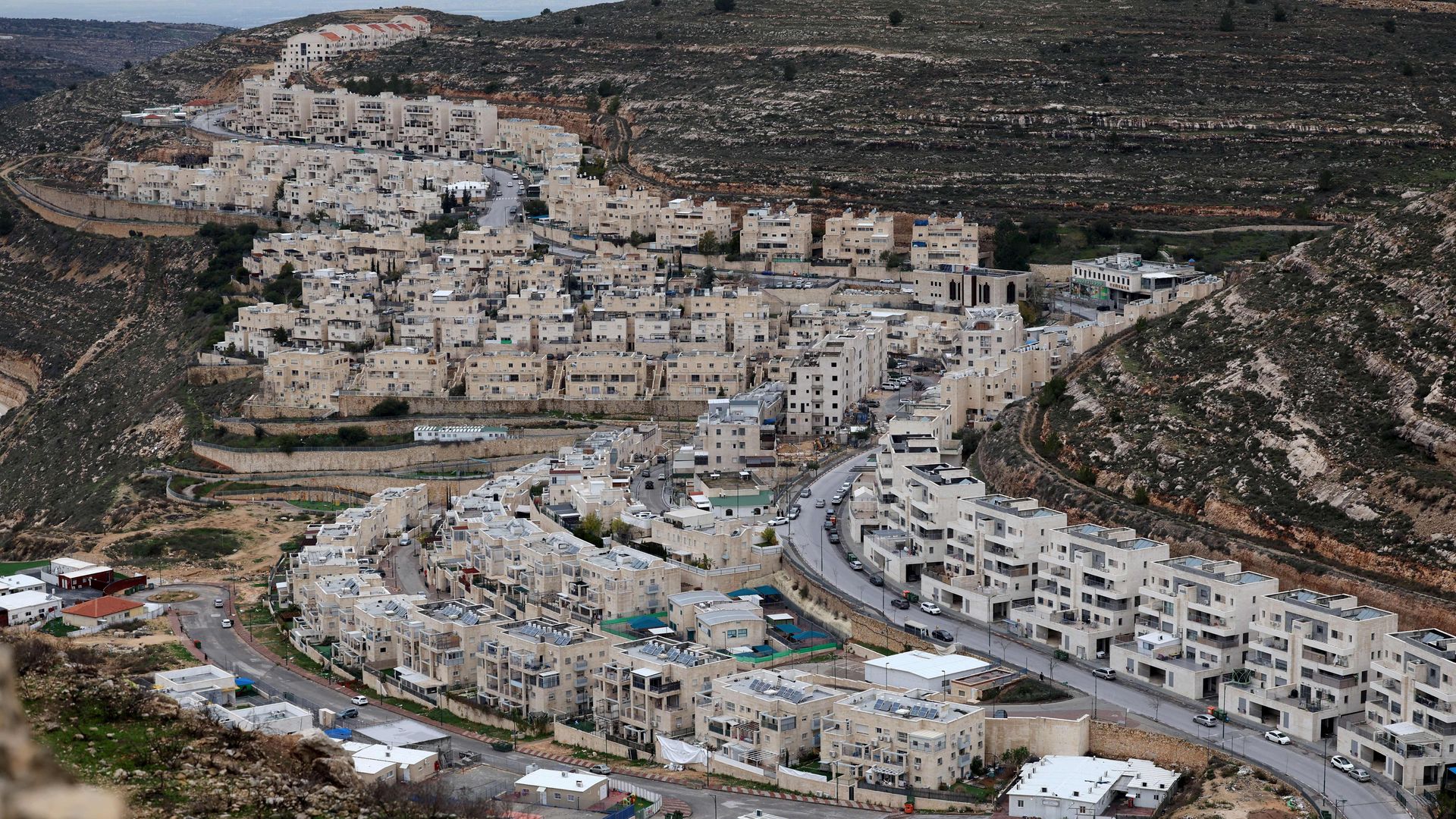 The Israeli government told the Biden administration it intends to announce later this month the building and planning of thousands of new housing units in the settlements in the occupied West Bank, three Israeli and U.S. officials told Axios.
Why it matters: The Biden administration has said it is vehemently opposed to new building in the Israeli settlements, which it sees as undermining the prospects for a two-state solution to the Israeli-Palestinian conflict.
Much of the international community considers Israeli settlements in the West Bank illegal under international law.
Driving the news: The plans that are expected to be announced include at least 4,000 housing units in several existing West Bank settlements, according to one source briefed on the issue.
An Israeli official said the Israeli civil administration planning and zoning committee will convene before the end of June to approve the new settlement plans.
The Biden administration is pressing the Israeli government not to move forward with the settlement announcement or at least minimize it as much as possible, Israeli and U.S. officials said.
The White House National Security Council referred Axios to the Israeli government.
Asked about Axios' report at the White House briefing, NSC spokesperson John Kirby said the Biden administration has been expressing concerns to the Israeli government about settlements expansion for a long time.
He added the U.S. doesn't want to see actions that will make the two-state solution harder to achieve or that increase tensions.
A State Department spokesperson said it is "critical for all parties to uphold the commitments made at regional meetings in Aqaba and Sharm El Sheikh to avoid measures that undermine the prospects for a two-state solution."
The Israeli Prime Minister's Office did not respond to a request for comment.
The big picture: The Israeli government is facing criticism from some of its supporters over its decision to postpone a scheduled meeting on the settlement plan in the E1 area of the occupied West Bank.
The E1 area between Jerusalem and the Maale Adumim settlement is the most diplomatically sensitive area in the West Bank.
Building an Israeli settlement there would prevent Palestinian territorial contiguity between the northern and southern parts of the West Bank, which would make it much harder to establish a Palestinian state in the future.
That decision followed pressure from the Biden administration and several European countries.
What they're saying: During a press conference on Monday, Finance Minister Bezalel Smotrich pushed back on criticism regarding the postponement of the E1 plan, saying: "We will have big news for the settlements in the West Bank imminently."
Editor's note: This story has been updated with the State Department's and John Kirby's comments.
Go deeper