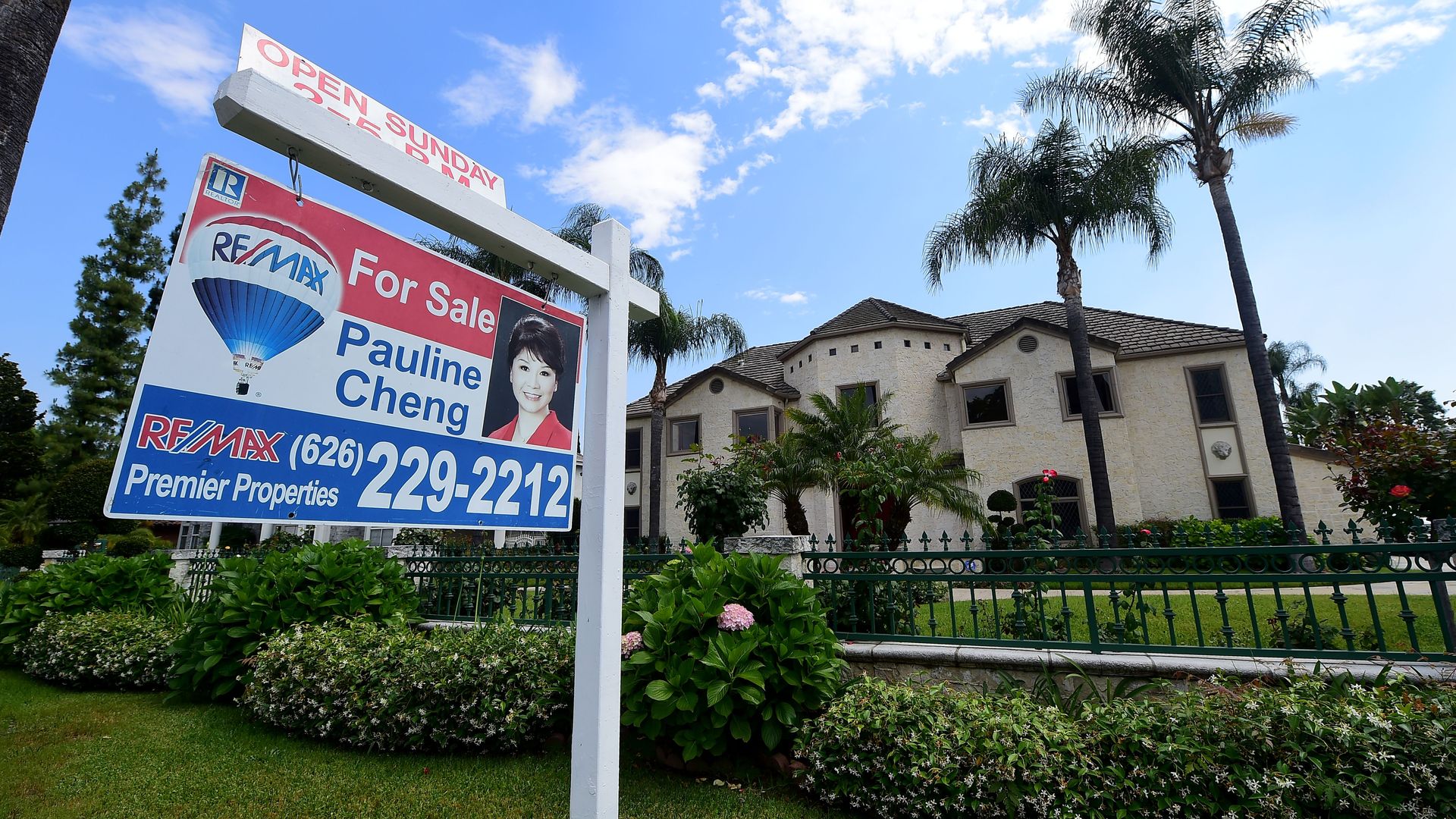 Chinese buyers are returning to the U.S. housing market after a long lull, but recent efforts by several states to restrict certain foreign purchases could make homebuying harder for them.
Why it matters: Chinese buyers spent $6.1 billion on existing U.S. homes last year, more than any other international homebuyers.
They were the top foreign buyers of U.S. residential real estate from 2015 to 2020, accounting for nearly 14% of all buyers on average, according to a recent National Association of Realtors report.
Their share plunged to 6% in the last two years, mostly due to pandemic-related travel restrictions. But their average purchase price topped $1 million last year, the highest on record.
What's happening: States across the U.S. are considering — or enacting —legislation to limit or ban Chinese citizens from purchasing certain properties, arguing it will protect U.S. national security from "foreign adversaries."
In Florida, Gov. Ron DeSantis (R) signed a bill last month that bars most Chinese people who aren't U.S. citizens or permanent residents from owning property in the state, along with different restrictions for six other nationalities.
People who have asylum and nontourist visa holders are exempt under the Florida law, which is set to take effect on July 1.
Montana Gov. Greg Gianforte (R) signed a bill last month prohibiting the sale or lease of agricultural land, critical infrastructure and homes near military assets in the state to entities from six countries that the U.S. designates as foreign adversaries, including China.
The other side: The bills have faced backlash from local Chinese communities and legal experts who argue they are discriminatory and echo xenophobic alien land laws of the 19th and 20th centuries, which barred many Asian immigrants from owning land.
A group of Chinese citizens living in Florida sued the state in May, arguing the new law is unconstitutional.
Under the Fair Housing Act, the law could face challenges if its implementation results in discrimination, said Suzanne Hollander, an attorney and real estate law professor at Florida International University.
Yes, but: The Florida law is already having a "chilling effect," Jason Pugh, a managing attorney at Pugh Law Office in Orlando, told Axios.
Selina Li, a real estate broker in Orlando who spoke to Axios shortly before the bill was passed, said Chinese buyers were already worried about what the legislation could mean for them.
"There are very few buyers from China anymore. In fact, many of them want to sell their properties here," Li said.
Between the lines: Chinese buyers have historically bought residential properties in the U.S. as investments.
But nearly 70% of Chinese buyers who inquired about U.S. residential properties last year on the portal of the international property company Juwai IQI said they intended to buy homes for their "own use," compared to less than 20% in 2015, according to the company's data.
It's a trend some homebuyers have witnessed in recent years. "When I first wanted to move to the U.S., those who had already made it here were either wealthy businesspeople or high-ranking officials in China. ... Now many middle-class families are also trying [to move abroad]," said Kelvin, a 40-year-old former bank employee from northeastern China who declined to provide his last name for privacy reasons. Kelvin has bought several properties in Orlando over the past decade.
Chinese buyers are also increasingly looking to buy real estate in less expensive areas, beyond the cities and markets they have traditionally gravitated to, such as New York and Los Angeles.
China posted the highest number of global web searches for Miami homes in February. Southern markets like Houston and Austin are also seeing more interest from Chinese buyers, said Kashif Ansari, co-founder and group CEO of Juwai IQI.
Zoom out: Two U.S. House Democrats introduced a bill last month to preempt state legislation seeking to ban property purchases based on citizenship.
"We need such nationwide efforts to combat the growing tide of anti-Asian legislation," Pugh said.
"If such law were to pass ... I would suspect that it would be enforceable under the Commerce Clause," referring to the power of the U.S. Congress to regulate interstate commerce.
What to watch: Despite the backlash and potential legal challenges, experts expect states to continue to consider restricting the property that Chinese nationals can buy.
"I think other red states like to follow the lead of Florida and Texas in trying to do things that are 'innovative,' so I suspect we will see more of this going forward," Pugh said.
Go deeper: Listen to the Axios Today podcast, where host Niala Boodhoo and Han Chen talk about why several states are trying to restrict certain purchases, making it harder for Chinese citizens to become American homeowners.
Go deeper