With headset reveal, Apple weighed every word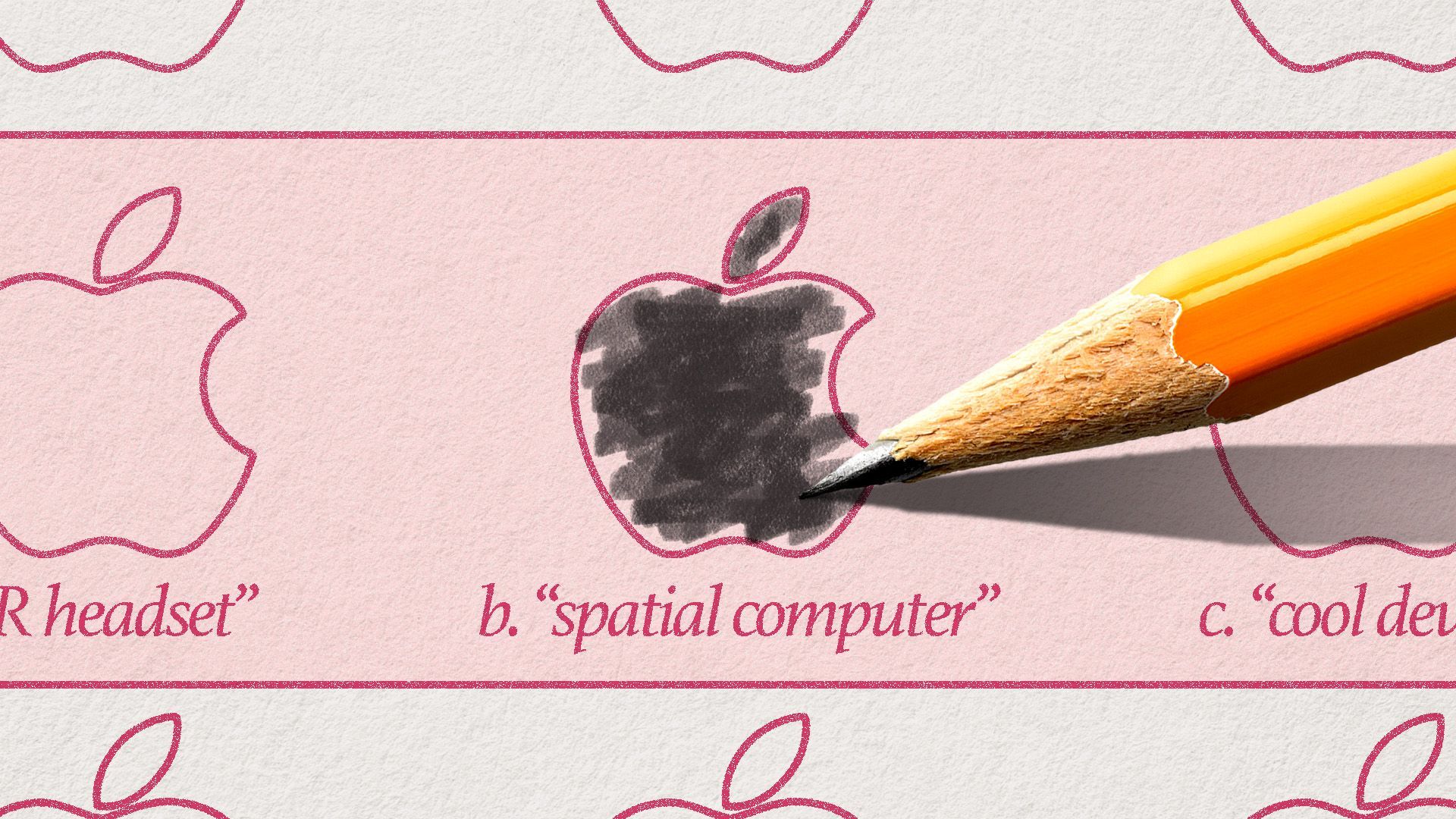 Apple is choosing its words with extreme care around its new Vision Pro headset, revealing its hopes and dreams for the groundbreaking but expensive new product.
It bills the $3.500 device not as a better VR headset, but as Apple's first "spatial computer." Similarly, its photorealistic video chat representations are dubbed personas, never avatars.
Why it matters: Apple wants both to separate what it does from others as well as to make its technology sound more approachable and less arcane.
"Apple today unveiled Apple Vision Pro, a revolutionary spatial computer that seamlessly blends digital content with the physical world, while allowing users to stay present and connected to others," reads the first line of the company's press release — which doesn't once use the terms virtual reality, augmented reality or mixed reality.
Between the lines: Even the product's name, Vision Pro, veers away from any reference to virtual reality — unlike the frequently rumored alternate name the company apparently rejected, "Reality Pro."
Apple is clearly going to some effort to distinguish its headset as the first of something new, rather than the latest in a category that has remained a niche, and one largely appealing to gamers.
And while Apple did say it would have more than 100 Apple Arcade games available at launch, gaming was not something it focused on. To emphasize the point, not one of the demos shown to reporters was of a game.
Similarly, Apple is using AI to improve the autocorrect and dictation features within iOS. Still, as popular as AI is these days, especially generative AI powered by large language models, Apple deliberately chose not to use any of those terms.
Instead it said the new features use "transformers," a technical name for one of the foundational techniques underlying most of today's large-language-model powered AI.
Be smart: Words matter, but the reality matters more. You can't redeem bad technology with fancy marketing terms, and even awkwardly named products can prosper if people find them useful. (I'm looking at you, iPad.)
The big picture: Apple has a long history of this approach — dating back at least to Susan Kare, Andy Hertzfeld and the rest of the original Mac team in the '80s, who aimed to create a personal computer that was actually approachable.
In debuting the iPhone in 2007, Apple said it was reinventing the phone and combining a mobile phone, internet communicator and iPod. But it only used the term "smartphone" once — and then as a derogatory reference to competitive products and their tiny plastic keyboards.
Yes, but: Apple did call the people who buy one of the pricey headsets "users" a lot (104 times in the Vision Pro press release, per longtime tech reviewer David Pogue).
It's a term that some feel brings to mind not happy customers but those addicted to drugs.
Go deeper