A graduating senior and his father were killed in Richmond mass shooting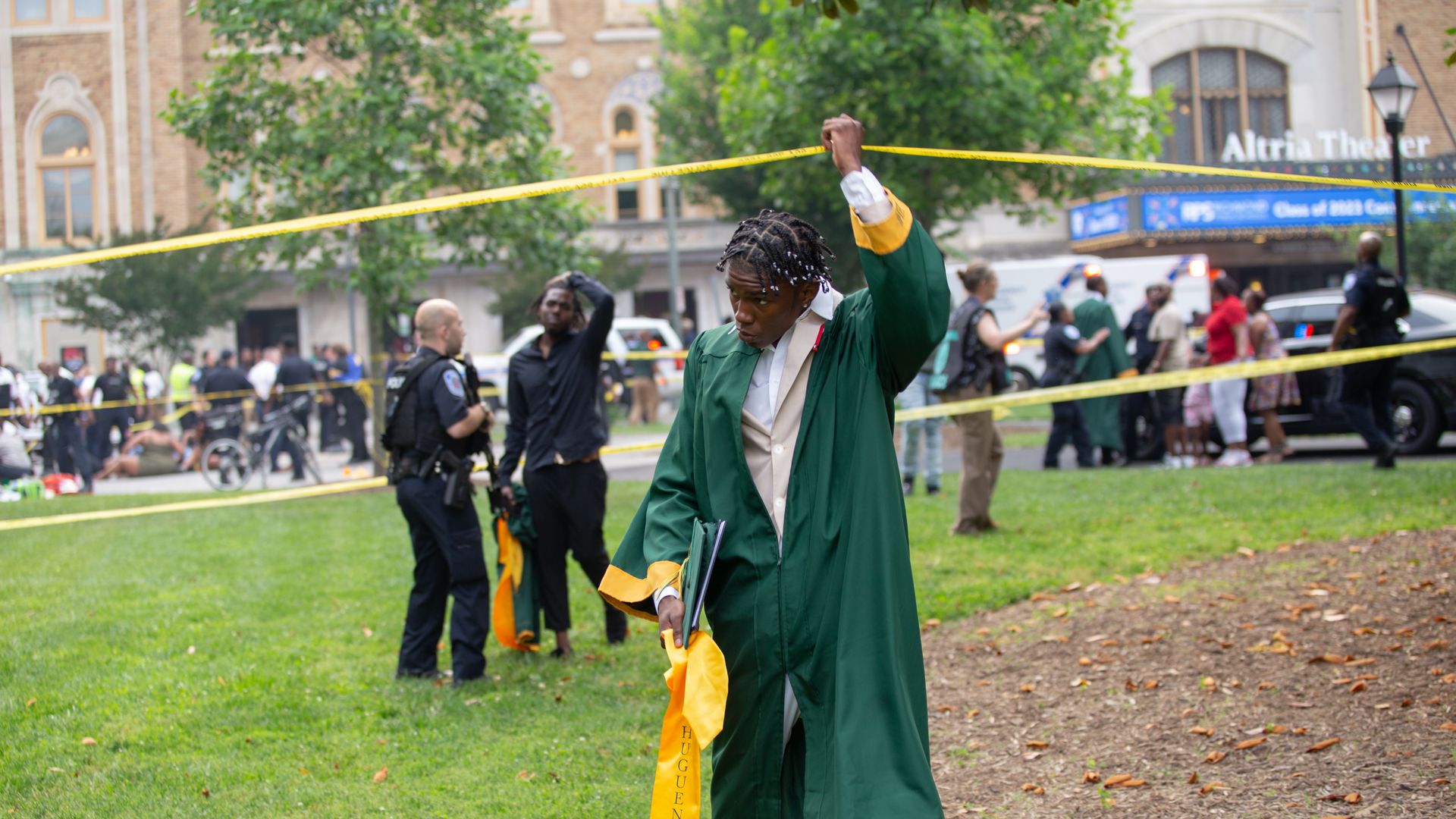 The two people killed in a shooting outside a Richmond graduation ceremony Tuesday evening were a graduating senior and his father, authorities said Wednesday.
What's happening: During a morning press conference, police identified the victims as 18-year-old Shawn Jackson and 36-year-old Renzo Smith.
A 9-year-old struck by a car in the melee that followed was also a member of the victims' family, officials said. She was treated for what police called minor injuries.
What they're saying: The victims' wife and mother, Tameeka Jackson-Smith, told the Associated Press that Jackson had just received his diploma.
"He was so happy — oh, my God — because he got to graduate. He worked hard," she said.
The big picture: In addition to the two fatalities, five people were injured by gunfire in the shooting late Tuesday afternoon in Monroe Park, where families were gathering as Huguenot High School's graduation ceremony concluded at the Altria Theater across the street.
The latest: A single suspect, Amari Pollard, a 19-year-old Henrico resident, was arraigned Wednesday morning on two counts of second-degree murder and police said additional charges could be forthcoming.
He's being held without bond.
Zoom in: Richmond Police Chief Rick Edwards said Pollard and Jackson knew each other, describing a dispute between the two that had transpired over the course of more than a year.
He said that just before the shooting, the two "exchanged words," and Pollard retrieved a handgun from his car before returning and shooting Jackson and Smith.
Edwards declined to discuss the nature of the dispute but said police do not believe it was gang-related and that Pollard had "very little interaction" with police and was not a felon.
"He was not a person on our radar, so that's one of the reasons that it's very surprising that this escalated the way it did."
In a remembrance distributed by Richmond Public Schools, Jackson's former assistant principal recalled a "very bright young man who could master any textbook" but who also "often found his way into my office" as he struggled to adjust to high school.
"I'm grateful for that because, over time, we formed a strong bond," wrote Kevin Olds, who is now a principal at Wythe High School.
He described Jackson as a student with an infectious smile and a joyous spirit.
"At times, Shawn wanted to give up, and he considered dropping out of school. But the safety net of the village would not allow that," Olds wrote. "In addition to his loving parents, a whole team at Huguenot supported him. … Because of their efforts and Shawn's diligence, he graduated yesterday."
"I am utterly heartbroken that his life ended just minutes later."
Meanwhile, Superintendent Jason Kamras announced the final day and a half of the school year are canceled systemwide.
"Given how on edge our community is right now … this step was necessary to safeguard the RPS family, " Kamras said.
The remaining graduation ceremonies have been rescheduled for next week and will take place in their respective schools.
The school district said no bags, flowers or balloons will be allowed, and all attendees will be subject to searches.
Other Richmond area schools are proceeding with graduations as planned and have announced increased security and police presence.
Police said they dispatched community mediators, sometimes called violence interrupters, in an effort to head off retaliatory attacks.
Of note: Pollard would not have been able to purchase the gun legally because he is under 21.
Edwards said three other handguns were recovered at the scene but that police no longer believe they were used in the confrontation.
Zoom out: Virginia Gov. Glenn Youngkin tweeted on Tuesday evening that his administration was "monitoring the terrible shooting in the heart of Richmond" and that state law enforcement "are fully supporting the Richmond Police Department as this investigation moves forward."
Richmond Mayor Levar Stoney said at a Tuesday evening news conference that the shooting was "tragic, but also traumatic because this is their graduation day."
"Is nothing sacred any longer? ... This should not be happening anywhere, a child should be able to go to their graduation and walk at their graduation and enjoy the accomplishment with their friends and their families," he added.
VCU President Michael Rao in a statement on Tuesday night called the shooting "heart-wrenching and shocking."
"Graduations should be times of happiness and celebration," he said. "I send my most sincere prayers to everyone involved on behalf of all of VCU."
For the record: The two deaths Tuesday bring the number of murders in Richmond this year to 33, per Edwards.
He urged anyone with information, video or pictures to contact police via phone at 804-646-6741 or upload pictures through an online form set up by the FBI.
"We've already got people texting us pictures from just before the shooting," Edwards said.
Editor's note: This story has been updated with additional details throughout.
Go deeper