Top COP28 official: Oil, gas should be at the climate table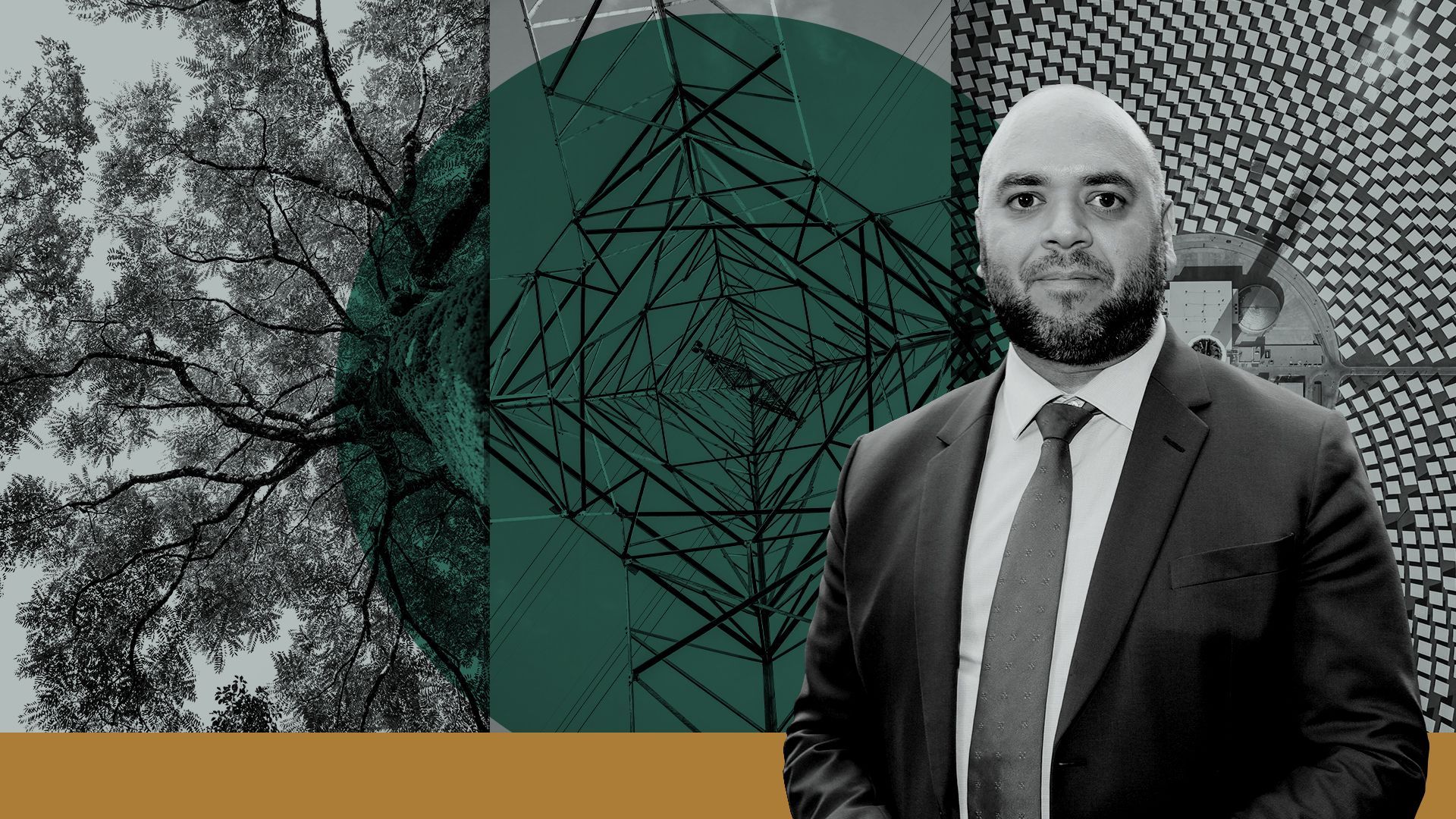 The upcoming United Nations climate summit in Dubai will be aimed at closing the gap between Paris Agreement's climate goals and global emissions commitments, according to COP28 director-general Majid al-Suwaidi.
Why it matters: COP28 is viewed as a last-ditch effort to limit warming to the most ambitious Paris target of 1.5°C (2.7°F) above preindustrial levels by 2100, by bending the trajectory of emissions sharply downward.
Yes, but: Many climate scientists already view that target as out of reach because of the cumulative impact of human-caused greenhouse emissions, and recent trends.
The world already has warmed by about 1.2°C (2.16°F) above preindustrial levels.
Driving the news: In an interview with Axios prior to his departure for pre-COP28 talks in Bonn, Germany, al-Suwaidi said this COP will stand out.
From the 1990s all the way through Paris and Glasgow, summits were mainly about securing political outcomes, said al-Suwaidi, who has also served as the United Arab Emirates' ambassador to Spain and a veteran climate negotiator.
COP28, however, will be about how to deliver on the goals world leaders already have committed to.
To meet them, he said the fossil fuel industry should be brought into the fold.
Zoom in: The summit, which starts Nov. 30, will feature the first "Global Stocktake" on the Paris Agreement.
The forum is intended to examine how far off-course the world is in limiting global warming, and to solicit ambitious commitments to close any gap.
Studies show that if the world warms beyond the Paris targets, the odds of potentially devastating consequences for ecosystems and billions of people would increase significantly.
As al-Suwaidi explains to Axios, "We can't say that Paris is a success if today we know we're off track for achieving the goals of Paris. So it's incumbent upon us to say, how do we get back on track?"
Of note: The world is currently on course to exceed 2°C of warming, but the UAE presidency is committed to keeping the 1.5°C goal in play, however challenging it may be.
"The UAE Presidency welcomes the opportunity to drive an inclusive, action-oriented COP to strengthen hope and build confidence in delivering the ambitions of the Paris Agreement, including keeping 1.5 within reach," al-Suwaidi said in a statement to Axios after the interview.
Between the lines: As a major oil and gas producer, the UAE brings baggage, but also credibility in bringing fossil fuel companies more openly into the COP process.
The UAE's COP president-designate, Sultan Ahmed al-Jaber, also serves as the CEO of ADNOC, the country's national oil and gas company.
The incoming COP presidency has come under harsh criticism for both its oil and gas ties, as well as its welcoming stance to the sector worldwide.
"We know that we're an oil and gas producing country, we have a COP president who is the CEO of an oil and gas company. We understand why that may appear to people outside, as you know, challenging," al-Suwaidi said.
"However, we don't see it that way," he added.
Bringing the industry into the U.N. climate summit's fold is conditional, and is based on the view that oil and gas companies must be part of any climate change solutions, al-Suwaidi said.
What he's saying: "We can't have an exclusive conversation that misses out the whole constituency who are really arguably, who are best placed to help you solve the problem."
"We're asking them to come and say what they're going to do to address the climate challenge."
Al-Suwaidi said it's up to Simon Stiell, the head of the U.N. Framework Convention on Climate Change, to determine if Russian oil and gas producers like Roseneft would be invited.
Such companies are under a Western embargo over the war in Ukraine.
The intrigue: Al-Suwaidi said the incoming COP presidency is focused on having a "transparent" process. At past COPs, industry representatives "would come anyway" but not necessarily disclose their affiliations.
He did not detail specific steps to ensure such transparency, which some civil society groups may push for during the Bonn pre-COP meetings.
In a letter sent May 23, nearly 100 US and EU lawmakers called for al-Jaber to be removed as COP28 president-designate, and for measures to limit industry's influence in the talks.
Al-Suwaidi rejected those calls as unnecessary and unhelpful, given al- Jaber's long tenure as the UAE's climate envoy, his commitment to the energy transition and support from governments worldwide.
What's next: The Bonn meetings will set the stage for COP28. Besides the stocktake, the summit will include the hotly contested task of moving toward operationalizing a new fund for "loss and damage."
This involves industrialized nations compensating countries least responsible for climate change for the damaging climate impacts they are already experiencing.
Go deeper