Blinken: Saudi-Israel normalization "should advance wellbeing" of Palestinians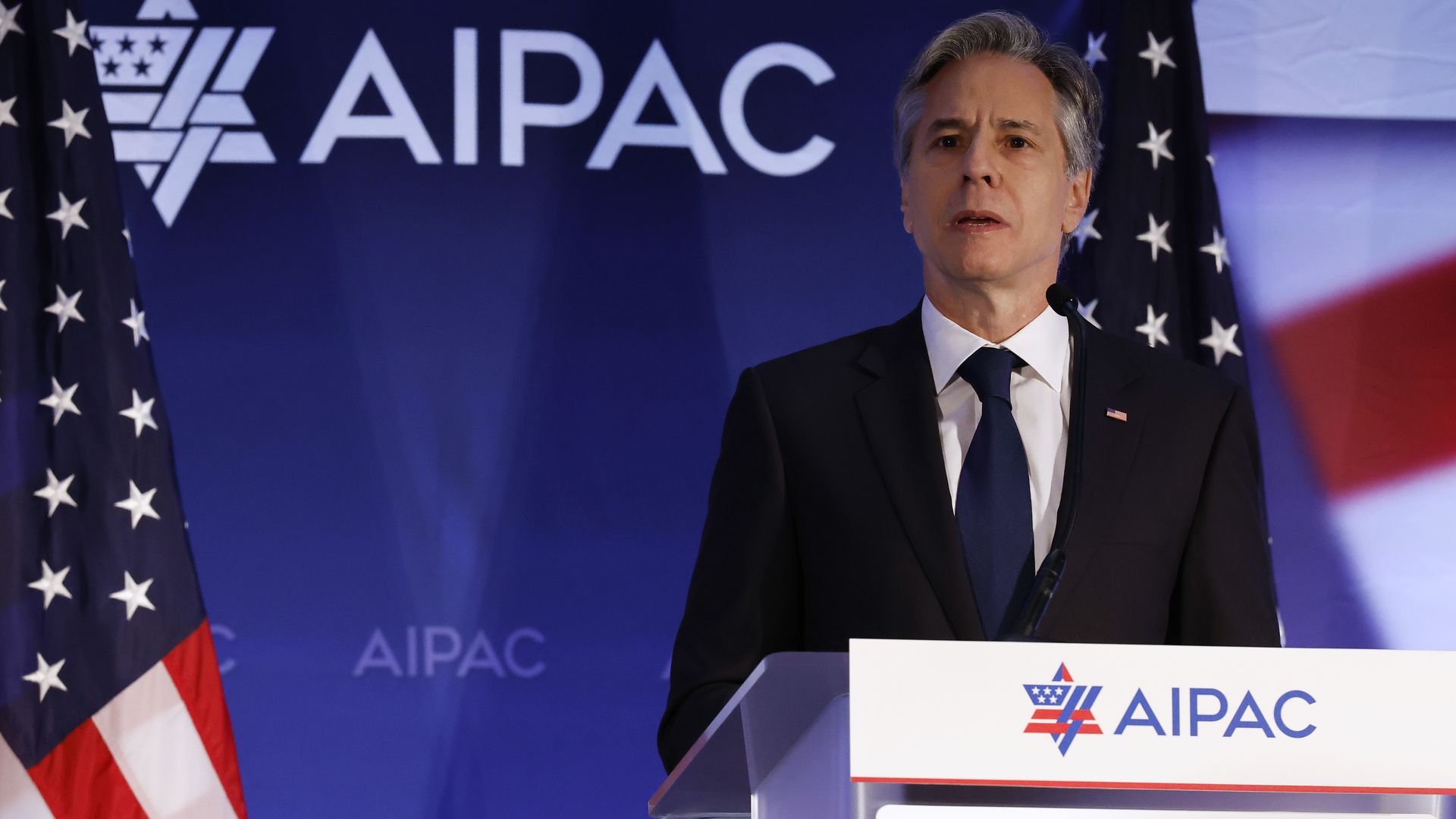 U.S. Secretary of State Tony Blinken said at an AIPAC conference on Monday that any normalization agreement between Israel and Saudi Arabia should also advance the prospects of a two-state solution between Israel and the Palestinians.
Why it matters: Blinken is scheduled to travel to Saudi Arabia later Monday. He is expected to meet with Crown Prince Mohammed bin Salman and discuss the issue of possible Saudi-Israel normalization.
The Biden administration wants to try and get a normalization agreement between Israel and Saudi Arabia by the end of the year — before the presidential campaign takes control of Biden's agenda, as Axios previously reported.
The linkage Blinken created between the Saudi-Israeli normalization and the Israeli-Palestinian conflict increases the prospect that any such deal will include a Palestinian component that the Israeli far-right government will have to implement.
Israeli Prime Minister Benjamin Netanyahu wants to promote an Israeli-Saudi normalization deal separately from the Palestinian issue.
What they're saying: Blinken told the AIPAC conference that the U.S. has a real national security interest in promoting normalization between Israel and Saudi Arabia.
"We believe we can and must play a role in advancing it. We have no illusions that this can be done quickly or easily but we remain committed to working toward that outcome including on my trip to Riyadh and Jeddah this week," Blinken said at the conference of the pro-Israel lobbying group.
He added that Israeli-Saudi normalization is not a substitute for progress between Israelis and Palestinians nor should it come at its expense.
"Israel's deepening relations with its neighbors can and should advance the wellbeing of the Palestinian people and the prospects for a two-state solution," he said.
The big picture: Blinken also said the Biden administration is committed to preventing Iran from getting a nuclear weapon but believes that diplomacy together with economic pressure and deterrence is the best way to do it.
Nevertheless, he stressed that if Iran continues to advance its nuclear program "all options are on the table."
Go deeper