Corporate America still loves China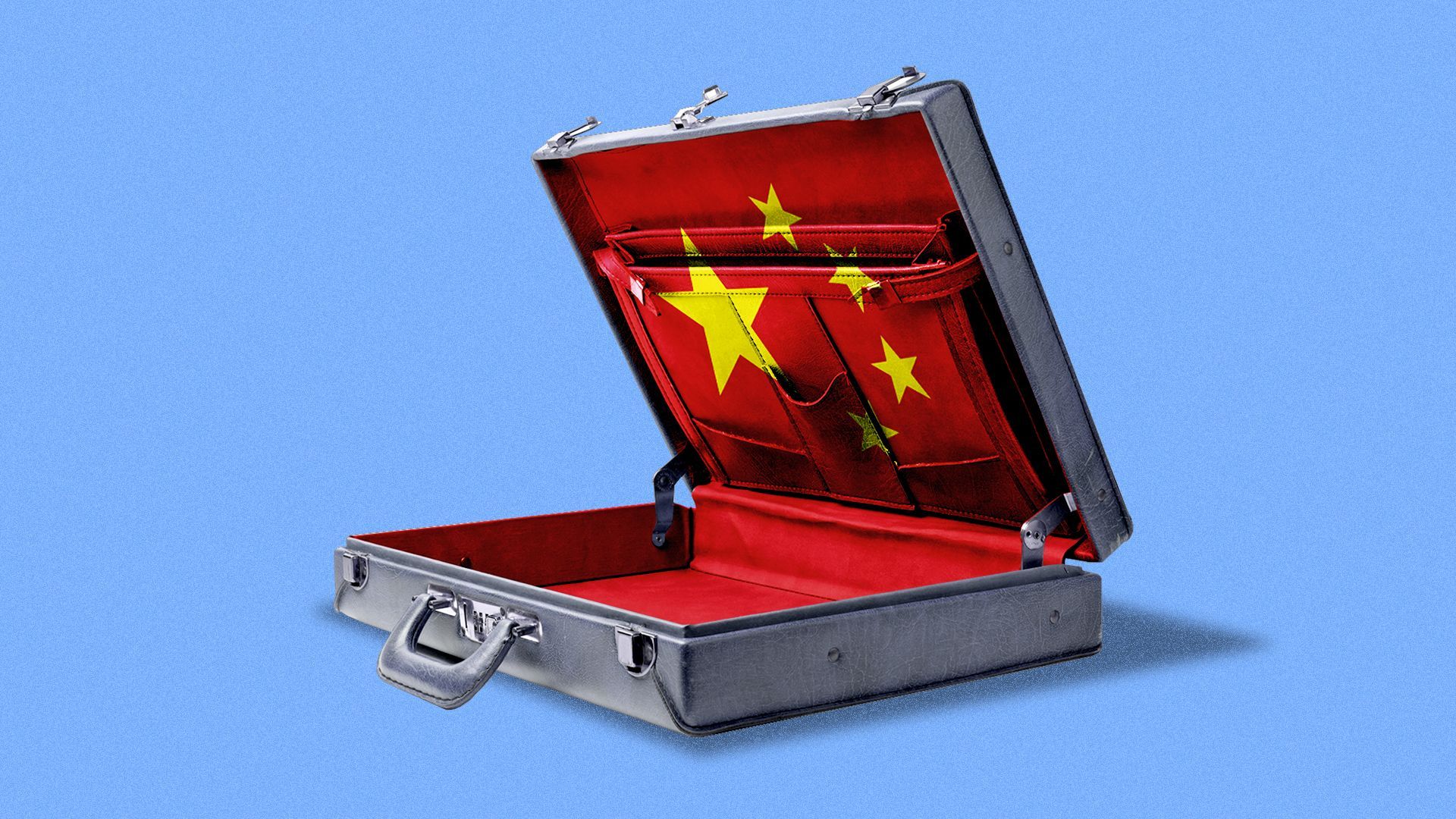 Corporate America can usually count on one if not both of the two main U.S. parties to espouse the policies it favors. Not when it comes to China.
Why it matters: Economic imperatives are sending a steady stream of CEOs to China. The real obstacle to growth, however, is found in Washington.
Driving the news: Tesla CEO Elon Musk visited Beijing this week and was quoted as saying that the U.S. and China are "intertwined like conjoined twins."
JPMorgan CEO Jamie Dimon was in Shanghai after doubling the bank's China head count over the past four years. He now controls a mutual fund company, a futures business and a securities firm in the country.
"We're here, we're going to support the Chinese people," he told Bloomberg.
Between the lines: China has been courting international CEOs, including French luxury-goods magnates François-Henri Pinault (who visited earlier this year) and Bernard Arnault, who's planning a trip later this month.
Apple's Tim Cook told a Beijing audience in March that being in China "means the world to me" given the "symbiotic relationship" his company has with the country.
The other side: "The new cold war is getting colder," writes economist Nouriel Roubini in the wake of a G7 summit that explicitly condemned China on both human rights and its militarized expansionism. "It is now clearer than ever that the U.S. and the broader West are committed to containing China's rise."
U.S. secretary of state Antony Blinken is refusing to make the same journey as his country's CEOs, using a Chinese balloon as a pretext for postponing a trip that had been designed to turn down the heat on tensions between the two countries.
U.S. lawmakers on both sides of the aisle are talking up concerns that imports of foreign technology could pose national security risks. Such language only further inflames relations between the two countries.
Tensions over Taiwan, similarly, continue to worsen.
The big picture: China is the largest or second-largest market for a slew of U.S. multinationals — not only Apple and Tesla but also the likes of GM, Starbucks, McDonald's and Nike. It also represents much greater potential growth than the U.S. can offer.
When Wall Street types urge Dimon to run for president, it's easy to see a desire for better relations with China.
Hedge fund billionaire Bill Ackman cited Dimon's respect among "the global political and business leaders that matter," for instance, as a reason for him to be president. When it comes to future global growth and prosperity, of course, no one matters more than China's leaders.
The bottom line: Even Dimon has resigned himself to the fact that "over time there'll be less trade." The CEOs will try to rescue what they can, but the politicians are setting the rules.
Go deeper