Yelp is down to one office in the U.S., as it leans into remote work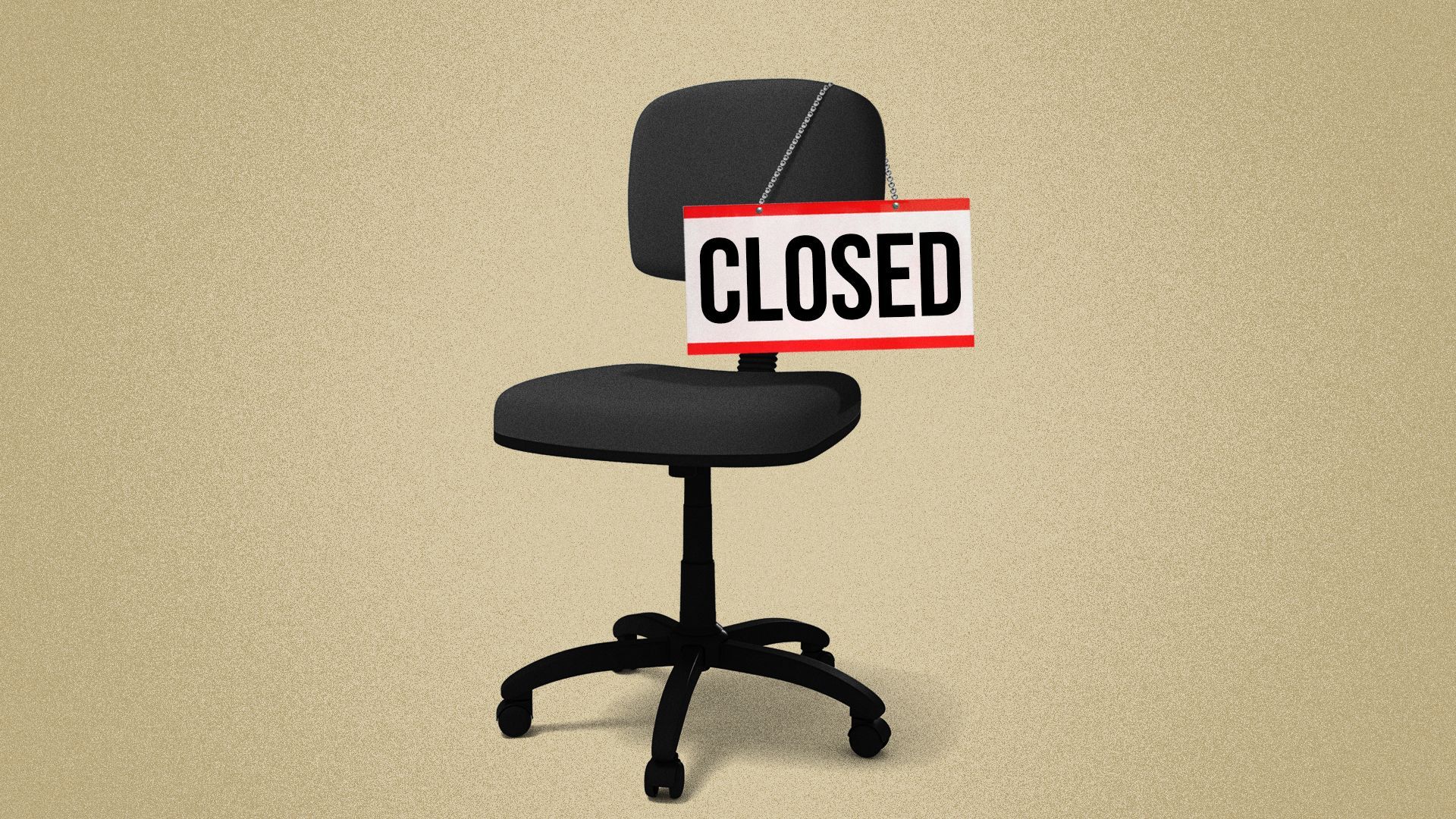 Online review site Yelp is closing two offices that very few employees have actually been using — affirming its commitment to a remote-first workplace, the company announced Thursday.
Why it matters: While employers like Amazon are grabbing headlines by pushing unwilling employees back to the office, many others are leaning into remote work — making permanent changes to the way they operate.
Companies are shuttering under-utilized spaces or redesigning them with an eye towards a hybrid work model.
Despite the noise we hear from "the desk-banging CEOs," there are plenty of companies "that lean into remote-first or more radical flexibility," said Erin Grau, co-founder of Charter, a media and services company.
State of play: Last year, Yelp closed offices in New York, Chicago and Washington. The closures announced Thursday will shutter its Phoenix and Hamburg, Germany spaces on July 1.
On average last month, fewer than 6% of the desks in those offices were being used, the company told Axios.
Yelp now has one remaining U.S. office in San Francisco, as well as locations in Toronto and London.
The closures mean that a few office-dependent employees — like security providers — will lose their jobs, the company said.
The office closures and space reductions completed so far — the company downsized its San Francisco office — are saving Yelp around $26 million to $28 million in annual expenses in 2023 and 2024, it said.
Zoom in: The office closures are part of Yelp's commitment to "fully embrace remote work," the company's chief people officer Carmen Whitney Orr said in a blog post.
"Our employees overwhelmingly favor remote remote work," Orr told Axios in an interview.
Yelp, which now has 4,900 employees globally, said it's expanded remote-friendly employee benefits, including a travel reimbursement for healthcare where a procedure like abortion or gender-affirming care might be banned in an employee's state.
It also beefed up a wellness stipend that workers use for gym memberships or workout apps. "They're able to spend the time they don't spend commuting working on things like their health," Orr said.
"[F]orcing people back to the office, even in a hybrid model, is the wrong approach," Yelp CEO Jeremy Stoppelman wrote last year.
It's a stark contrast to Amazon, where employees staged a walkout this week over the company's return to office policy, which requires employees to come in three days a week.
The big picture: Yelp's certainly not alone — plenty of other companies are also still embracing remote work.
In May, 28% of companies of the 4,000 companies tracked by a new data report called the Flex Index were fully flexible, either with no offices or leaving it up to employees to decide whether or not to come to work.
30% of companies were doing some kind of structured hybrid plan where workers come in a minimum number of days a week. And 42% were fully in-office — down from 49% in February.
The index, run by a software company called Scoop, uses public sources and a survey to amass information on what companies are doing — and then cross-checks the data with employers, said CEO Robert Sadow.
Nearly a third of the companies in the database are public; 80% have 10,000 or fewer employees. And 20% have more than 10,000 workers. Smaller companies are more likely to be flexible, according to the report.
Online retailer Etsy has also leaned into remote work — redesigning its Brooklyn headquarters for a more hybrid model, the company's CEO Josh Silverman told Axios.
There are permanent desks for workers who live nearby and come in often, as well as more open areas for collaboration when big groups come in for meetings.
"Most people I think are coming to a conclusion that we've got to find a different way of working. I'm not trying to go back to any past. We're trying to lean forward to how work is going to happen," Silverman said.
Zoom out: The average national office occupancy rate is just 49% of what it was during the pandemic, according to office swipe-in data from Kastle.
What to watch: Who gets promoted. For companies that mix remote and in-office set-ups, Grau and others worry that those who aren't coming in for face time could be left behind.
"One thing we're watching is how many of those companies are shoring up their internal practices to be sure that if they're offering more flexibility, it's not preventing [employees] from advancing their careers," Grau said.
Go deeper