Hundreds of Amazon workers stage climate protest walkout
Hundreds of corporate Amazon workers protested Wednesday against the company's progress on its climate goals and over its mandatory return to in-person work.
Driving the news: The movement was organized by Amazon Employees for Climate Justice, a climate change advocacy group founded by the company's workers, along with an informal group of workers who oppose the changes in remote work rules, per the Washington Post.
Organizers said more than 1,900 Amazon employees around the world had pledged to participate, with around 900 at the company's Seattle headquarters. Amazon officials estimated that about 300 people joined in.
Context: Employees at the demonstration expressed their disappointment with the company's pace on reducing its carbon footprint, as Amazon relies heavily on fossil fuels to power its delivery vehicles, AP reports.
Amazon told investors in an annual report that it aimed to utilize 100,000 electric delivery vehicles by 2030 and reach zero emissions by 2040, per AP. But activists said the company should commit to net-zero carbon by 2030.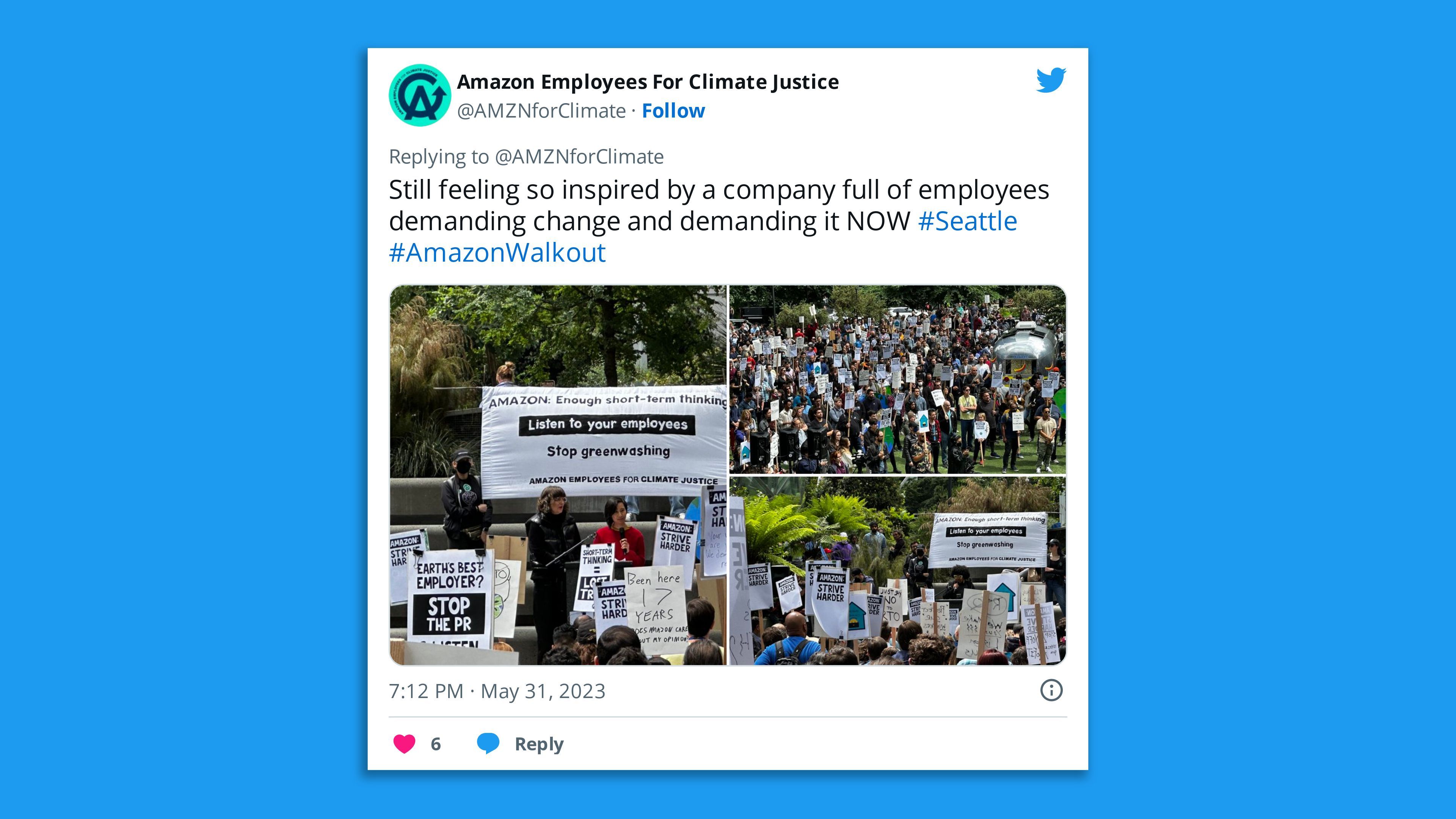 What they're saying: "Today looks like it might be the start of a new chapter in Amazon's history," said Amazon Employees for Climate Justice co-founder Eliza Pan, a former Amazon corporate employee, per AP.
"When tech workers coming out of the pandemic stood up and said, 'We still want a say in this company and the direction of this company.'"
The other side: Amazon said it remains on track to reach 100% renewable energy by 2025, and getting to net carbon zero by 2040.
"While we all would like to get there tomorrow, for companies like ours who consume a lot of power, and have very substantial transportation, packaging, and physical building assets, it'll take time to accomplish," Amazon spokesperson Brad Glasser told Axios.
On returning to the office, Glasser said the company understands it'll take time to adjust, adding, "We're always listening and will continue to do so, but we're happy with how the first month of having more people back in the office has been."
Amazon Employees for Climate Justice did not immediately respond to Axios' request for comment.
Go deeper