Coming to a hospital near you: 5G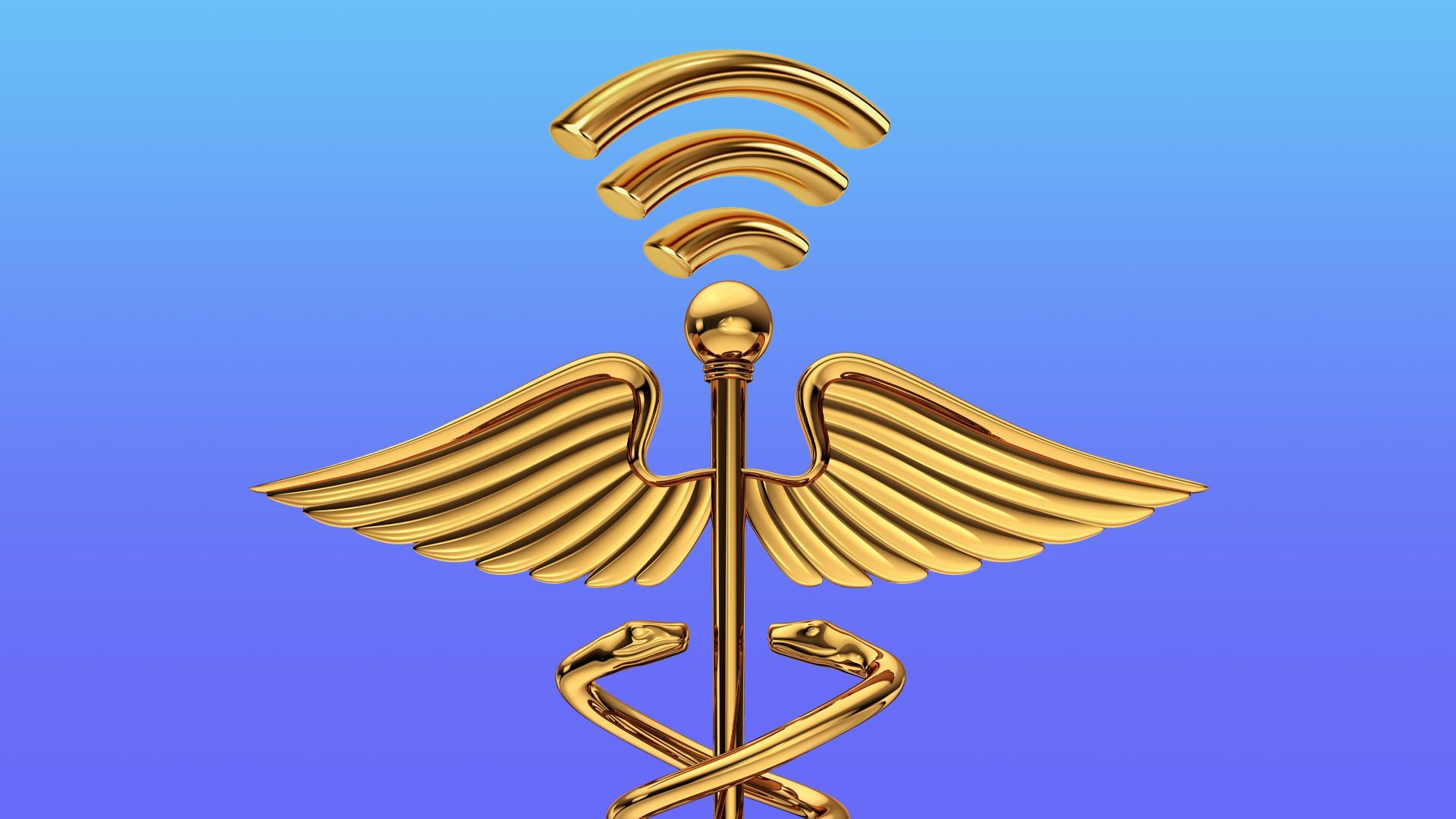 Artificial intelligence may be grabbing headlines, but another technology revolution is finally starting to take place within the walls of hospitals: the switch to 5G.
Why it matters: While most consumers still think about cellphone speeds when it comes to fifth-generation wireless networks, they could be game changers in enabling "smart" hospitals, along with intelligent grids and transportation systems.
It's a future in which remote telesurgeries become the norm and doctors receive patients' vitals and medical histories the moment they walk in the door with the help of some sensors and wearable devices.
Watch 5G: A short course from Axios
What they're saying: "We're just at the beginning of the quantity of devices that are 5G enabled and that proliferation is going to be an incredible curve," Jen Artley, senior vice president of 5G acceleration at Verizon Business, which has been assisting the Cleveland Clinic as it prepares to launch its first fully enabled 5G facility in July.
It also will allow faster and more accurate diagnoses and the sharing of vast amounts of genomic data as the U.S. health system embraces more personalized medicine. It will drive a further increase in telemedicine. And it would accelerate the adoption of virtual reality and artificial intelligence and enable the explosion of internet-connected devices known as the Internet of Things (IoT).
The critical difference for health care is that 5G has less than a millisecond of delay, compared to about 70 milliseconds on the 4G network, as well as much higher data transmission speeds than existing networks, researchers wrote in the Journal of the Society of Laparoscopic & Robotic Surgeons.
"Having the ability to manage a network that knows how to handle a density of devices will be extremely important," Artley said.
State of play: Think about attending a big sporting event or concert where an old network is in use and the crowd can quickly overwhelm the system.
The devices still "work," but it's nearly impossible to make calls or text photos, Dong Li, assistant professor at Emory University School of Medicine, who studies the impacts of 5G, told Axios.
Health systems are still stuck in that old sports stadium, Li said.
In the case of telesurgery, it's possible that a patient in a rural area with few providers could receive emergency surgery from a physician in a different part of the country using robotic tools onsite and a customized internet connection.
The technology already exists, Li said. "But in health care, we have to make it perfect" and 4G's lag time makes that nearly impossible for anything but the simplest surgery.
The big picture: Worldwide, 5G in health care settings is picking up steam. China boasts the first 5G medical private network in the world, announcing in 2019 it would be the standard moving forward. During COVID, they built 20 cabin hospitals that were fully 5G-enabled.
Zoom in: Cleveland Clinic's facility built from the ground up with 5G "will really be a test bed and a platform to launch new ideas and new innovation in health care technology," Matt Kull, the clinic's chief information officer, told Axios.
It follows in the footsteps of the Department of Veterans Affairs' Palo Alto Health Care System, which became the first 5G-enabled hospital in the U.S. in February 2020.
"Imagine a doctor being able to see layers beneath the skin before the first incision is ever made," former VA Secretary Robert Wilkie said at the time, per Healthcare Dive. "The FDA was never able to approve these sorts of practices in surgery because 4G technology simply could not carry that much information."
Rush University Medical Center and AT&T announced plans in 2019 to begin enabling 5G across its facilities.
Between the lines: Li estimates about 20% of U.S. hospitals have added some 5G connectivity. But few are using that capacity to its fullest potential.
"My concern is that so many physicians I meet don't understand the importance of 5G," Li said. "Even leaders in hospitals don't know what they can do yet. We need more knowledge about how this could help them realize the future, to deliver care in the ideal way."
"In five years, most of health care will realize it is the only choice," he said.
Yes, but: It's tricky and costly to add 5G into older hospital buildings that just weren't designed for it, Kull said.
Wireless providers like AT&T, Verizon and T-Mobile have promised 5G will deliver gigabit speeds — up to 100 times faster than current 4G LTE wireless service, Axios' previously reported. Some estimates say 5G can support around 1 million devices per square kilometer, whereas 4G could only handle 4,000.
5G technology is available nearly everywhere in the country today, with the exception of inside buildings, at its fastest capacity, Kull said. 5G signals are more easily blocked by common objects such as thick concrete walls, which many old hospital buildings have.
Health care facilities also have to be particularly mindful of security.
Between the lines: This won't just affect patients in the hospital. Patients en route via ambulance could be checked by ultrasound for internal bleeding, with results securely sent directly to doctors before arrival, Kull said.
Patients who are admitted will be able to move more freely — and transition home with less hassle thanks to remote monitoring devices, he said.
"This really removes the tethers to specific areas of the building and ... allows us to think more about the actions that have to take place to care for a patient rather than the logistics that have to happen," Kull said. "That's the unlock. The distance stops mattering as much."
Go Deeper: Axios Big Picture on 5G
Go deeper