How 5G may widen the rural-urban digital divide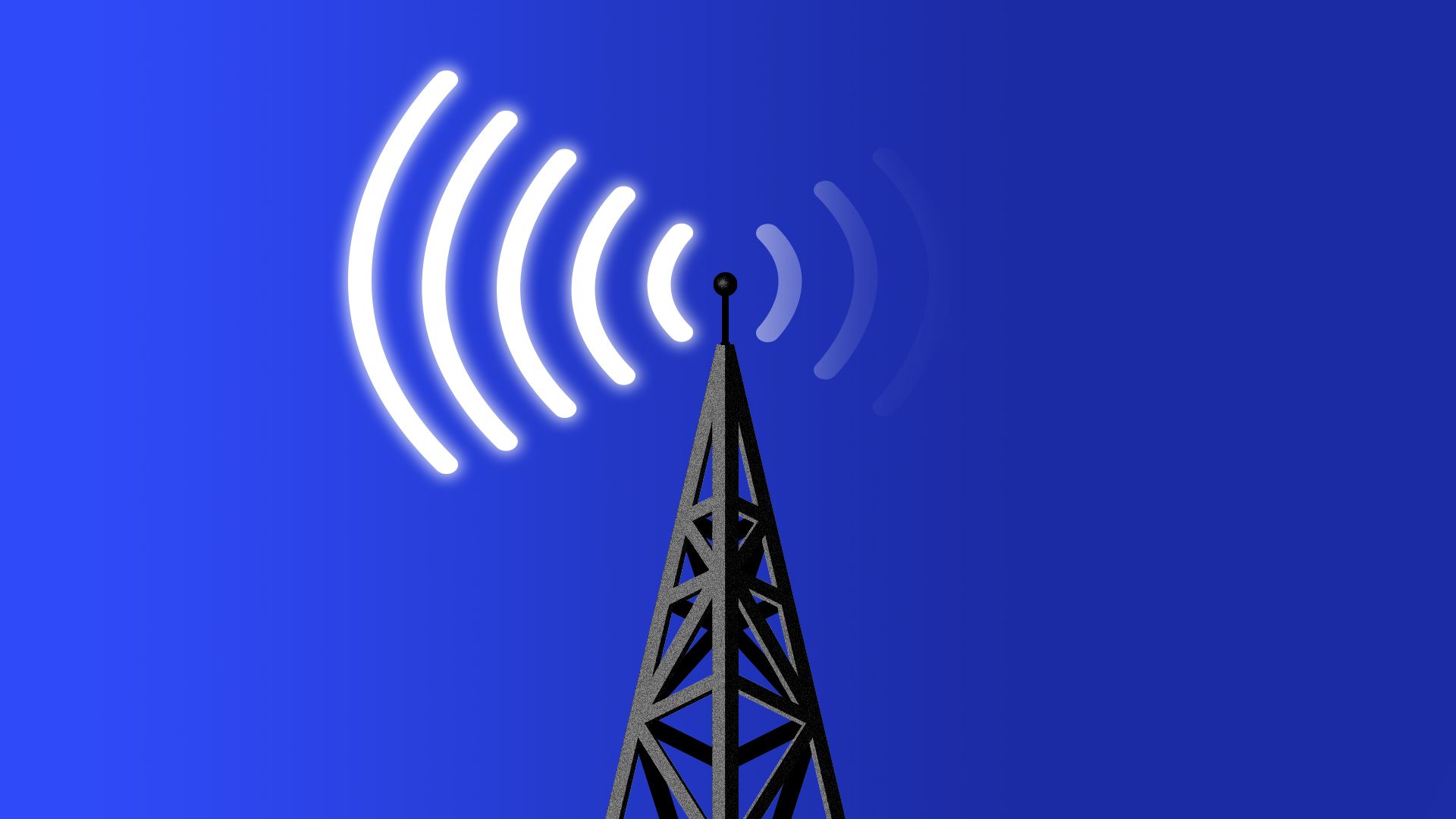 New 5G networks are expected to supercharge wireless speeds and trigger an explosion of new services — but they also may exacerbate the stubborn digital divide and leave out wide swaths of rural Americans.
Why it matters: According to FCC data, 31% of rural residents don't have fixed broadband service, compared to 2% of city residents. Despite the hype around 5G, there's still little financial incentive for the major telecom firms to spend the billions of dollars necessary to serve rural communities, experts say.
Big wireless providers like AT&T, Verizon and T-Mobile are promising that 5G (or fifth-generation wireless networks) will deliver gigabit speeds — up to 100 times faster than current 4G LTE wireless service — that will power smart cities, instant video delivery, virtual reality and a host of other applications that need constant, robust connections.
The catch: The high-frequency airwaves capable of delivering those fast speeds can't travel very far — only a few hundred feet with a clear line of sight. So networks will need hundreds of thousands more cell antennas to carry the signals. That may be feasible for a metropolitan downtown, but it's too expensive in many rural areas.
Gigabit-level speeds also require antennas to link back to an immense amount of fiber in the ground. Digging hundreds of miles of trenches for fiber-optic cables alongside long country roads already makes it tough to get basic broadband connections to remote areas. About 14 million rural Americans lack mobile LTE broadband at download speeds of 10 megabits per second, per FCC data.
"If you can't get the economics of 4G to work in rural areas, other than some downtowns and interstate highways, who is going to build the much more expensive 5G? It's laughable. We shouldn't assume that this will solve our rural broadband gaps."
— Joanne Hovis, who advises towns on wireless strategies
Companies investing in the networks acknowledge cities will be the first to get the upgrade, and note that 5G networks can still be far faster than 4G even over more traditional lower-frequency spectrum.
Because rural cell towers are less crowded, the real-time speed differences between city and rural use may not be as dramatic, says Sherif Hanna, director of product marketing at Qualcomm.
5G can be a viable rural option where houses are clustered together and close enough to fiber infrastructure, said Steven Steele, CEO of Peoples Telecom, which serves 3,000 wireless subscribers in East Texas. "The nice thing about 5G is everyone's doing it, so equipment will get cheaper," he said.
FCC Chairman Ajit Pai told Axios in an interview last month that there is a strong business case for rural 5G networks, such as precision agriculture: "I'm confident that if we get the infrastructure out there in rural America, if we create a business case for doing that, there's going to be incredible benefits."
In cities, 5G may worsen disparities between affluent and low-income neighborhoods. The fear is that 5G networks will simply improve service for those who already have it, and not do anything to extend access to those who still lack access.
Wireless providers are spending a lot of cash to lay fiber and negotiate for access to the city structures (light poles, bus shelters, buildings) to attach antennas.
To get a faster return on that investment, providers will likely first deploy 5G networks in richer areas where consumers are able to shell out higher monthly prices for the service.
Some cities are using carriers' interest in building 5G networks to ensure that underserved areas are part of the package. In downtown Los Angeles, where Verizon is rolling out a pilot, the mayor's office is pushing digital inclusion.
"We permit new installations and say, if you're permitting for an area like Bel Air or Brentwood, which are quite wealthy, then we will also need to see an equitable number of 5G permits in South L.A. and Watts, which are our two most digitally impoverished neighborhoods."
— Jeanne Holm, deputy CIO for L.A. and senior technology adviser to the mayor
In San Jose, in the heart of Silicon Valley, more than 50% of low-income residents making less than $35,000 a year don't have wired broadband access at home, and 60% of low-income families say they can't afford a $10-per-month internet bill.
San Jose Mayor Sam Liccardo told Axios he "enthusiastically" welcomes the arrival of 5G — "but cities should be negotiating deals that enable broader access," he said. "We think there's a bargain to be had there."
San Jose struck a deal with wireless carriers: The companies would get a discount on access to city infrastructure in exchange for a commitment to build out the 5G network to across the city.
Collectively, three carriers (AT&T, Verizon and Mobility) will have small cells in every district. A "digital inclusion fund" — also part of the negotiation with carriers — can help cover gaps in service.
Some experts warn not to let digital divide concerns slow down deployment or overshadow the broader benefits to underserved communities.
"Yes, there will be challenges in terms of infrastructure, but if we can get 5G into these places, its capacity will allow us to improve people's access to digital services — particularly for low-income populations that are more reliant on smartphones and wireless devices in the first place."
— Nicol Turner-Lee, Center for Technology Innovation Fellow at the Brookings Institution
Go deeper