Democrats unveil 8-figure blitz for hyperlocal rural races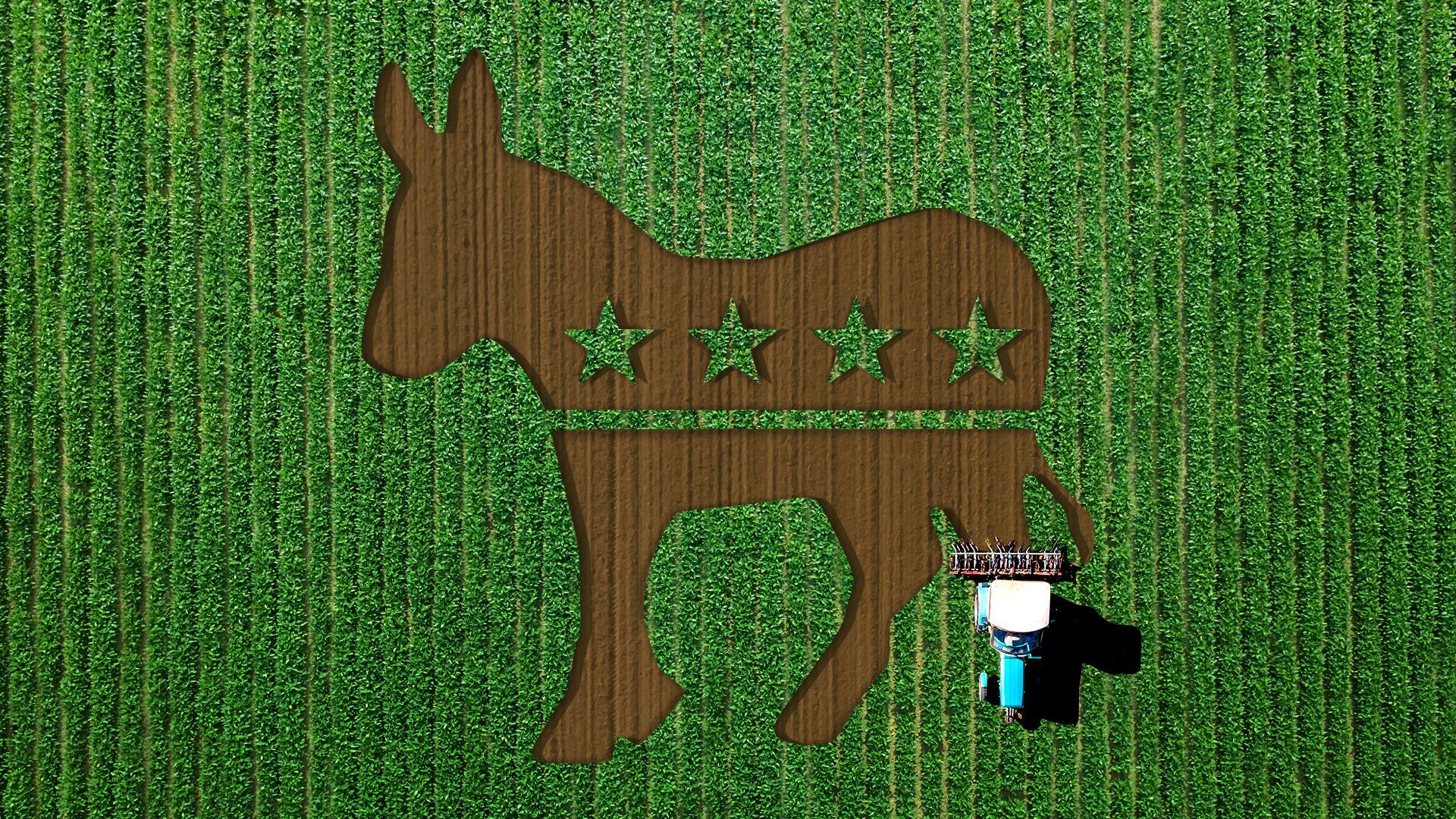 An outside group supporting Democrats plans to spend over $10 million targeting rural voters and communities in down-ballot races that the party has neglected for years, Axios has learned.
Why it matters: Democrats are desperate to infiltrate GOP-friendly territory. Although they hope the presidential election will help drive turnout down-ballot, the party has significant ground to make up.
Roughly 100,000 elections go uncontested every year while grassroots organizers and rural Democratic county parties struggle to survive, according to Movement Labs.
Driving the news: Republicans in hyperlocal races — think school boards and city councils — across six states are the focus for Contest Every Race, a campaign run by Movement Labs.
In 2022, the group gave $150,000 to rural Democratic county parties and organizations in 75 counties to help recruit candidates for elections below state legislature.
Movement Labs is now fundraising for a $10 million Contest Every Race campaign, part of which will be allocated through $2,000 grants to hundreds of local entities in Wisconsin, Kansas, Virginia, Michigan, Montana and Arizona.
The campaign has already received grant applications from over 350 rural county groups, according to executive director Salim Shariff.
What they're saying: "In 2022, we started this grant program with the insight from the candidates that everyone needs more money, but they also need to reach more Democrats in their area and know what infrastructure exists, especially in rural areas," Shariff told Axios.
"It feels lonely to be a blue dot in a sea of red. We are trying to make sure they're not just one blue dot."
The big picture: The Dirt Road Democrats PAC — founded in 2020 by Democratic National Committee Chairman Jaime Harrison to make gains in rural states — is launching six-figure campaigns in North Carolina, Mississippi, Kentucky and Virginia this year.
That list of states will expand for 2024, said Scott Hogan, former Georgia Democratic Party executive director and currently an adviser to the PAC.
"We quit showing up years ago, and as a result you've seen the margins shift in a lot of these areas," Hogan told Axios.
"When we show up we win more races," he added, pointing to Georgia's 2021 U.S. Senate runoff elections, in which he was deeply involved as one of the state party leaders at the time.
By the numbers: Bill Clinton won about 1,100 rural counties in his 1996 presidential election. In 2008, Barack Obama won just 455. Joe Biden won under 200 rural counties in the 2020 election.
The rural counties that Biden won in 2020 tended to be more racially diverse than those Trump captured, especially in the South, according to the Economic Innovation Group.
Harrison said that growing the Democratic vote share from 20% to 40% in various red counties could mean the difference between winning and losing a state or district.
"When it comes to winning in tough places, too often Democrats wave the white flag before the battle even begins," he concluded in a statement.
Don't forget: Democrats managed to make small but significant gains with rural voters in crucial races last fall.
Sen. John Fetterman's 2022 campaign in Pennsylvania focused in part on these districts, ultimately helping him outperform Biden's 2020 vote-share in nearly every rural county in the state.
What to watch: Some progressive Democrats this year, like Rep. Ro Khanna (D-Calif.), have been making a pitch to voters in places like Iowa, trying to debunk the myth that the left is out of touch with rural America.
Go deeper