Inside Congress' little-known, makeshift Jewish caucus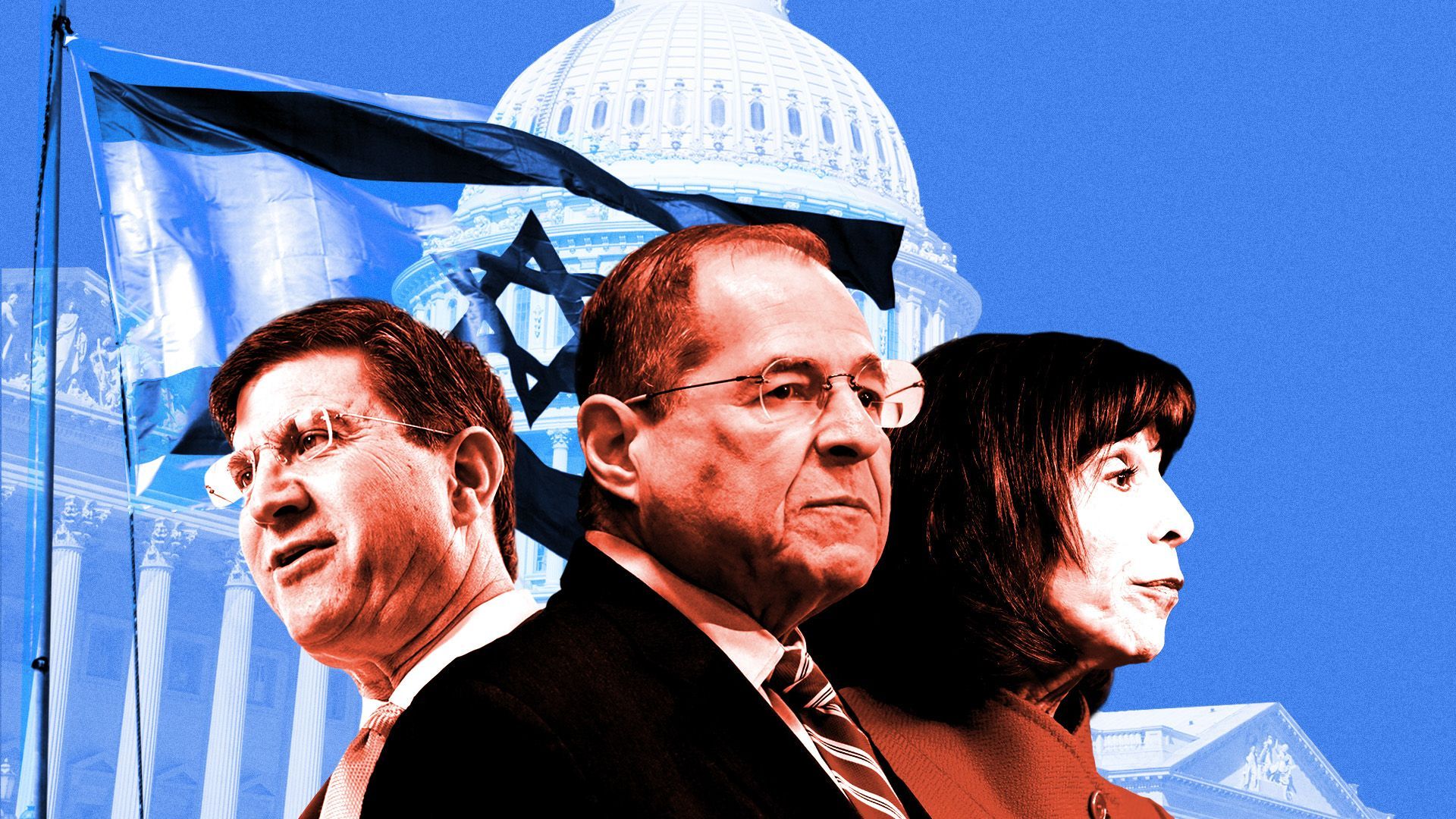 When tensions flare up in the Middle East or a visiting Israeli dignitary wants to meet with American lawmakers, Congress' informal Jewish caucus springs into action.
Why it matters: Prime Minister Benjamin Netanyahu's push to overhaul Israel's judiciary has made Congress' loose-knit Jewish members' working group unusually cohesive of late as it tries to influence policy on both sides of the Atlantic.
"There are obviously differences on the settlements, on a two-state solution," said one Jewish member. But on the judicial review, "everybody can agree. … It's a very democratic position: defend the separation of powers."
"There is increasingly a need for Jewish members to convene," said Rep. Dean Phillips (D-Minn.), citing a rise in antisemitic hate crimes.
Rep. Kathy Manning (D-N.C.) pointed to the overturning of Roe v. Wade as another common touchstone: "I think for the vast majority [of us] ... women's reproductive rights is an issue where we have strong agreement. And that's a Jewish value."
Details: The group, led by Rep. Jerry Nadler (D-N.Y.), the longest-serving Jewish member of Congress and thus the "dean" of the Jewish delegation, met most recently in late March with Mike Herzog, Israel's ambassador to the U.S.
Members warned Herzog at that "emotional" meeting that the judicial reform would make it harder to defend Israel, Axios reported.
"It is not a group with an agenda or a predetermined meeting schedule. It's really as-necessary," said Phillips. "If there are circumstances — tragic ones, if there are opportunities, if we have delegates in town."
In addition to meeting with dignitaries, the group has also received briefings from administration officials.
The big picture: The nearly 40 Jewish members of Congress lack a formal caucus in the style of the Congressional Black, Hispanic, Asian Pacific Islander and LGBTQ+ Equality Caucuses.
"It gets into the whole sense of Jewish identity," said Rep. Brad Schneider (D-Ill.), a leading member of the working group. "Is Judaism a religion? Is it an ethnicity?"
Rep. Susan Wild (D-Pa.) told Axios, "For many of us Jewish members, it's about a culture, not a religion, but for others it's very much about a religion."
"In the same way we don't have a Baptist Caucus, a Christian Caucus, a Muslim Caucus … it just doesn't feel appropriate" to have a religious caucus, Wild added, though she said she wouldn't be opposed to a group that "wasn't called the Jewish Caucus … let's call it the Judaica Caucus or something."
Another explanation offered is the difficulty of bringing a fractious group of lawmakers under one umbrella — "Three Jews, four opinions," Schneider quipped.
The Jewish member who spoke anonymously said their concern is that "the minute we get together, it'll just show that there's no unity."
Yes, but: "We've always been discussing" a formal caucus, Schneider said. "We're having conversations, we continue to have conversations."
Manning has been a vocal advocate: "I don't understand why we don't have a Jewish caucus and I think it would be beneficial for us to have one."
The advantages of a caucus include a dedicated staff and an improved capacity to put meetings, events and statements together — said another Jewish member of the Herzog meeting: "It [was] a challenge, because the Jewish members are not organized" as a group.
Zoom in: One question a formal caucus would have to grapple with is whether to offer membership to the two Jewish House Republicans.
The Black and Hispanic Caucuses have denied membership to Republican applicants in recent years.
Rep. Max Miller (R-Ohio), one of just two Jewish Republicans in Congress, told Axios he has "strong" relationships with Jewish Democrats.
"I believe we agree to disagree on a lot of issues regarding Israel and the Jewish people, but we're having civil discourse," he said, adding that he would consider applying to join a hypothetical Jewish Caucus.
"I would invite anybody who identifies as a Jew," said Manning. "I am of the inclusive viewpoint."
Go deeper