Pasta prices are up in U.S. but not like Italy crisis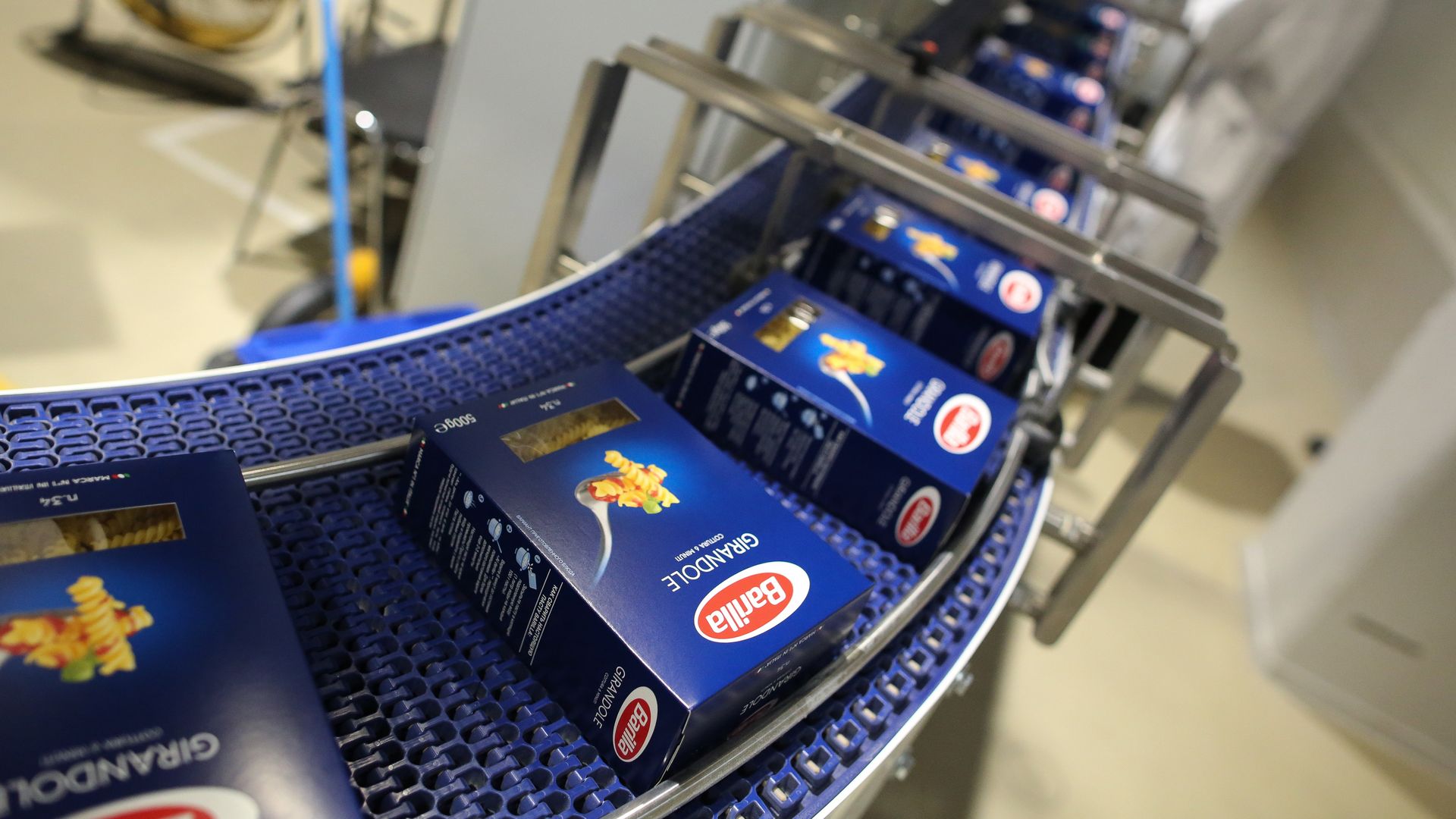 The price of pasta is being served uncomfortably al dente, triggering official crisis meetings in Italy and hitting American consumers on already inflated grocery bills.
Why it matters: The skyrocketing price of pasta is a perfect case study in what drives inflation — involving rising commodity costs, rocky supply chains and accusations of excessive corporate profit-taking.
It also shows how difficult it is to pinpoint which causes are actually to blame.
Driving the news: Earlier this month Italy's government convened a crisis meeting to diagnose why pasta prices had spiked more than 2x the country's rate of inflation.
A spokesperson for Unione Italiana Food told CNN earlier this month that rising input, packaging and logistics costs were to blame.
Critics of the price surges have pointed to the fact that the cost of durum wheat has decreased, a fact that producers have attributed to a lag in when those decreased input costs actually show up in finished products.
Zoom in: The issue is having an outsized impact on food costs in Italy, as the average Italian consumes about 51 pounds of pasta each year, more than double that of Americans.
"Unlike Italy which has a strong connection to pasta or Mexico, where corn tortillas are a key staple, the U.S. doesn't have one defining staple food," David Ortega, a food economist and associate professor at Michigan State University, told NPR.
Yes, but: The price spikes in pasta are still being felt in the U.S.
By the numbers: Prices of spaghetti and macaroni in the county hit a record high in February of $1.486 per pound, federal data shows.
The April 2023 price dropped to $1.461, the data showed.
The combined category of rice, pasta and cornmeal increased 10.3% in the last 12 months through April, according to the latest Consumer Price Index.
State of play: Following its investigation, the crisis commission in Italy said there were early signs of a softening in prices while predicting costs would drop "significantly" in the coming months.
Meanwhile, U.S. pasta prices may keep rising, Curt Covington, senior director of institutional business at AgAmerica, told Axios.
Rising production costs, natural disaster events and inflation across the supply chain are adding pressure on pasta supplies at the retail level, Covington said.
"I don't expect us to see COVID-era shortages where shelves were empty, but it may be more difficult and more expensive to purchase," Covington said.
Go deeper