Consumer price index rises 0.4% in April, pushed up by higher auto prices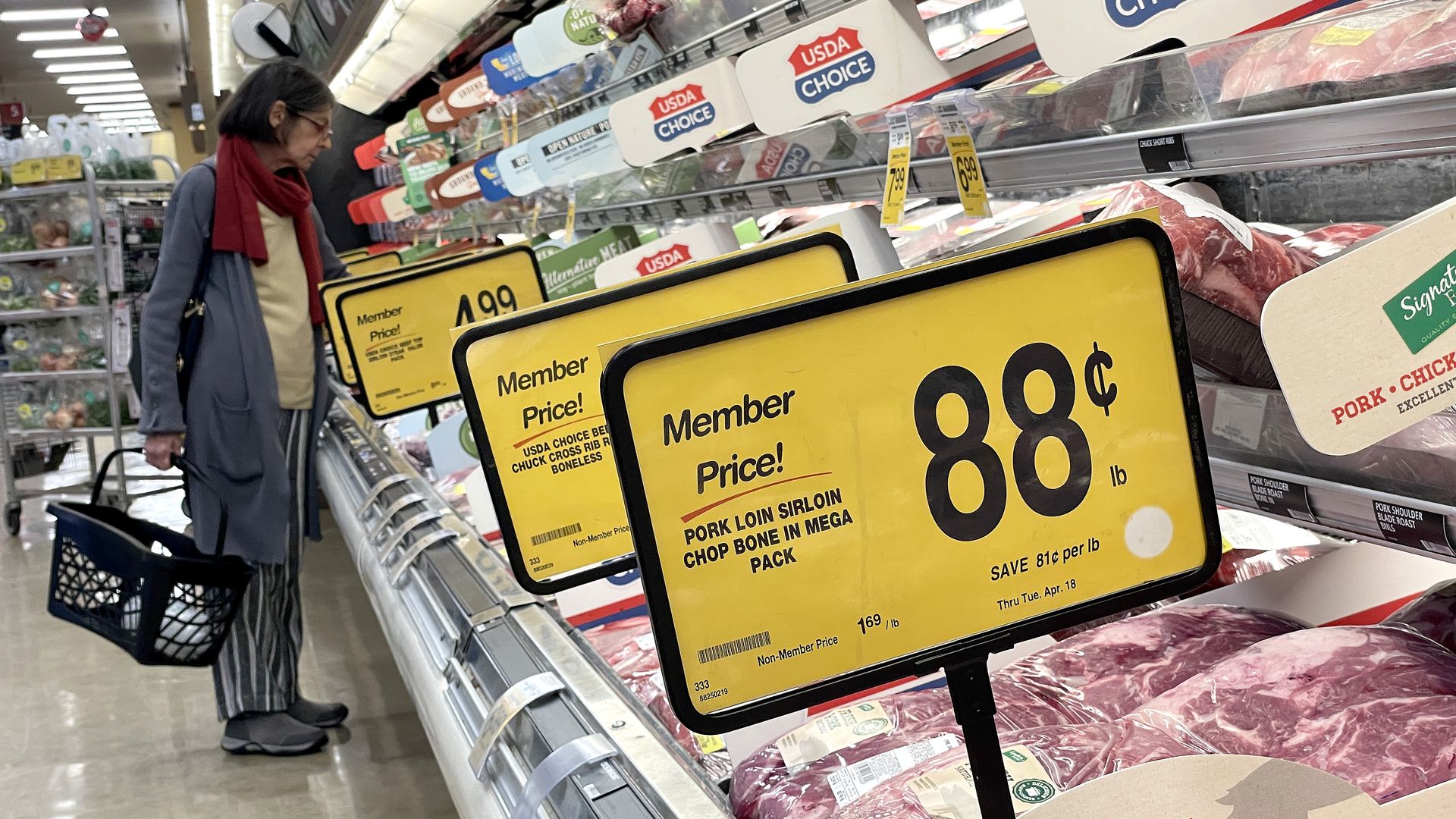 The consumer price index rose at a quicker monthly pace in April, pushed up by soaring costs for used cars and trucks — the latest sign of lingering inflation pressures across the economy.
Why it matters: The CPI rose 0.4% in April, faster than the 0.1% rise the previous month. The measure that excludes energy and food prices continued to rise at a fairly quick pace.
By the numbers: On a yearly basis, inflation continued to move down.
In the 12 months through April, CPI increased 4.9% — ticking down from 5% in March, the government said on Wednesday.
Core CPI, which excludes energy and food prices that can be volatile month-to-month, rose 0.4% in April, matching the prior month's pace.
In the year ending in April, core CPI increased 5.5%, compared to 5.6% in March.
Details: The monthly increase in the report reflects a jump in used cars and trucks prices, which had been apparent in private-sector data months earlier — but slow to feed through to official government data.
Used vehicles rose 4.4% in April, after several months of consecutive price declines, according to the CPI report. Economists see the price spike as temporary.
In a relief for consumers who have been plagued by sharp increases in food costs, prices for groceries declined outright for the second straight month — dropping by 0.2%. That follows a 0.3% drop in March.
Yes, but: Grocery prices are still up 7.1% in the 12 months through April.
Costs for food away from home, including at restaurants, rose 0.4%, slightly slower than the 0.6% pace the prior month.
The backdrop: The Federal Reserve has raised interest rates rapidly over the past year in an attempt to cool the economy and, in turn, slow inflation.
The Fed last week signaled those rate increases might soon come to an end and opened the door to a potential pause at its upcoming policy meeting in June.
However, officials warned that decision will hinge largely on what economic data (including Wednesday's report, along with other indicators) suggest about inflationary pressures.
On that front, there was some encouraging news for policymakers: price pressures in the services sector, which they are watching closely, showed signs of easing.
Fed officials are closely watching inflation trends in a specific sector: services excluding shelter costs.
This measure showed "clear signs of deceleration," Seema Shah, chief global strategist at Principal Asset Management, wrote in a note.
Editor's note: This story was updated with additional details throughout.
Go deeper