Used car market flashing inflation warning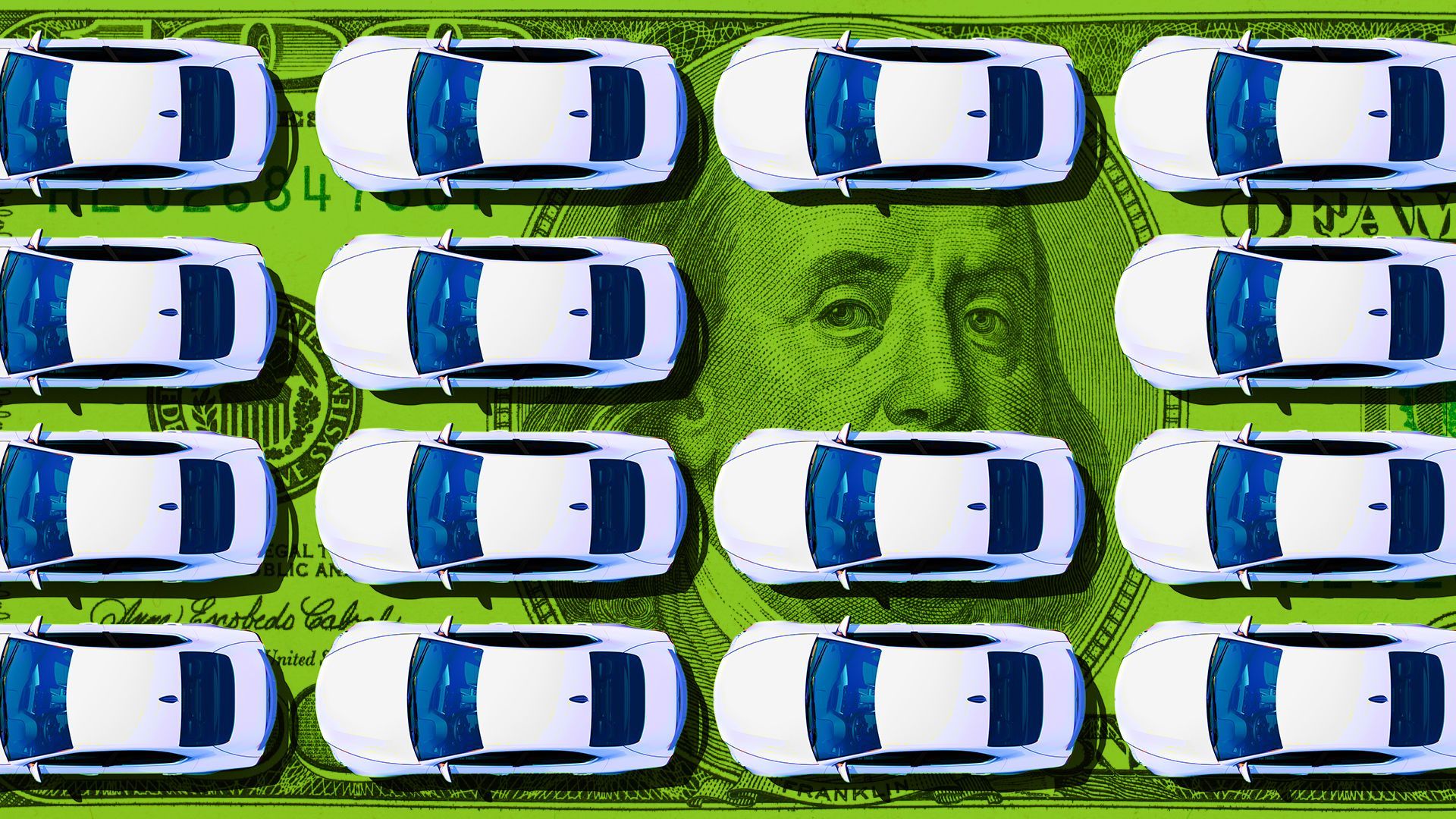 Understanding the rising risks that inflation will be more persistent than seemed likely just a couple of months ago takes looking at what's going on in the used car market.
What's happening: Used car prices have fallen each month from July through January, pulling down inflation. But new signals from wholesale auctions show that the trend may reverse.
Why it matters: Used cars are just one of many types of durable goods that benefited from stabilizing supplies in the second half of 2022. But they are not poised to play the same role in 2023, because supply chains can only heal once.
By the numbers: Since July, durable goods prices have fallen 2.5%, according to the consumer price index, subtracting about 0.3 percentage points from overall inflation in that span. Used car prices were down about 9%.
But an early read on wholesale used car prices shows an increase of 4.1% in the first half of February — the largest gain for the month since 2009, according to auto auction house Manheim.
What they're saying: "Dealers essentially put the brakes on. They weren't really acquiring vehicles, they were trying to unload vehicles from their lots," says Chris Frey, senior manager of economic and industry insights at Cox Automotive, which compiles the Manheim Index.
"But when things start turning up, and it looks like things might get better, it's almost like a feeding frenzy. That's what looks to be happening now. A lot of these dealers are jumping back in the wholesale market," Frey says.
Between the lines: That rebound is happening alongside more depressed supply, in part because of a lingering pandemic effect: Leases became less popular, leaving fewer instances of expiring ones to funnel into the used car market.
Goldman Sachs also points to smaller flows of chips and other issues that stem from China's COVID-19 wave that "contributed to a 10% pullback in US auto assemblies since October."
"Coupled with strong demand, this production shortfall likely forced some consumers into the used car market, bidding up prices accordingly," economists at the bank wrote in a note on Friday.
The intrigue: Goldman said it now expects used car prices to fall 7.5% on a year-over-year basis in December 2023, versus the 15% decline it previously anticipated.
The bottom line: The goods sector in the months ahead may not be as reliable of a contributor to the disinflation trend that appeared to be underway (until January, that is).
"If dealers are able to pass along these higher used vehicle acquisition costs to the consumer, we may see some uptick" in used vehicle prices, says Tom Kontos, chief economist at Adesa, the used car auction dealer owned by Carvana.
Disclosure: Cox Automotive and Axios are both owned by Cox Enterprises.
Go deeper