NASA return to the Moon could be imperiled by politics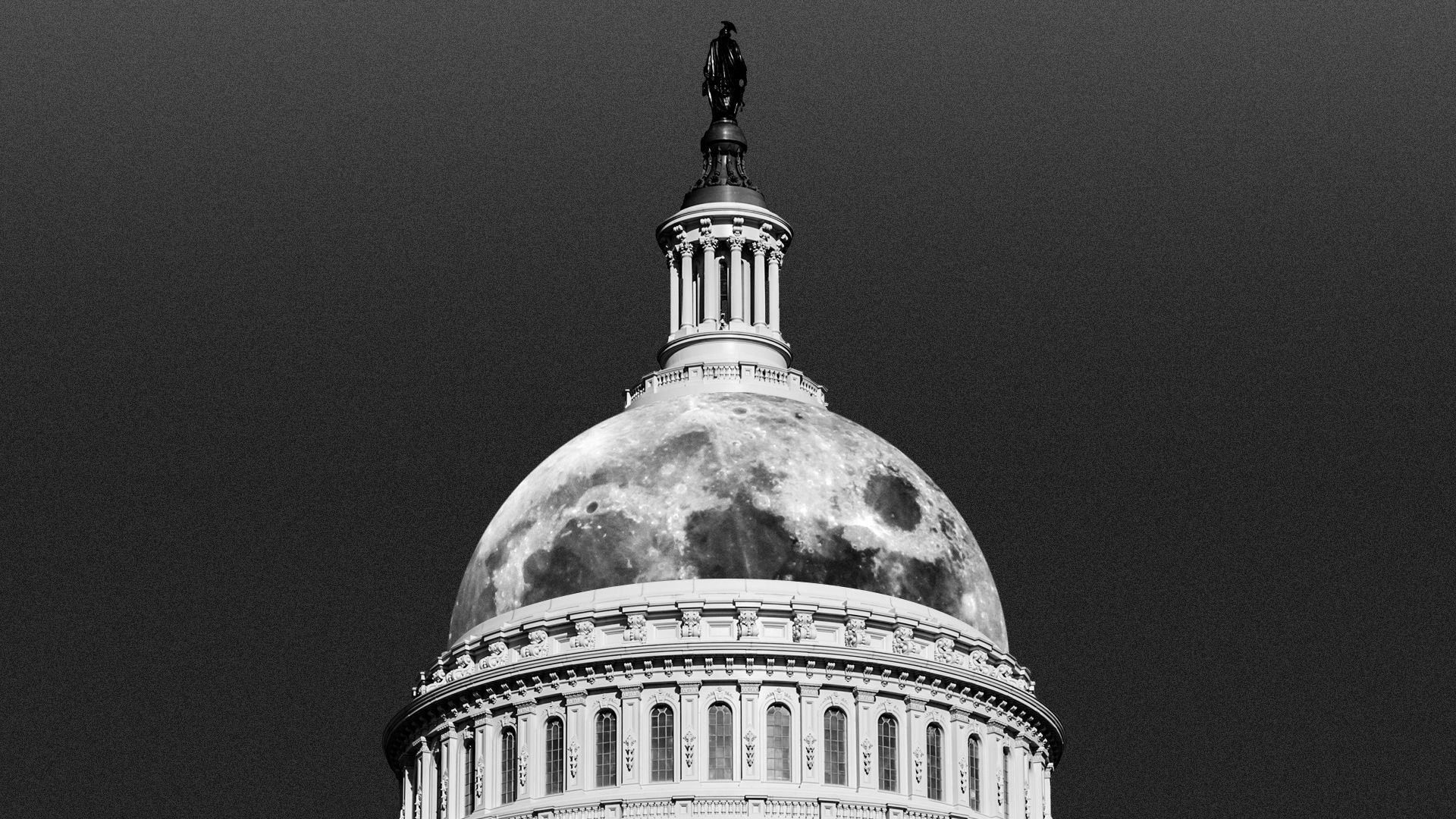 NASA's flagship program to get people back to the Moon is at risk in the debate over the country's budget.
Why it matters: The Artemis program has survived two presidential administrations and has bipartisan support in Congress.
Both administrations have worked to reduce the political risk of the multibillion-dollar program, awarding multiple contracts to commercial companies in multiple states and partnering with international space agencies.
What's happening: Efforts to insulate Artemis from possible cuts, delays and cancellation are facing a major test with the current budget fight on Capitol Hill.
If NASA's funding is stalled at the 2022 enacted level or reduced, agency administrator Bill Nelson has warned Artemis II and Artemis III could be delayed. The current launch dates are 2024 for Artemis II and 2025 for Artemis III.
Nelson also said in a March letter to Congress that NASA would need to make deep cuts to other parts of the program, potentially canceling contracts.
"How is Artemis going to survive this kind of active budget slashing?" the Planetary Society's Casey Dreier tells Axios. He says the program's survival hinges on lawmakers on both sides of the aisle working to preserve it.
Between the lines: NASA on Friday announced a $3.4 billion contract with Blue Origin to build a crewed lunar lander for the Artemis V mission that aims to bring astronauts to the lunar surface by 2029.
The Blue Moon lander is expected to dock with a small, yet-to-be built lunar space station called Gateway. NASA astronauts will arrive on Gateway via the Orion capsule and then be transported to the Moon's surface by Blue Moon.
SpaceX also has a contract with NASA to develop a lunar lander based on its Starship vehicle for the Artemis III and Artemis IV missions, which will bring the first NASA astronauts to the Moon since Apollo.
Flashback: Jim Bridenstine, NASA administrator under former President Trump, worked to insulate the Artemis program from political whims when it was announced in 2019 by partnering with commercial companies and international partners early
"When we left, we had an international coalition. We had apolitical, bipartisan support. We had a program that sustained," Bridenstine told Axios in April at the National Space Symposium.
The big picture: All of NASA's partnerships with private companies and international agencies — a Canadian crew member will fly around the Moon for Artemis II and the European Space Agency is a major partner for the Gateway station — make for a complex program.
Instead of a relatively simple mission structure like Apollo — which used the Saturn V rocket and one type of lander to send each crew directly to the lunar surface — Artemis makes use of multiple redundant systems and sprawling partnerships.
But those points of connection and inter-reliance have created a program that can potentially last.
"Getting to the Moon is really freaking hard," Dreier said, adding that even if the mission plans look a little patchwork, that could actually benefit NASA when it comes to creating a sustainable program.
Go deeper