What a weekend at the PGA Championship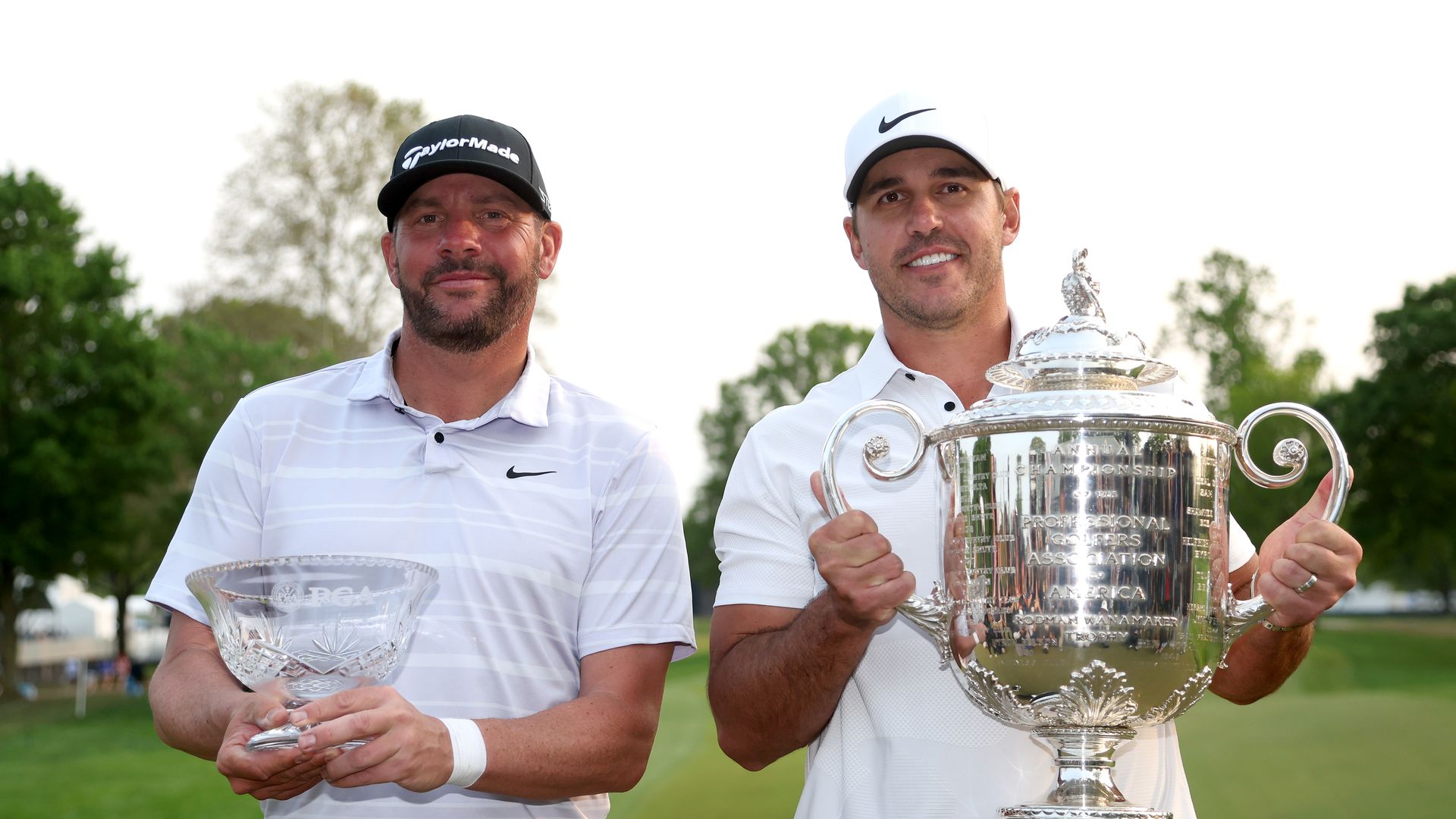 Sports are defined by stories. Sometimes, those stories are ongoing narratives that play out over time. Other times, they're self-contained moments of brilliance — the kind of unscripted magic that only sports can produce.
Driving the news: We got both types of stories at this weekend's PGA Championship, where Brooks Koepka won a major championship and Michael Block won our hearts.
Koepka (-9) outlasted Scottie Scheffler (-7) and Viktor Hovland (-7) to win his fifth major, etching his name in the history books and giving the LIV Golf tour its first major champion.
Block (+1), the head pro at a public course in California, brought golf fans along for the ride of a lifetime, finishing 15th in a field that included 99 of the world's top 100 players.
Let's start with Koepka: The 33-year-old's return to glory after years in the darkness is best contextualized through numbers, which help illustrate his dominance at majors — and his place among the all-time greats.
Koepka is the 20th player to win five majors in a career and just the third to do so in the last 30 years, joining Tiger Woods and Phil Mickelson.
He's the seventh golfer since 1950 to win five majors before turning 34, joining Woods, Nicklaus, Arnold Palmer, Gary Player, Seve Ballesteros and Tom Watson. That's quite the list.
In the last 80 years, there have been just four instances of a golfer finishing runner-up in the first major of the year and then winning the second: Player in 1965, Woods in 2008, Koepka in 2019 and Koepka in 2023 (he and Mickelson tied for second at last month's Masters).
The backdrop: Koepka's triumph — and LIV's overall performance at the Masters (three in the top five) and this weekend (three in the top 10) — disproves the notion that competing on the PGA Tour is the only way to round into major form.
If Koepka and friends keep thriving on golf's biggest stages, it's not hard to imagine the perception of LIV — how fans talk about it, how the media covers it, how PGA Tour players think about it — changing.
Yes, but: LIV has yet to prove that it can parlay the spotlight on its players during majors into more interest in the league. It's still a sideshow most weeks, and viewership has been so low that the league has quietly stopped publicly reporting TV ratings.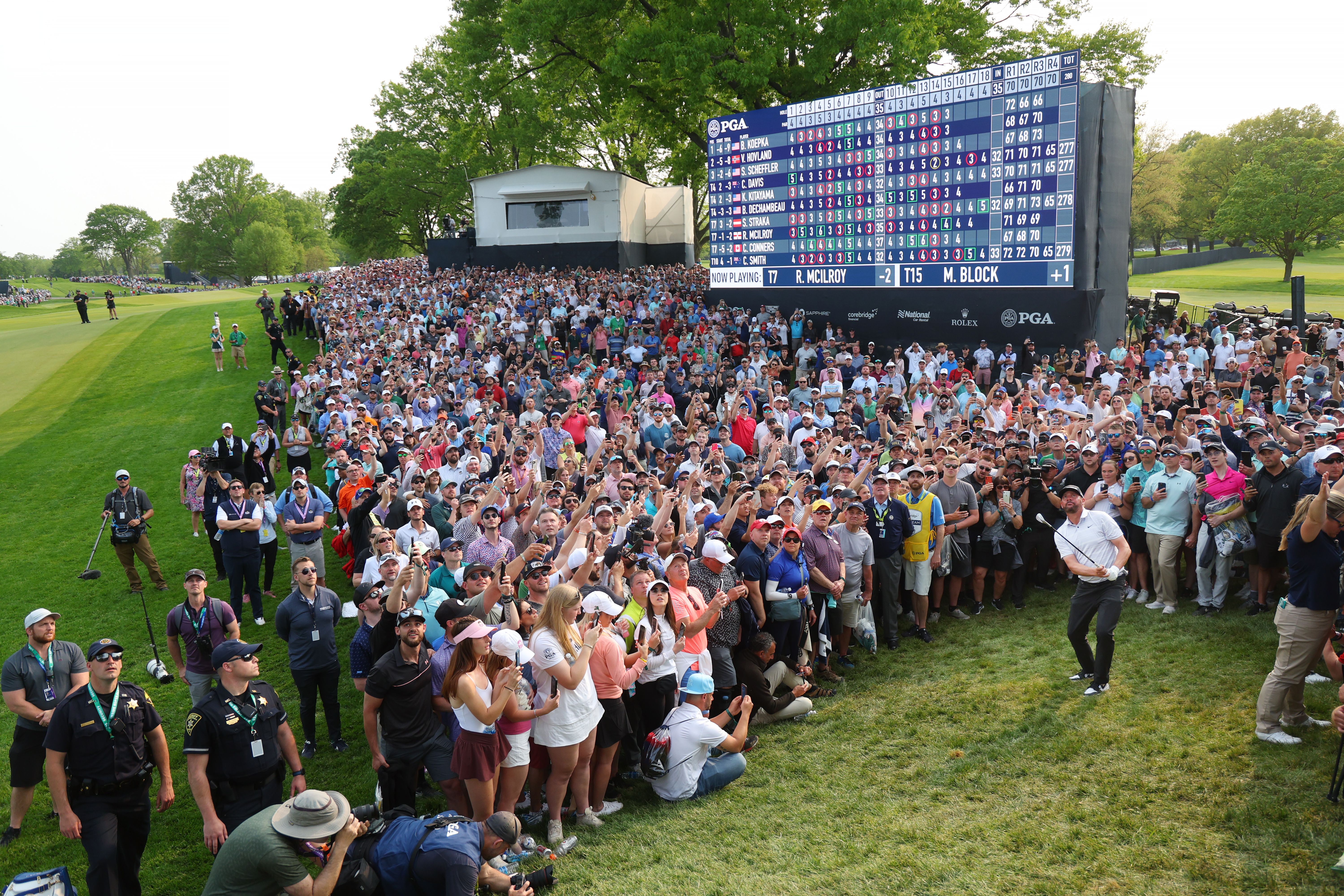 And then there's Block: The 46-year-old everyman golf pro charges $150 for 60-minute lessons at Arroyo Trabuco Golf Club in Mission Viejo, California. On Sunday, he won $288,333 after shooting 70-70-70-71 at Oak Hill Country Club in Rochester, New York.
Block's dream weekend was full of surreal moments — from his hole-in-one to his up-and-down on 18 to save par and qualify for next year's PGA Championship. And he appeared to be in disbelief the whole time, which was incredibly relatable.
"Are you serious?" he asked after learning he'd be paired with Rory McIlroy for Sunday's final round. "It didn't go in, did it? … Rory, did it go in?" he asked after acing No. 15 — his first-ever hole-in-one.
What he's saying: "It's amazing. I'm living a dream," said Block in an emotional interview after his Sunday round. "I'm making sure I enjoy this moment. … It's not gonna get better than this, there's no way."
"Rory was awesome, man," he added while fighting back tears, as if he still couldn't believe he'd just played 18 holes alongside the No. 3-ranked golfer in the world.
"I can't thank everybody enough for being so cool to me. And cheers to the 29,000 PGA professionals — this is for you guys."
What's next: Shortly after the trophy presentation he shared with Koepka, Block received a phone call informing him that he's been invited to compete at the Colonial next week.
Go deeper