Augmented reality laptop ditches screen for 100-inch virtual display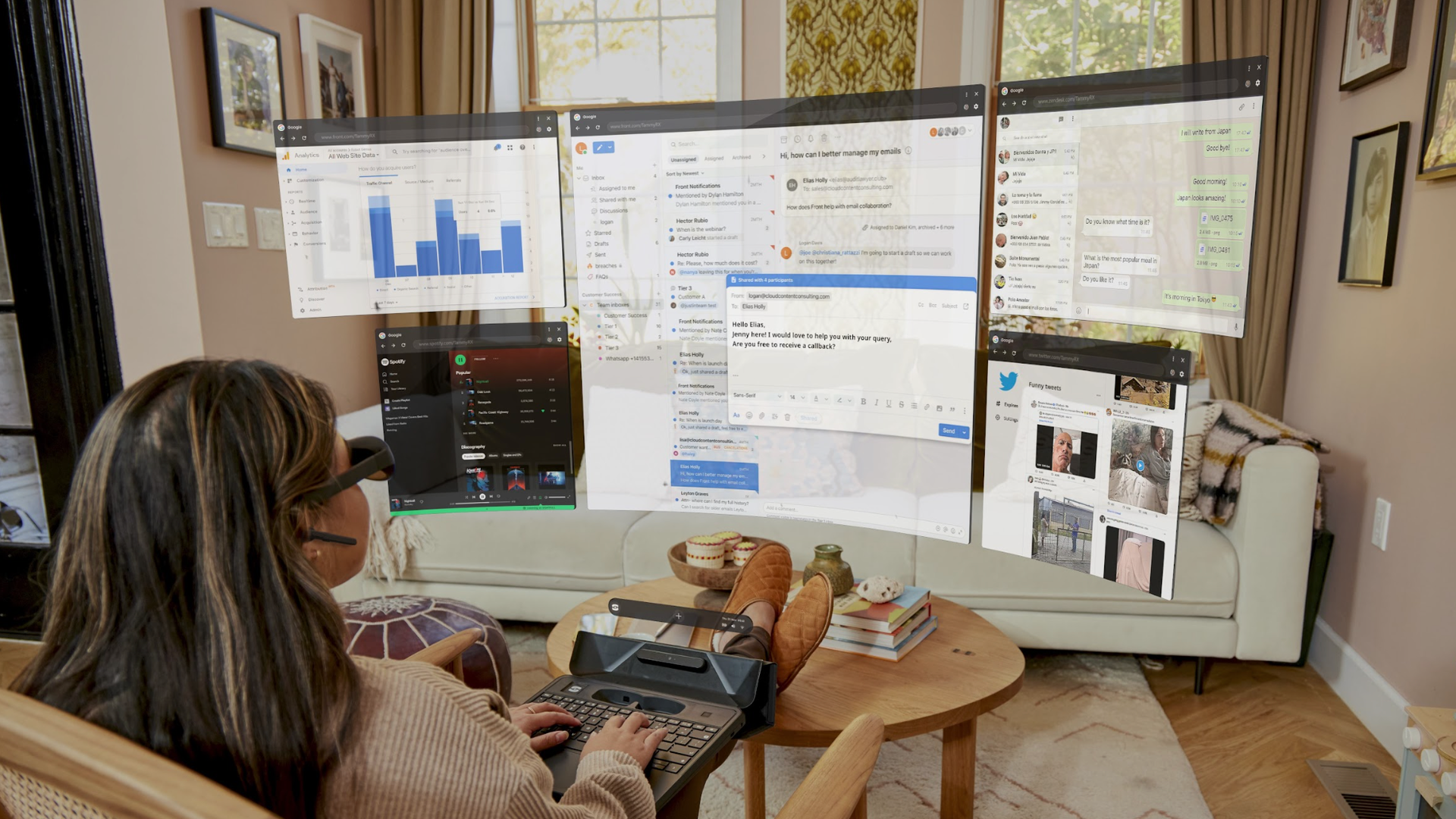 Two former Magic Leap employees have teamed up to create Spacetop, a $2,000 laptop that ditches the traditional screen and instead uses its own augmented reality glasses to create a 100-inch virtual display.
Why it matters: Laptops have always been defined around the space constraints of the screen, with display size determining just how big the device needed to be.
How it works: The company is selling 1,000 of the devices as part of an early access program, with hopes of using the feedback to inform a broader launch.
The Spacetop runs a custom operating system, with its backers touting the ability to run Web-based applications such as Zoom, Google Workspace and Figma. And it's not promising this first version will be for power users or gamers, saying those folks should probably wait for a later version.
The Tel Aviv-based company behind the startup, Sightful, is led by CEO Tamir Berliner and COO Tomer Kahan, both formerly of AR headset maker Magic Leap. They have raised $61 million in venture funding.
The devices are being manufactured by Wistron, a major contract manufacturer of laptops, while the required AR glasses come from Nreal. Those interested can sign up now, with the devices promised for shipping starting in July.
Sightful says the glasses offer 1080p resolution per eye, which they promise is enough to offer sub-pixel viewing resolution. In a pinch the Spacetop can also connect to a traditional monitor for some features, with more available later via software updates.
The big picture: The idea of using virtual space to display traditional computer windows has been tried in a variety of ways, but has yet to move beyond niche status.
Meta pitched it as a key use for its Meta Quest Pro headset
Past startups have also focused on this approach, including one, which confusingly enough was also named Meta and showed off its technology at TED back in 2016.
It's also possible today using Microsoft's HoloLens, which packs a Windows computer into a standalone augmented reality display
Longer term, many see augmented reality glasses as the likely successor to the smartphone, but there are lots of technical hurdles around battery life, image quality and cost that need to be overcome.
Go deeper