Trans rights largely advance in Europe but remain at risk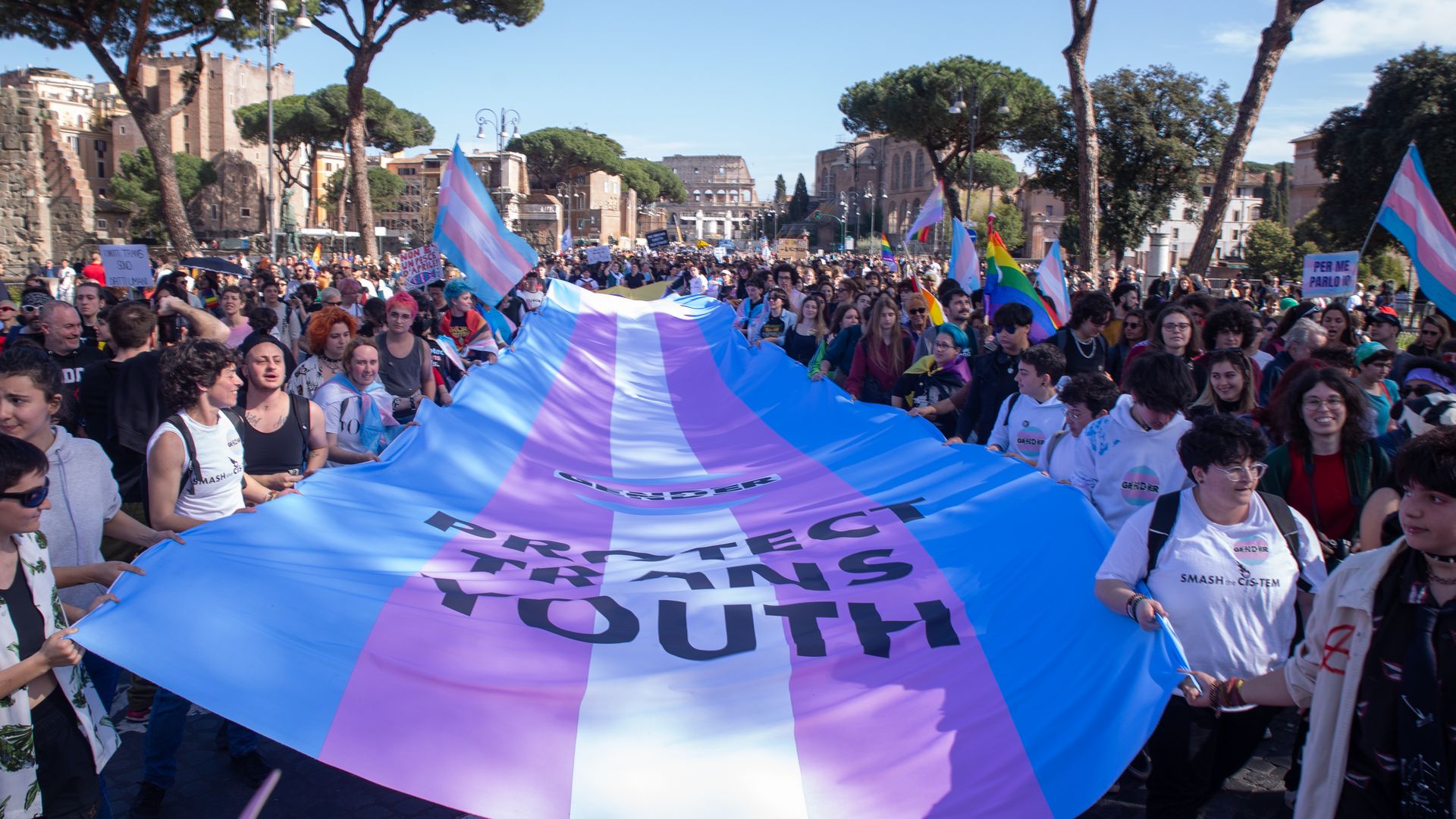 The fight for transgender rights in Europe has made significant gains in recent years compared to the U.S., but those advances remain at risk due to anti-trans backlash.
The big picture: As the world marks International Day Against Homophobia, Transphobia and Biphobia this week, activists are highlighting the progress made as well as challenges that still persist in advancing trans rights.
What's happening: A number of European governments are currently considering legislative proposals to advance trans rights.
Between the lines: Compared to the U.S., "you don't see trans people being used as much of a political cudgel in Europe," Kyle Knight, a senior researcher on health and LGBT rights at Human Rights Watch, told Axios.
Still, there are European countries that stand out, including the U.K., where politicians and the media fueling a vehement "cultural battle" around trans issues, Cianán Russell, Senior Policy Officer at the advocacy group ILGA-Europe, told Axios.
State of play: Data shows that over the past decade, the fight for trans rights in Europe has made significant gains, the organization Transgender Europe (TGEU) said in a report published Wednesday.
There has also been a fivefold increase in the number of countries offering asylum due to persecution based on gender identity, though stronger implementation is needed, the group found.
Yes, but: Across the EU, challenges remain to ensuring trans-specific health care is accessible, affordable and high quality, according to TGEU.
Malta is the only member country that doesn't require a mental health diagnosis in order to access trans-specific health care, instead relying on the informed consent of the patient.
As in the U.S., service providers of trans-specific health care have come under targeted attack, especially those catering to youth and young children, Richard Koehler, TGEU's advocacy director, told Axios.
The number of European countries that have age restrictions on legal gender recognition increased from six in 2022 to eight this year, Koehler said. Trans-specific health care like puberty blockers are increasingly becoming less accessible in certain countries, he added.
Experts say that anti-trans efforts in the U.S. have been hugely influential in Europe, and the two sides can sometimes feed off of each other.
"This hatred," Koehler told Axios, "gets proactively exported from the U.S. And we're still feeling the results of a four-year administration that put anti-equality policies in the driving seat."
When countries like Sweden make their laws regarding trans rights more conservative, these developments are weaponized by the right wing in the U.S. to justify their own views as being supported by "progressive Europe," Knight said.
Russell agreed. "It's very clear to trans activists and LGBTI organizations that the global far-right, anti-democratic, anti-rights movement is interconnected and is sharing strategies and talking points and narrative development," they said.
Go deeper