Tempur Sealy makes a power play with proposed acquisition of Mattress Firm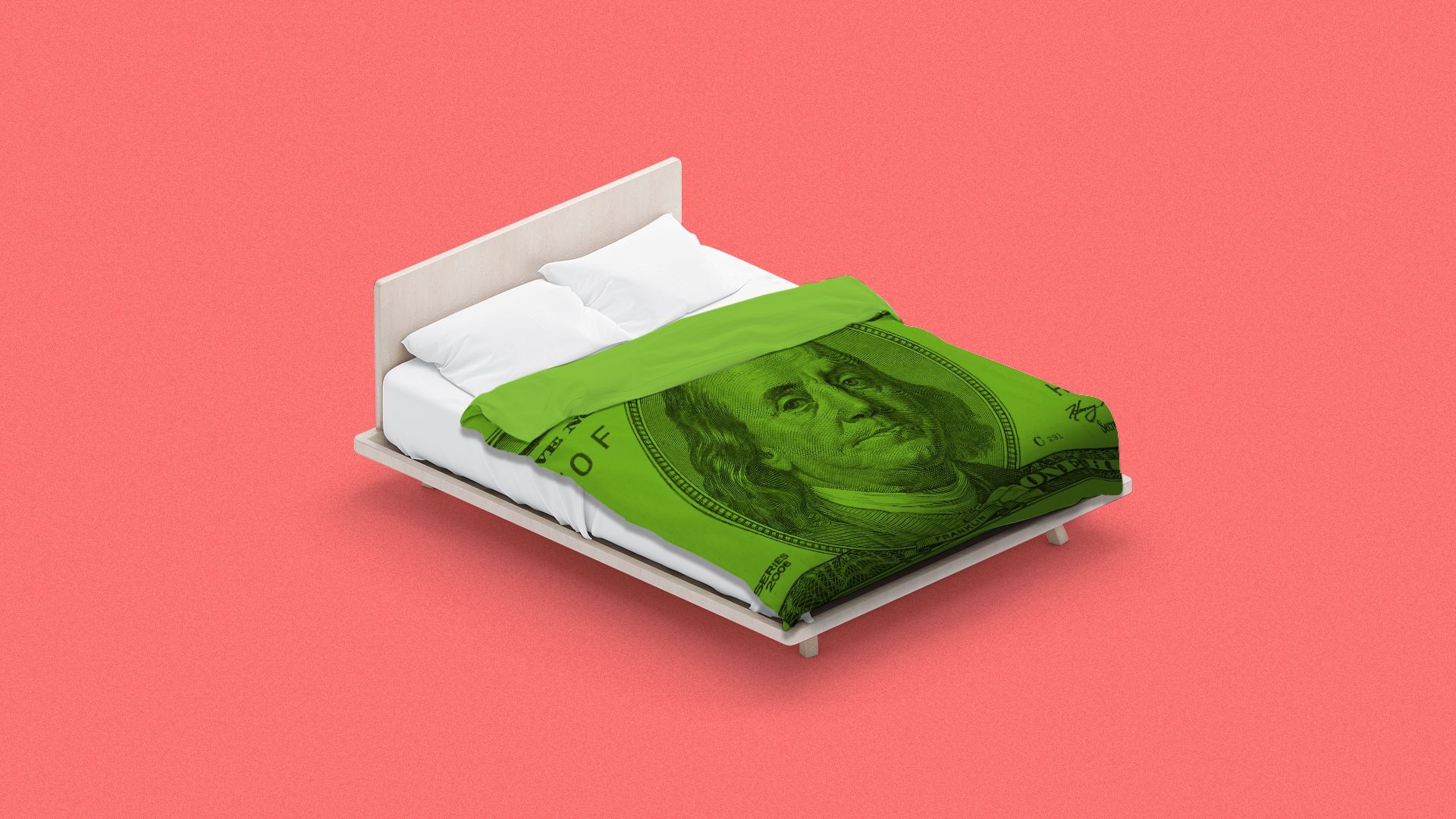 The biggest mattress maker is acquiring the biggest mattress seller in the latest shakeup for an industry that has been roiled by upheaval in recent years.
Why it matters: Tempur Sealy's deal to acquire Mattress Firm, announced last week, will allow the Tempur-Pedic maker to exert more control over the manufacturing, distribution and sale of mattresses throughout the country.
The company is paying about $4 billion for Mattress Firm, which has more than 2,300 stores despite closing about 1,000 since it filed for Chapter 11 bankruptcy protection in 2018.
Together, Tempur Sealy and Mattress Firm would have a combined global footprint of 3,000 stores, 30 e-commerce platforms, 71 manufacturing facilities and four R&D facilities, Axios Pro's Richard Collings reports.
The big picture: The deal comes at a tumultuous time for the mattress industry, which has been rocked by plummeting sales after enjoying a sudden uptick when the pandemic began.
Sales of mattresses fell 9.6% to $9.3 billion in 2022, while sales of foundations declined 17.7% to $1.3 billion, according to International Sleep Products Association figures provided to Axios.
Zoom in: "During the pandemic, we saw a pull-forward in mattress demand that has weakened demand since 2021," CFRA Research analyst Ana Garcia tells Axios in an email.
Tempur Sealy's biggest competitor, Serta Simmons, filed for Chapter 11 bankruptcy protection in January.
And dozens of bed-in-a-box companies have disappeared over the last year after feverish competition gave way to plummeting sales, says Jerry Epperson, a mattress industry veteran and managing director of investment bank Mann, Armistead & Epperson.
Between the lines: The deal makes sense for Tempur Sealy because it will enable the company to fine-tune logistics, streamline purchasing and exert pressure on competitors, analysts say.
"With the acquisition, we see both the manufacturing and the retailer side benefiting in cutting out some of the middle steps, which, if performed effectively, could also reduce warehousing expenses," Garcia says.
Despite Mattress Firm closing unprofitable locations during its bankruptcy, "there are probably still too many stores," Tempur Sealy CEO Scott Thompson said last week on a conference call, saying he expects "that total number to come down over time."
The intrigue: The tie-up would've been unthinkable five years ago, when Tempur Sealy sued Mattress Firm, accusing the retailer of "conspiring" to copy "the look and feel" of its merchandise with a product dubbed "Therapedic."
But the companies eventually resolved their dispute, and Mattress Firm has remained a crucial outlet for the sale of Tempur-Pedic mattresses.
The big question: Will the Federal Trade Commission sign off on the deal?
If it goes through, Tempur Sealy will own the biggest outlet for sales of some of its biggest competitors.
The FTC has already requested additional information about the deal.
What they're saying: Tempur Sealy declined an interview request for this story, but CEO Thompson told analysts that the company filed an advance merger notification with the FTC ahead of the proposed acquisition.
That way "we could get some feedback on some of their thinking," Thompson said, which "may include divesting of some stores," which "we would consider."
What others are saying: Epperson says there's no guarantee the deal goes through as it stands today.
"I can assure you that they are all apprehensive, anxious — and until they get a firm answer and agreement, I think there are are going to be a lot of question marks," he says.
The bottom line: Tempur Sealy is becoming a more powerful force in the bedroom.
Go deeper