Latin American leaders shift strategy on massive lithium reserves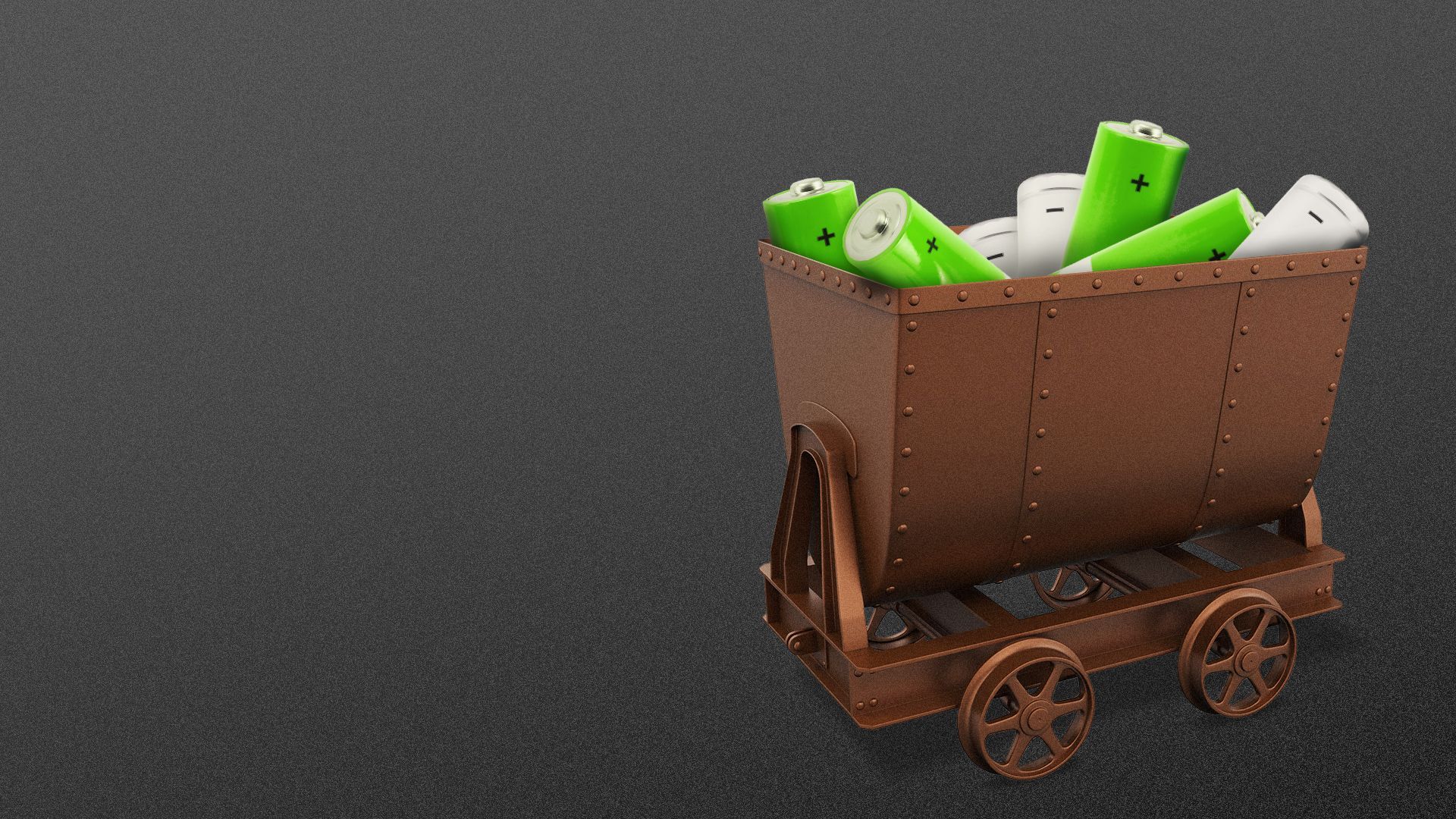 As the race toward global EV adoption heats up, many Latin American countries with bountiful lithium reserves are adopting a cautious approach to mining the metal.
Why it matters: The world's largest known deposits of the material used for electric vehicle batteries are in Bolivia, Argentina and Chile, known as the lithium triangle.
That makes those countries important global players, even when they don't yet produce many EVs and most Latin Americans can't even afford them, Aleida Azamar Alonso, professor and researcher at the Autonomous University of Mexico, tells Axios Latino.
Latin American governments are seeking to more broadly and directly reap the benefits of the lithium in their lands, partly driven by concerns of the socio-environmental impacts of mining it.
Details: Last month, the Chilean government introduced a national strategy that would require private companies to work with the government on lithium extraction, although that part of the plan requires congressional approval. President Gabriel Boric also has plans for the country to develop lithium products.
Argentina is building the first lithium battery factory in Latin America, which it says will help move it beyond extraction and into the potential production of EVs.
Bolivian President Luis Arce sent a draft bill to Congress this month that would create a lithium ministry in an effort to have a more direct hand in extraction and profits.
Peru's Congress is debating a bill that would declare lithium a strategic public good and build a national lithium plant.
Mexico, which studies show has a fair share of lithium reserves (though it has yet to mine them), created a state-run lithium company late last year.
Context: Starting in the colonial era, Latin America's natural resources have been mined mostly for export, which some argue set back local development and curtailed the growth of specialized industries.
At times, the extraction processes or related business practices have resulted in conflict. For example, miners have been accused of killing Indigenous leaders in the Amazon.
Bolivian and Mexican leaders have called for a joint Latin American policy or OPEC-like mechanism, arguing lithium could otherwise "be a reason for… foreign harassment," Arce said in March.
China and the U.S. consider lithium a strategic metal and have said they're competing with each other for influence in areas with deposits.
Zoom in: Some Latin American leaders are also trying to be more mindful of the environmental and social concerns around extracting the metal, which requires a lot of water.
The Chilean strategy calls for more dialogue with the mostly Indigenous communities near lithium deposits and says that a planned research institute will be dedicated to exploring the least environmentally harmful mining processes.
"The process can harm native flora and fauna ecosystems and affect the water resources of local communities," says Humberto Estay Cuenca, deputy director and principal researcher of the University of Chile's Advanced Mining Technology Center.
"So there is a need to work on better methods … because getting a resource considered greener shouldn't happen at the expense of social and environmental equilibriums or mean greater carbon footprints," Estay Cuenca tells Axios Latino.
What they're saying: Latin American countries seeking a bigger role in the EV market need to build out financial incentives for local residents to adopt EVs and better infrastructure to produce and export their products, says Lisa Rushton, head of the renewable energy subdivision at law firm Womble Bond Dickinson. Shipping from the Southern Cone, for example, is more complicated than from places like China.
"We still need to see how this will play out … the state control without investment may not be attractive for the private sector," she tells Axios Latino.
"We still need to see how this will play out… the state control without investment may not be attractive for the private sector," she tells Axios Latino.
Plus, Latin American countries need to move swiftly to catch up, Azamar says, because China, Europe and the U.S. already dominate the EV industry, and cheaper renewable energy alternatives to lithium are being developed.
"It's great that there are plans to develop this, but there needs to be more clarity about who gains or how the potential economic benefits would reach people at the heart of [lithium deposits] that don't even have sewage or money for groceries," she adds.
Subscribe to Axios Latino to get vital news about Latinos and Latin America, delivered to your inbox on Tuesdays and Thursdays.
Go deeper