UN marks Palestinian Nakba for the first time in high-level event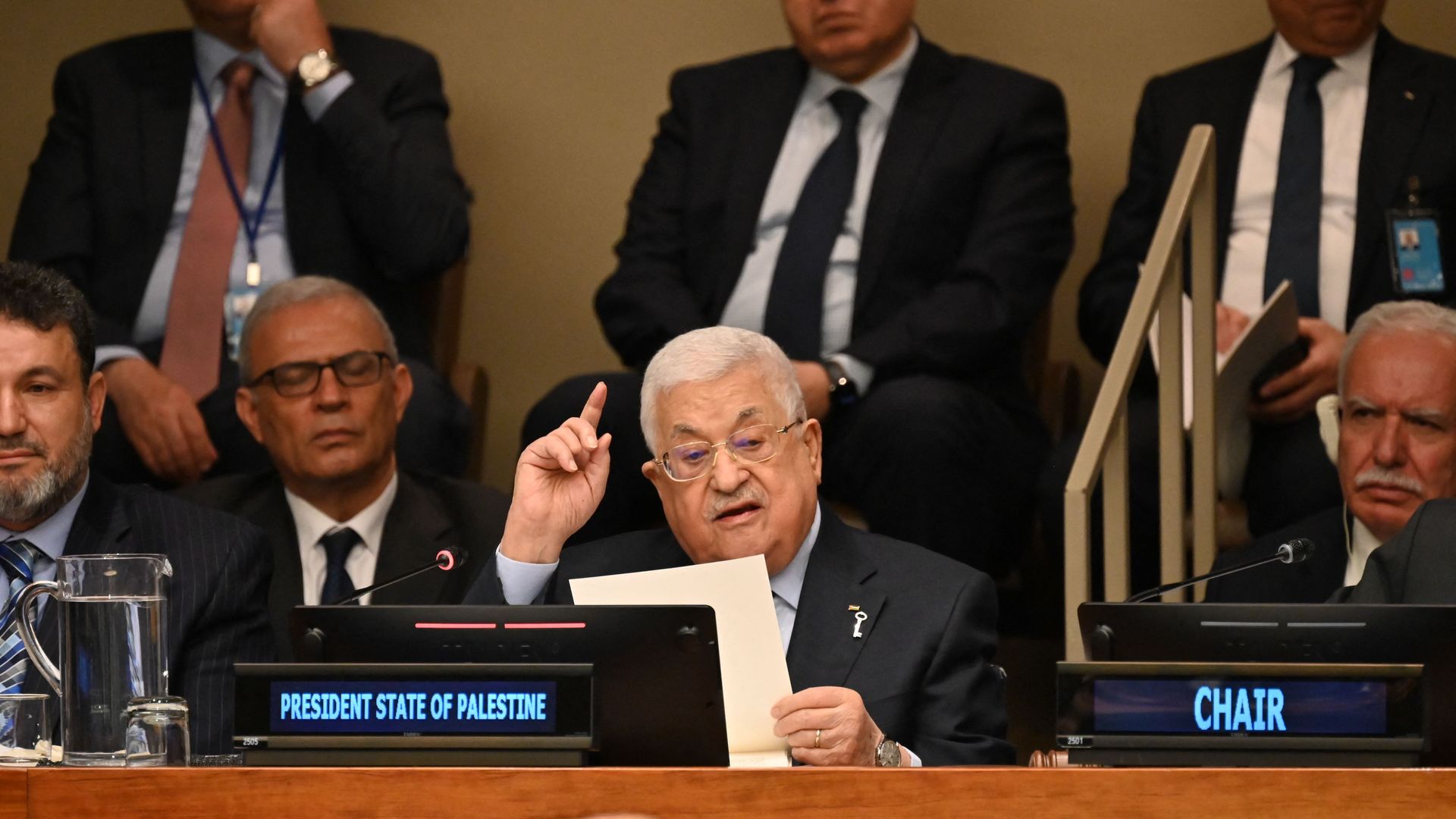 Palestinian President Mahmoud Abbas on Monday called on the international community to force the Israeli government to implement the UN resolutions related to the conflict or freeze Israel's membership in the world body.
Why it matters: Abbas was speaking during the UN's first-ever ceremony commemorating the Nakba, or the "catastrophe," which marks the displacement of hundreds of thousands of Palestinians during the events that led to Israel's founding in 1948.
Behind the scenes: The Israeli government in recent weeks launched an international diplomatic campaign to try and convince countries not to attend Monday's event, which is taking place in a conference room at the UN headquarters.
The White House ordered the U.S. mission to the UN not to attend at Israel's request, two Israeli Foreign Ministry officials told Axios.
But Nate Evans, the spokesperson for the U.S. Mission to the UN, said the U.S. "never planned to attend this event."
"Alongside numerous other countries – such as Germany, the UK, and others – the United States also did not attend this event organized by [the] Committee on the Inalienable Rights of the Palestinian People, and we never planned to attend this event," Evans said in an emailed statement.
"The United States continues to recognize the painful plight of Palestinian refugees and remains committed to a mutually agreed two-state solution," he added. "However, the United States has longstanding concerns over anti-Israel bias within the UN system, which is counter-productive to peace. We do not support events organized by bodies designed to perpetuate anti-Israel bias."
The Israeli officials said 31 other countries, including the U.K., Germany and Italy, told Israel they were not going to attend the event.
What they're saying: Abbas said in his speech that 75 years after the Nakba, Israel continues its occupation and aggression against the Palestinian people. "The Nakba didn't start in 1948 and didn't end that year," he said.
The forced displacement and the refugee crisis it created continue to be one of the most difficult issues in the Israeli-Palestinian peace process.
Abbas also said the U.S. and the U.K. have direct political responsibility to respond to the Nakba.
He added that without backing from these two countries, which he called "imperialist," Israel couldn't continue its aggression against the Palestinians.
Editor's note: This story has been updated with Nate Evans' comment.
Go deeper